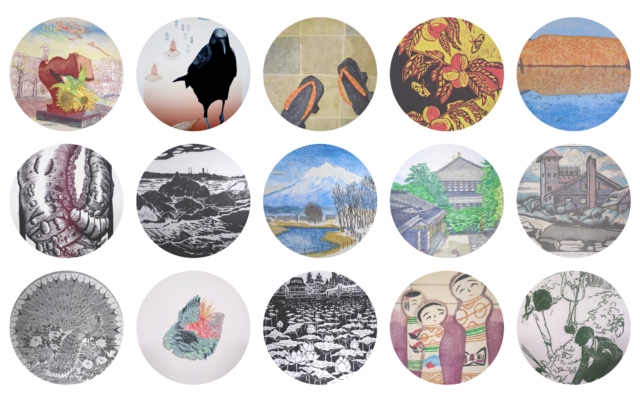 Maine-Aomori Printmaking Society
Work of Maine and Japanese printmakers on display at Monson Arts
MONSON — The Monson Arts Gallery in Monson will host a show of prints by artists from Maine and Aomori, Japan through Jan. 15. The traveling exhibition is part of MAPS (Maine-Aomori Printmaking Society), a project organized by Friends of Aomori as a cultural exchange program sharing art and artists between the Sister States of Maine and Aomori. The MAPS initiative is celebrating five years of collaborative exhibitions and artist exchanges.
Each year since 2015, curators Jeff Badger and Jiro Ono coordinate the exchange of 10 prints from artists in Maine and Aomori, exhibiting the works in their home country, and building a matching collection that now numbers over 100 prints. The group of prints exchanged in 2019-2020 will be exhibited at the Monson Arts Gallery from Nov. 9 to Jan, 15. The same collection was shown at the Aomori Arts Pavilion during the Citizen Culture Days in October 2019. Badger and a delegation of four Maine artists were special guests at the opening ceremony in Aomori, followed by a week of visits to local galleries, museums, printmaking workshops, and local sites. A similar visit by Japanese artists to Maine in 2016 launched the MAPS project with an inaugural show at Space Gallery in Portland.
The official relationship between Maine and Aomori has been in place for over 20 years, but the fascinating connection between the two states goes back to the wreck of a ship from Bath off the Japanese coast in 1889, resulting in a daring rescue of American sailors by Japanese villagers. In addition to MAPS, Friends of Aomori – the all-volunteer non-profit that supports the Sister State relationship – also supports high-school exchange programs, educational workshops and events, and economic development opportunities.
The gallery will be open by chance or appointment and visitors are encouraged to contact the Monson Arts office to safely schedule viewing.
MAPS is presented by Friends of Aomori and made possible by the generous support of the Rines-Thomspon fund of the Maine Community Foundation and Ocean House Gallery and Frame. For more information go to www.monsonarts.org or www.maine-aomori.org.