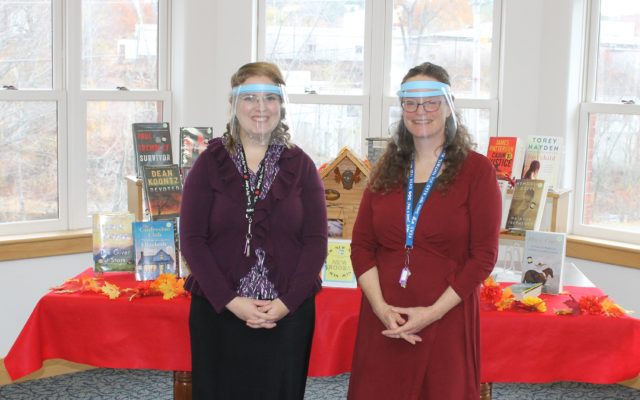 PO-librarystaff-45-20
Observer photo/Stuart Hedstrom LIBRARY STAFF -- Guilford Memorial Library Director Andrea Koltai-Price, right, and Assistant Librarian Kaitlin Covel are now able to assist patrons in-person with the downtown building opening back up to the public in early September.
Guilford Memorial Library open to the public
GUILFORD — Like much of the country when the coronavirus pandemic hit earlier this year, the Guilford Memorial Library shuttered its doors and offered some limited services to patrons. Nearly two months ago the library reopened, with health and safety measures in place.
"We're really eager to get the word out that the library is open," Guilford Memorial Library Director Andrea Koltai-Price said during a recent weekday afternoon at the downtown 4 Library Street location off Route 15. "It's safe to come in and we have lots of new books here and we are happy to welcome people back and we are happy to help them."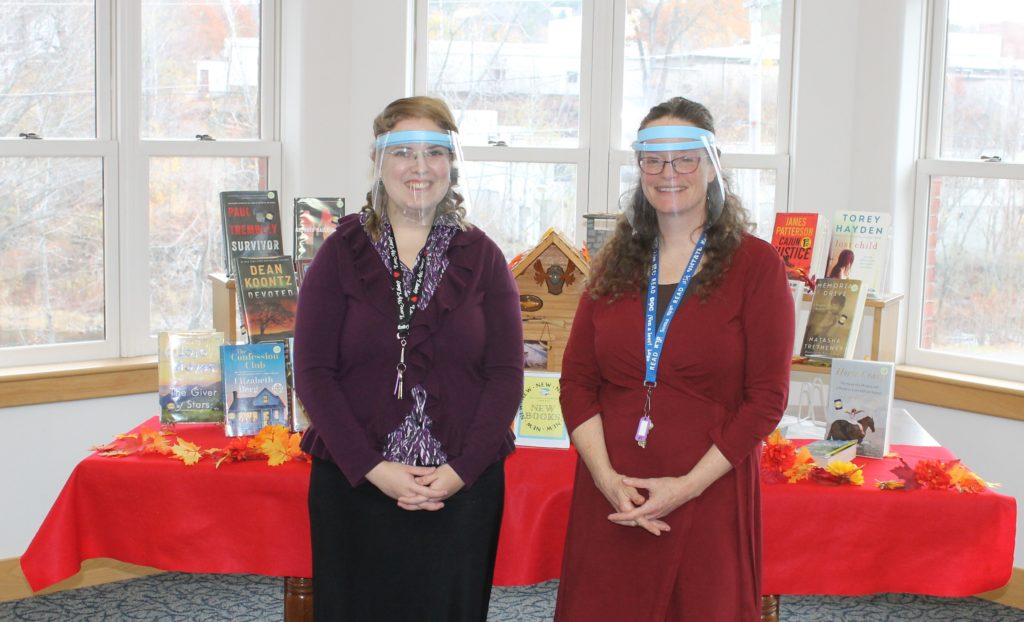 Koltai-Price and Assistant Librarian Kaitlin Covel both started work during the pandemic.
"I became the library director in May and the library was shut down at that time," Koltai-Price said.
"I started in April and I am the assistant librarian," Kovel said. "I had never done it before but I love books and I am an author so it was a natural fit for me."
"We are open for patrons to come and browse and for patrons to choose books to check out," Koltai-Price said. "We also offer curbside pickup — we are continuing to do that. Everybody's excited to come in the building so we haven't actually had anybody request curbside since we opened the building back up to the public."
Measures are in place to help keep all coming through the doors safe including providing hand sanitizer, signs reminding patrons to stay 6 feet apart and proper face coverings needing to be worn inside.
"The patrons who have been coming in have. I think they feel comfortable with what the guidelines are and I think everybody has been wearing a face covering, practicing social distancing and using hand sanitizer or putting on gloves when they come in and it's been working just fine," Koltai-Price said.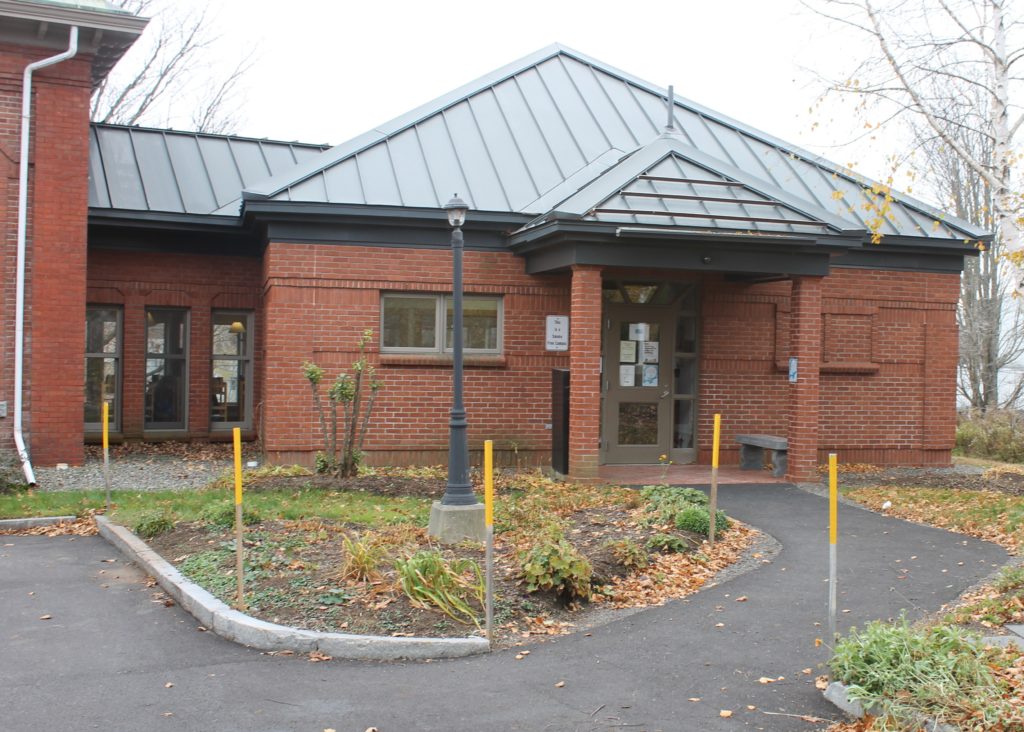 She said the Community Meeting Room downstairs remains closed and storytimes are not happening but "it's people coming in and choosing their own books which is a nice thing to be able to do."
The director said families with young children can come in via appointment.
"We have one family in at a time and we have a special area set up for them and they can do whatever they want, hang out and read for half an hour or get books," she said.
"We have made really good use of the time both while we were shut down and now just while we are not as busy helping patrons," Koltai-Price said. "We have done some reorganizing of the physical space of the library and we are freshening up the collection. We are moving things around and pulling things that aren't circulating anymore and adding lots of new books."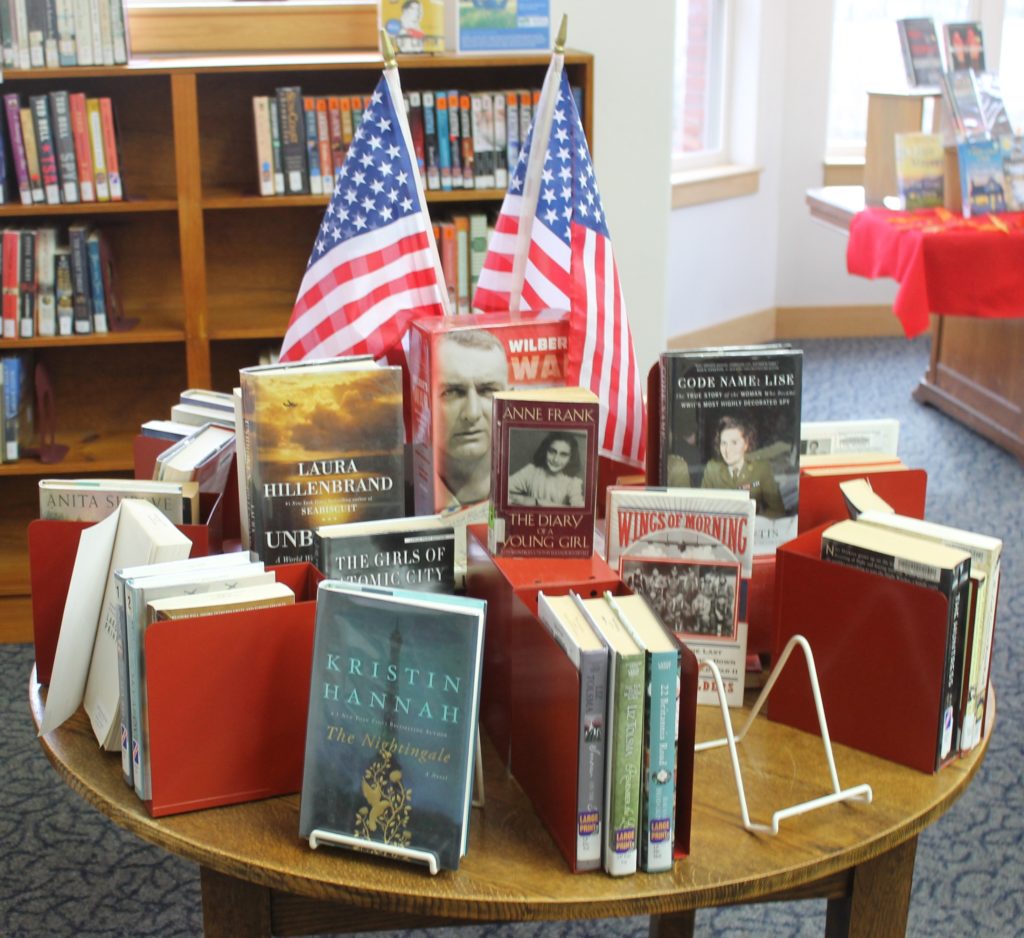 Covel said they have been setting up some displays, including one with World War II titles and others for new books for different ages.
"We are working on some promotional campaigns and programming also," she said. "Tomorrow I am doing the Trail of Treats at the elementary school so I am doing grab and go craft bags — that's one example of some children's programming. I wish we could do read-alouds but until the pandemic is going away we can't do that."
Covel said she is working on some holiday-themed events and Koltai-Price said they are planning online programming.
"We will be celebrating Native American Heritage Month in November so we have pulled some books and we are going to be doing some displays and I am considering doing a reading challenge to get patrons to check out those books," Covel said.
Library cards are free for Guilford residents and others who pay property taxes in town. Students of the six SAD 4 communities — Abbot, Cambridge, Guilford, Parkman, Sangerville and Wellington — can have a free card regardless if they attend school in the district, are homeschooled or receive their education elsewhere.
For others cards are $20, the same rate as for other regional libraries.
"If you are a member of any library that is part of our consortium you have access to books in all the other libraries for free," Koltai-Price said. "So if you are a Guilford Memorial Library cardholder you, through interlibrary loan, can get books from the Thompson Free Library [in Dover-Foxcroft] or any other library in the system or even through Bangor, almost any library in Maine."
"It's one way if there's a new book that's just been published and you're really excited about, using interlibrary loan is one way to get that book faster," she said. "You usually end up on a waiting list but you're on a waiting list with a bunch of copies of that book to be pulled from as opposed to just waiting for the one copy that your library may or may not have bought."
Covel said genealogy resources are available through interlibrary loan. "For any school project or research material that you need, it's a good resource," she said.
The Guilford Memorial Library is open from 10 a.m. to 4:30 p.m. on Wednesdays, from 10 a.m. to 6:30 p.m. Thursdays, from 10 a.m. to 4:30 p.m. Fridays and from 9 a.m. to 1:30 p.m. on Saturdays. For more information, please call 207-876-4547 or go to https://townofguilford.com/departments/library/ or the library Facebook page at https://www.facebook.com/GuilfordLibraryME.