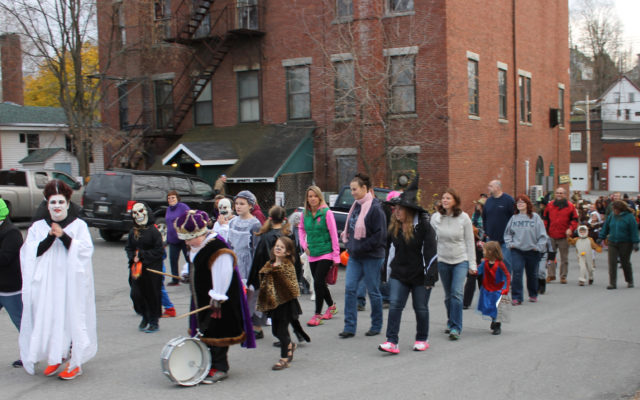 PO-halloween-40
Observer file photo/Stuart Hedstrom 2020 HALLOWEEN BOONANZA -- A past costume procession traveled through the downtown as part of the Dover-Foxcroft Halloween BooNanza. Despite the pandemic, events will lead up to and mark the holiday this year on Saturday, Oct. 31.
Halloween BooNanza this weekend
DOVER-FOXCROFT — A number of events are planned leading up to and on the holiday as part of the annual Dover-Foxcroft Halloween BooNanza. A full schedule and more information is available at http://www.boonanza.info/.
At 7 p.m. on Friday, Oct. 30 The Central Hall Commons hosts a book launch party for "Making a Monster, The first last word on 3D MONSTER design" by Dover-Foxcroft resident Sue Humphries. She republished after a couple of decades out of print. The inside is filled with photos of an amazing era in filmmaking and make-up artistry.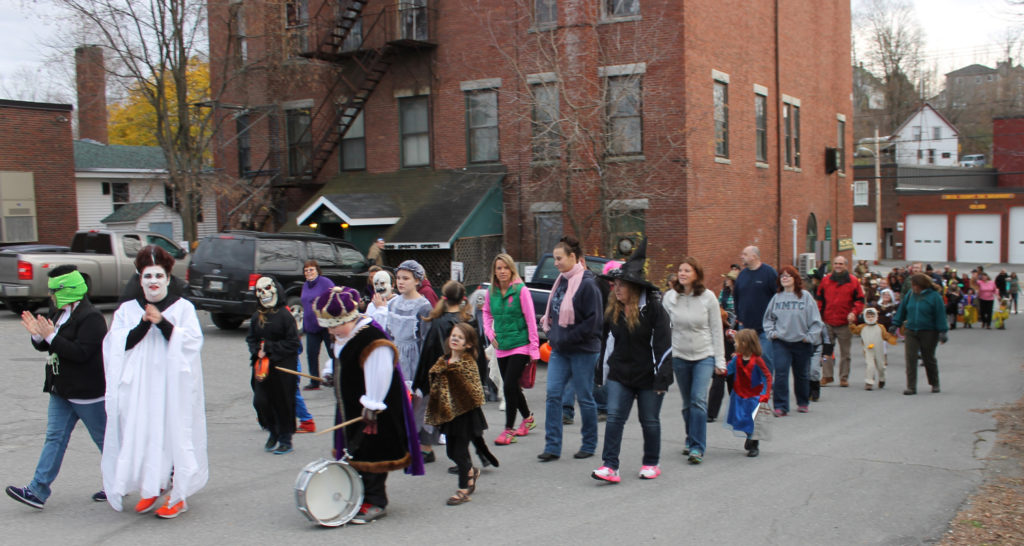 Attend in-person or via Zoom and RSVP at www.CentralHallCommons.org. Social distance measures in place per CDC recommendations.
For more go to www.MatrikaPress.com/making-a-monster-2020-book-launch.
Also at 7 p.m. on Friday the Center Theatre screens "The Nightmare before Christmas." The movie will be shown at 1 and 7 p.m. Saturday and Sunday.
Judging for the home and business decorating contests will take place from 7-9 p.m. on Friday. Winners will receive a fabulous trophy and bragging rights. Trophies are sponsored by The Raven's Attic East and were created by Stacey Foster.
The Center Theatre Countdown to Chaos Escape Room is open from Thursday, Oct. 29 to Sunday, Nov. 1. Reservations are required, go to http://www.centertheatre.org/ for more information.
On Halloween the Piscataquis Regional YMCA hosts a Halloween Hook-up Youth Fishing Event from 9 a.m. to 2 p.m. for ages 12 and under.
The Dover Cove Farmers Market has its final outdoor market of the season from 9 a.m. to 2 p.m.
A trunk or treat starts at 4 p.m. in the Dover-Foxcroft Congregational Church parking lot.
The United Methodist Church of Dover-Foxcroft Candy Stop! also starts at 4 p.m. with tables set outside the church.
The Foxcroft Academy Student Council/Key Club trunk or treat runs from 5-7 p.m., with proceeds benefiting the Christmas project/backpack program.
In addition to the Dover-Foxcroft Halloween BooNanza website, please also see "D-F Town Wide Halloween BooNanza" on Facebook.