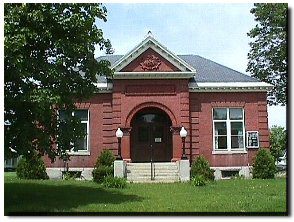 Thompson Free Library
The Thompson Free Library in Dover-Foxcroft
Oral history project hosts story slam on the theme 'Rise'
DOVER-FOXCROFT – Voices from HOME, a community-based oral history project coordinated by the Thompson Free Library, will host a live storytelling event on the theme "Rise" at 6 p.m. on Friday, Oct. 23. This event is free and open to the public, and will be held online via Zoom.

Rosa Parks said, "You must never be fearful about what you are doing when it is right." Standing up for the kid being picked on during recess, marching for something you believe in, voting to let your voice be heard … We want to know: When did you rise to a challenge or rise up against injustice however large or small?
Do you have a story to tell about enlisting, resisting or taking action for a cause? Has someone else stood up for you, or helped you rise to your potential? Will we come out of 2020 like a phoenix rising from the ashes? Maybe simply rising out of bed is a major accomplishment on bad days.
Practice a 4- to 8-minute true story to share, or come to listen and see what rises up in you. For more information about how to participate, visit the Thompson Free Library website www.thompson.lib.me.us or email thompsonfreelibrary@gmail.com.