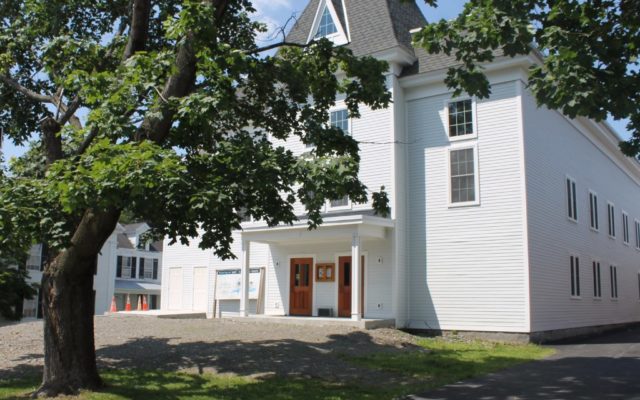 Central Hall
The Commons at Central Hall in Dover-Foxcroft
Central Hall Commons announces limited reopening 
DOVER-FOXCROFT — Central Hall Commons officials announced that they will be reopening with limited office hours as well as limited events starting in September. Their regular weekly office hours will be Tuesday and Thursday from 11 a.m. to 3 p.m. Staff will be available at Central Hall at other times by appointment.
Jody Morse, program director for The Commons, said they felt it was important to start slow. "We have been working on virtual programming and outreach over the past few months," Morse said, "Programs like our virtual PTSD Conversations have been going strong while we've also been supporting the community with our Commons Pulling Together-grocery program. We also felt it was important to reopen Central Hall for limited programming and limited office hours for people who would like to stop in to see the progress that has been made recently or simply want to learn more about our programs. "
Morse said that while Central Hall has been closed to the public it has been an opportunity for work to continue and improvements to be made. The last major renovation project was the rear of the first floor which had been used as work space and storage while the rest of the building was under construction. Morse said that the space is largely finished with some simple cosmetic work to do before it can be made available to the community.
"We're thrilled to be so close to opening the space," she commented, "We still need to purchase and install our kitchen equipment and furnish the space, but we anticipate it being available for use in the next month."
The space includes a meeting room, activity space, and several offices, all of which will be available for rental by individuals, businesses, and organizations. Morse said sound dampening panels were also installed on the second floor to make the space more enjoyable for live events and presentations.  
The second floor event center is also available for rental once again as well, though renters must abide by all applicable state guidelines. Morse reports that The Commons is keenly aware of the need for strict attention to distancing requirements, mask wearing, and cleaning protocols. "We were already prepared to follow all state and CDC guidelines," Morse said, "but now more than ever, after seeing the consequences of the recent wedding and reception in Millinocket, it has brought home how important it is for us to protect not only our guests, renters, staff and volunteers, but also the community as a whole."
Anyone wishing to learn more about the Central Hall Commons, their programs, or rental information, should contact The Commons by calling 207-343-3018, emailing info@centralhallcommons.org, or stopping in during office hours on Tuesday and Thursday from 11 a.m. to 3 p.m. Central Hall Commons is a 501(c)3 non-profit corporation with a mission to nurture a welcoming, inclusive, healthy, rural community by engaging people and organizations in the Maine Highlands region in connecting, celebrating and learning together.