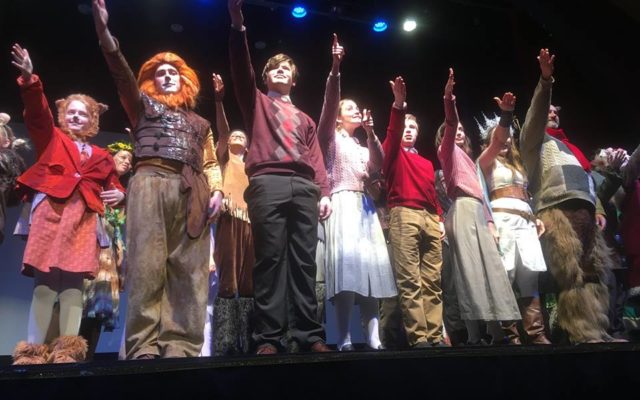 LWW Cast
Photo courtesy of Center Theatre AFTER SCHOOL AT CENTER THEATRE -- Youth and adults perform "The Lion, the Witch, and the Wardrobe" at the Center Theatre in 2017. The Center Theatre is beginning an after school theater program for high school students starting the week of Aug. 31st.
Center Theatre announces after-school program
DOVER-FOXCROFT — The Center Theatre in Dover-Foxcroft will be offering a new after-school program for high school students starting Aug. 31. Their Theatrical Arts and Technology Program will have two 8-week sessions. One session will meet weekly on Monday and Tuesday and the other session on Thursday and Friday. All classes will be from 3:30 to 5:30 p.m. at the Center Theatre. The cost for each 8-week session is between $25 and $100 depending on parents' ability to pay.
"We are suggesting a $100 tuition for each 8-week session," said Patrick Myers, the Center Theatre's executive director, "but now more than ever we know that money is tight and we want to make sure that as many kids as possible have the chance to attend the program. So if parents can't pay $100 they can choose $75, $50, or $25 when they register for the program. No questions asked."
The program will be taught by Derrick Buschmann. Buschmann has been the head of the Foxcroft Academy theater and film department, but recently saw his position cut due to COVID-related budget cuts.  
Each 8-week session will cover different aspects of theatrical arts including characterization, blocking, lighting, sound, videography, monologues, improv and more. Students will have the ability to focus on the technical aspects of the theater if they prefer, or focus on the performance aspects. The participants will need to practice distancing and wear masks when appropriate. Buschmann is planning online exercises if the program has to go on a brief hiatus because of COVID-19. 
Anyone wishing more information or wants to register can go to www.centertheatre.org and click on the link for the afterschool program. They can also call the Theatre at 207-564-8943. The Center Theatre is a 501(c)3 non-profit corporation with a mission of making arts, education and entertainment accessible to our rural communities to engage and inspire.