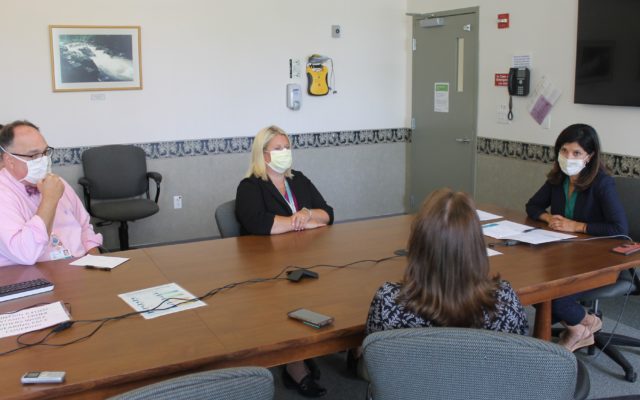 PO-gideon-33-20
Observer photo/Stuart Hedstrom HEALTH CARE DISCUSSION -- Democratic U.S. Senate candidate Sara Gideon, right, met with officials at Northern Light Mayo Hospital Hospital in Dover-Foxcroft to take part in a roundtable discussion on health care during an Aug. 10 visit to several sites in Piscataquis County. Also pictured is, from left, Dr. David McDermott, vice president of medical affairs & senior physician executive, Vice President of Finance and Practice Operations Jennifer Goodrich and Vice President of Patient Care Services Denise Scuderi.
U.S. Senate candidate Gideon, Mayo representatives discuss rural health care   
DOVER-FOXCROFT — With the election several months aways, U.S. Senate candidate and current Maine Speaker of the House Sara Gideon, D-Freeport toured Piscataquis County on Monday, Aug. 10. Gideon visited Pleasant River Lumber and the Piscataquis Regional Food Center in Dover-Foxcroft and Bissell Brothers Three Rivers in Milo. She also took part in a roundtable discussion at Northern Light Mayo Hospital to learn more about challenges posed by the coronavirus pandemic and long-term healthcare issues impacting the organization and other rural providers.
Dr. David McDermott, vice president of medical affairs & senior physician executive, thanked Gideon for her role in helping pass a bill enabling Mayo to join the Northern Light Health system. He said the hospital became part of the unit in March and then the next day everyone started to deal with the pandemic.
"We didn't need to invent the wheel on everything we did, there was a plan that was thought out and vetted with a number of other hospitals that were similar in size and scope to ours," Dr. McDermott said. He said Northern Light Health contracted with a tent vendor to provide a covering for testing at each campus, so Mayo officials did not have to do this on their own.
Gideon called the timing of the completion of the merger process remarkable, "literally weeks before COVID shut everything down."
Dr. McDermott said that without being part of Northern Light Health, he is not sure how the hospital would have weathered the great fiscal challenges posed by COVID-19
Gideon asked about staff morale. Vice President of Patient Care Services Denise Scuderi said this has been good and while pandemic numbers have been low in Piscataquis County compared to elsewhere in Maine and beyond, they realize the statistics may actually be higher due to non-reported cases.
"I think we have done really well and being a small hospital we did take the opportunity to crosstrain staff members with other units that they have not worked in in a long, long time in case of a surge, " Scuderi said. "So with that we were more prepared."
Vice President of Finance and Practice Operations Jennifer Goodrich said the cross training was conducted in conjunction with staff at Northern Light C.A. Dean Hospital in Greenville, providing a good opportunity to collaborate.
"For me my goal is to learn as much as possible about how to be helpful to all of you and recognize the importance of rural hospitals in your community in terms of healthcare primarily but also understanding the importance of the jobs you provide to the community as well," Gideon said.
"We know that rural hospitals are operating on the thinnest of margins, the reliance on outpatient services is really important to your bottom line and during COVID-19 of course that has been such a strain," she said.
The U.S. senate candidate mentioned how other hospitals have discontinued vital services, such as obstetrics, in an attempt to survive "which we know are vital to the community and to continue wanting to live there." 
"When we think about how do we support our rural areas, I think the healthcare piece we have to be supporting," Gideon said.
Dr. McDermott said Northern Light Mayo Hospital does about 100 deliveries a year, fewer than the 300 some national studies say are needed in order for the department to be sustainable. He said the closet delivery location is 45 minutes away in Bangor so "I think it's important to have that available."      
Scuderi said hospital staff already had a good relationship with Eastern Maine Medical Center in Bangor pre-merger, such as referring for neonatal care services not available in Dover-Foxcroft. "We are opening it up and getting more treatments for moms," she said.
Dr. McDermott said at the federal level Gideon, if elected, could help nurture the development and growth ability of telemedicine. He said in the midst of the pandemic this service advanced about 10 years overnight as "at one point we were doing half of our doctor's appointments with telemedicine."
He said since a reopening has started some patients still want to see their providers in-person, but telemedicine is still a good alternative and the hope is funding to provide and maintain for the service will remain available.
Gideon mentioned broadband access issues, reimbursement rates "and the other barriers I would like to understand and where federal action would be helpful."
Northern Light Health Vice President of Government Relations Lisa Harvey-McPherson said the organization is in good shape in regards to state policy. "What COVID has done is help us crack the fundamental barrier to telehealth, Medicare policy," she said. "What we have under COVID is payment parity, we have more providers eligible to conduct telehealth visits and the home can serve as a site where the patient can receive telehealth care — that was never allowed before."
"I think we can provide for our patients better because they are at home," Scuderi said about these telemedicine circumstances.
Harvey-McPherson said more support for these programs is needed in Congress.
"What are the challenges you find in attracting providers, recruiting people?," Gideon asked about the Dover-Foxcroft and Greenville hospitals.
"It is a constant struggle, regardless of the discipline," Dr. McDermott responded, mentioning respiratory therapy as an example. He said student loans for those graduating with degrees in the healthcare field have been an issue, — saying physicians applying for positions at Mayo often are at least $300,000 in debt — and perhaps something could be done in Congress to alleviate some of the financial burden.
"There should be more incentives for people to want to stay and be able to stay, it's not just a matter of wanting to stay but being able to afford to," Gideon said.
Gideon then asked about what is needed in the next federal COVID-19 relief program.
Harvey-McPherson said for Northern Light Health the top priorities are a restructuring of Medicare Excellerators Advance Payment Program repayments, additional monies in the CARES Act tranche and "third really are the telehealth waivers that need Congressional action."
"We will have to be continually engaging in these conversions, which is really important to me and I want to do what I can to support you in every way," Gideon concluded.