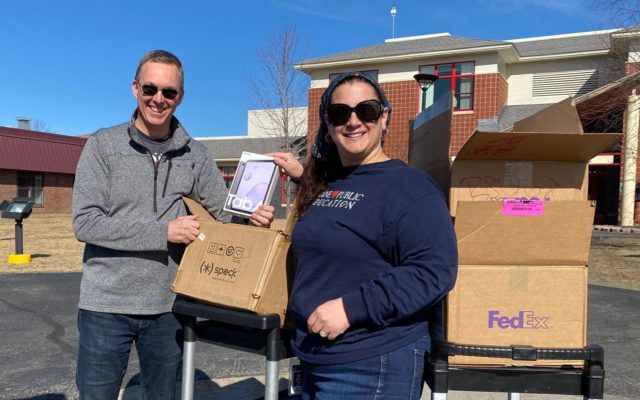 PO-devicesedo-16-20
Photo courtesy of Maine Department of Education HELPING STUDENTS LEARN -- SeDoMoCha School Technology Director Matthew Larrabee receives a delivery of Wi-Fi-enabled Samsung Tab A's from Maine DOE Coordinator of Secondary Education and Integrated Instruction Beth Lambert on April 8. The devices will help connect students lacking Internet access for remote learning during the COVID-19 pandemic.
U.S. Sen. Collins announces nearly $17M to improve Maine K-12 education during pandemic 
WASHINGTON, D.C. — U.S. Sen. Susan Collins, R-Maine, a member of the Education and Appropriations Committees, announced that Maine will receive a total of $16,958,613 through the CARES Act to create new, innovative ways to better serve K-12 students during the COVID-19 pandemic. The U.S. Department of Education contacted Collins to notify her that this grant, which she strongly advocated for, was approved.
"Educators throughout Maine have truly gone above and beyond to adapt their teaching methods in response to the pandemic, helping students to continue to achieve their educational goals," said Senator Collins.  "As a member of the Education and Appropriations Committees, I strongly advocated for this funding, which will help Maine school systems spark innovation in instruction and support students during this difficult time." 
This funding will support the Maine Department of Education's "Rethink Remote Education Venture" program to provide enhanced learning opportunities for Maine students. With this funding, Maine will develop opportunities for educators to become "Education Engineers" to design, pilot, implement and improve remote learning models.  The multi-pronged approach will include activities such as workshops in research and development, innovation engineering and other design processes; technical assistance in the creation of innovative new remote learning models and programs; and opportunities for schools and educators to participate by piloting the remote learning models that are designed. Maine also intends to leverage the existing higher education and R&D infrastructure to support educators and school leaders.
Awarded through the U.S. Department of Education's Rethink K-12 Education Models grant program, the State of Maine was one of 11 states selected to receive this grant out of a total of 39 applicants.  
Earlier this year, Collins announced that Maine was awarded nearly $44 million through the CARES Act to support K-12 students. Additionally, she announced that Maine received a $9.2 million block grant to support K-12 and postsecondary education in the state.