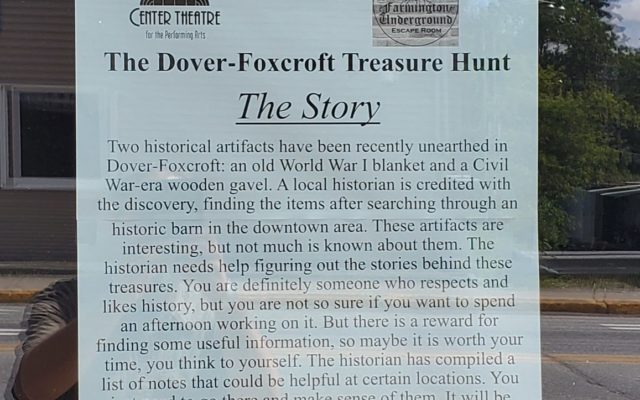 Center Theatre launches downtown Treasure Hunt
DOVER-FOXCROFT — The Center Theatre and Farmington Underground announced that they are now offering a walking treasure hunt in downtown Dover-Foxcroft. The Dover-Foxcroft Treasure Hunt is based on the popular Farmington Treasure Hunt started by Farmington Underground this year. The Dover Foxcroft Treasure Hunt starts at the Center Theatre and leads people on a choose-your-own-adventure style walking tour of downtown Dover-Foxcroft.
"You have options along the way of where you go next," said Patrick Myers, the Center Theatre's executive director. "At each location you have to figure out short puzzles and hints to gather clues that will help you come up with the final solution." Myers said that everyone who solves the puzzle correctly will be entered into a biweekly drawing for a $10 Center Theatre gift card.
The theme of the Dover-Foxcroft Treasure Hunt is the area's rich history. As you take part in the experience you also learn something about local history while you're having fun. Co-owner of Farmington Underground, Mary Ellms, is originally from Dexter and wanted to give back to the local community. "We were very lucky to connect with Center Theatre, as Dover-Foxcroft has a great downtown area with a lot of history," said Ellms.
You should plan on spending 60- 90 minutes completing the Treasure Hunt according to Myers. "We had some play testers who did it quicker and others who went back and tried other options because they had so much fun that they didn't want to stop. So how much time you spend is really up to you."
Reservations for the Dover-Foxcroft Treasure Hunt are $20 per group and can be made at the Farmington Underground website, FarmingtonUnderground.com. Once registered, you will receive an email with all the information you need to begin your Treasure Hunt. A mobile phone is required for the experience.
For more information on the Dover-Foxcroft Treasure Hunt contact the Center Theatre at 207-564-8943 or Farmington Underground at 207-778-4099. Proceeds from the Treasure Hunt will benefit both Farmington Underground and the Center Theatre. Farmington Underground is a popular business based in Farmington offering escape rooms as well as historical treasure hunts around the state. The Center Theatre is a 501(c)3 non-profit with a mission to make arts, education and entertainment accessible to our rural communities to engage and inspire.