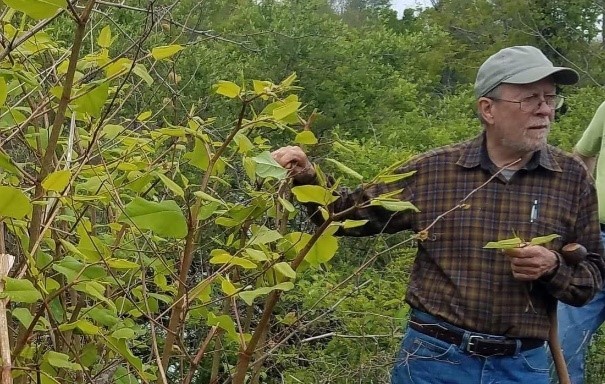 PO-foraging-27-20
Photo courtesy of PCSWCD WILD FORAGING -- Maine naturalist and author Tom Seymour will lead a wild foraging workshop on Saturday, Aug. 15 at the Piscataquis Soil and Water Conservation District's Demonstration Forest in Williamsburg Township.
PCSWCD offers wild edible foraging workshop
WILLIAMSBURG — After high demand, the Piscataquis County Soil and Water Conservation District (PCSWCD) is pleased to present another wild edible foraging workshop on Saturday, Aug. 15 with Maine naturalist and author Tom Seymour. Seymour has presented wild plant seminars across the state and we are excited to welcome him back to Piscataquis County.
Last year he joined PCSWCD at the Law Farm and Browns Mills Park in Dover-Foxcroft, where he led a group of 50 participants through fields and hedges in search of wild edibles. Seymour will be returning to take our group on a field trip to the Demonstration Forest in Williamsburg Township, one of the district's public lands. He will walk with participants on the land while identifying and explaining the uses and properties of wild plants in the Maine woods. Seymour will also explain how to use wild plants as substitutes for more familiar vegetables and how these plants add their own unique flavors, textures and aromas to easy-to-prepare meals.
Seymour has written several books on hiking, fishing, birding and foraging wild plants in New England, along with magazine and journal articles featuring his knowledge and passion for the outdoors. There will be publications written by him available for purchase with autographs on the day of the event.
Registration is required for this event and tickets are priced at $20. This workshop will start at 9 a.m. at the Demonstration Forest. Participants are encouraged to wear hiking shoes and be prepared to explore the woods. You can find more information about Seymour at tomseymourmaine.com. Rain date is scheduled for Saturday, Aug. 22. There is a 25-person cap on this event, as to allow an opportunity for physical distancing. Hand sanitizer will be provided by the PCSWCD.
If you are curious to learn more about wild edible foraging and would like to come to this workshop, please contact the Piscataquis County Soil & Water Conservation District at 207-564-2321 ext. 3, email us at info@piscataquisswcd.org or visit our website piscataquisswcd.org to register.