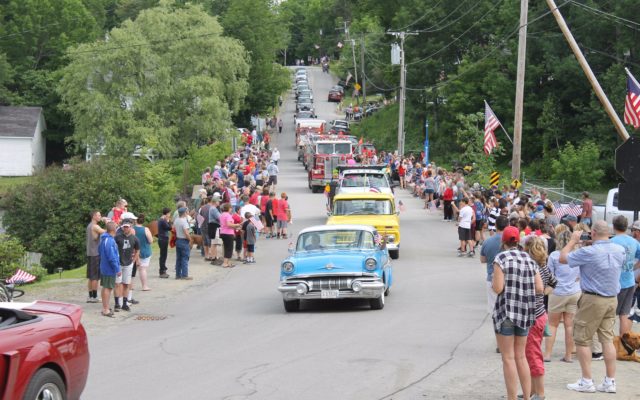 PO-sebec4thcars-28-17
Observer file photo/Stuart Hedstrom DIFFERENT FOURTH OF JULY -- While many of the annual Fourth of July events in Sebec have been canceled for Saturday, the Sebec Reading Room will serve a drive-up chicken BBQ during the middle of the day, along with a bake sale, as well as some breakfast items available on the front porch by donation during the morning.
Fourth of July events
The Fourth of July fireworks in Dexter have been postponed until Labor Day (details to be announced). 
An Independence Day morning parade will be taking place in town. In a post on the Dexter Maine Facebook page Town Manager Trampas King wrote, "Don't forget Dexter will be having a parade on Saturday at 10 am. to celebrate our Country's Independence. Please be cautious with others that are trying to keep safe and social distancing. There should be plenty of room on the route for everyone to observe. The line-up for the parade starts at 9:30 at the Fire Station. Thank you."
Greenville officials are excited to announce the town will be holding Fourth of July fireworks at 9 p.m. on Saturday. The display will be moved to the municipal airport to provide better visibility and to observe social distancing.
Attendees are asked to follow guidelines. There will be designated parking on the grass, no vehicles will be allowed on the runway. (please respect airport property). There will be certain areas closed off to vehicle traffic and spectators.(as a result of FAA regulations). There will be one entrance and two exits. There will be parking attendants assisting in the parking.
Please observe social distancing guidelines, bring blankets and lawn chairs and carry in/carry out. Be sure to allow plenty of time for parking, For more information go to https://greenvilleme.com/events/.
The Sebec Reading Room will serve a drive-up chicken BBQ from 11 a.m.-2 p.m.  or until food runs out. The menu consists of a half chicken, potato and pasta salads, cole slaw and roll.
Blueberry muffins, coffee and more will be available from 8-10:30 a.m. on the front porch by donation, and later in the day will be an outdoor bake sale.
All other events, including the 5K road race, canoe race and parade, are canceled.