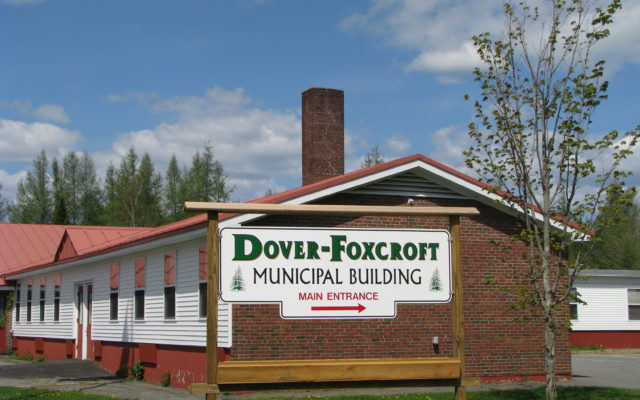 Morton Avenue
The Morton Avenue Municipal Building in Dover-Foxcroft
Dover-Foxcroft seeking grant to help mitigate COVID-19 spread
DOVER-FOXCROFT — The COVID-19 coronavirus pandemic has created unexpected costs for Maine communities and businesses. A portion of future expenses could be reimbursed in Dover-Foxcroft as the community has applied for a $255,000 grant which if awarded could benefit not only the town but others in Piscataquis County.
"I wanted to mention a grant program (Finance Director Dave Johnson) and I were made aware of last week," Town Manager Jack Clukey said during a June 22 select meeting held over Zoom. He said the state has made funds available through the Keep Maine Healthy COVID-19 Awareness Campaign for communities to take steps to mitigate the spread of COVID-19 during this year's tourist season.
Clukey said steps include buying signage, personal protective equipment, barriers and more and must include a business education component where the town can conduct outreach to businesses and the public. He said Dover-Foxcroft has applied for grant monies to be used by the town and for eligible partners within Piscataquis County.
The application was due earlier in the day and "they are going to notify communities around June 30 if they are funded or not," Clukey said.
"The entire grant request is pretty sizable, it's $255,000," the town manager said, although a lesser total could be awarded. "We propose half of that for the town and half of that for sub-recipients. It would basically allow us to look at other entities in Piscataquis County to be recipients."
Clukey said grant monies could fund initiatives carried out from June 8 to Oct. 31. 
"What we have proposed is somebody who is a contracted position, not an employee because of the limited time," he said. "They would be our liaison to go around and talk to businesses for education and outreach. Certainly someone to get information out there and answer questions."
When asked Clukey said grant funds could also be used to help cover absentee ballot costs. "We would really have the benefit of two elections being reimbursed for that," he said with the July 14 primary and voting taking place in late October leading up to the Nov. 3 election.
In other business, following some discussion the selectboard authorized its rec committee to review and potentially give approval to a finalized plan by the Piscataquis Regional YMCA for conducting youth swim lessons at the municipal beach on Sebec Lake.
"The Y is open, their pool is not open," Clukey said. He said the PRYMCA will be working on the dehumidifying system for much of the summer so swim lessons cannot be held inside the facility.
He said the PRYMCA is asking to use a section of buoyed swim area, such as on weekday mornings, while adhering to the social distancing protocols in place at the recreation area. The PRYMCA would bring its own lifeguard to oversee the young swimmers, and this individual would be on site in the event of an emergency in the water nearby.
PRYMCA officials wanted to have board approval before finalizing a plan but "my impression is daytime hours, so business hours" Clukey said about the time of lessons. He also said the organization would probably have an idea about participation numbers once the plan has been shared with the public, and a possibility could be to close the beach to the public in the morning while lessons are underway.
"I would like to hear from the Y exactly how they plan to do it," Select Chair Elwood Edgerly said. "If the Y puts together a plan I think they would do their best to enforce it."
With the next regular select meeting scheduled for Monday, July 20, the full board authorized the recreation committee to meet with PRYMCA representatives in the near future to review the swim lesson plan.
Selectperson Jane Conroy mentioned she was at the municipal beach the previous weekend and she wondered what the smoking policy was for the space, which has signs posted prohibiting alcohol and dogs.
"We have not banned smoking on all town property," Clukey responded. He said smoking is not allowed at some other recreational areas, such as the ballfield.
"I know that's come up in the past and the discussion leads to enforcement," the town manager said. "I think that's something we would have to talk about more if we were going to go in that direction."
In his report, Clukey said the state is planning to close a portion of Route 7 next month to replace a bridge culvert. He said town crews have been working to prepare local roads for higher than normal traffic due to the Route 7 detours.
Clukey said emergency agencies are aware of the road closure and are preparing for what will be inevitable longer response times.
"There is really no way around it, the work needs to be done — it's overdue," Police Chief Ryan Reardon said. "We just have to deal with it and do our best."
Reardon said Gordon Contracting, Inc. of Sangerville notified the police department about the pending road closure while the culver work and road construction takes place. He said Gordon Contracting will begin early on Monday, July 6 and "they are hopeful to wrap it up on the 11th, no later than midnight."
According to a post on the Dover-Foxcroft Police Facebook page — which features detour route maps — travelers are asked to plan accordingly as Route 7 will be closed to all traffic between the Kinney Corner Road and and Starbird from July 6-11. Route 7 will then be open to one 12-foot lane of alternating traffic following the road closure. The one way alternating traffic will last until the project is completed.
The selectboard also passed a motion to rename School Street to County Street for E911 purposes. E911 standards call for road names to not be similar and the change would help differentiate between the former School Street and the School Road in East Dover.
Board members decided to meet remotely again on July 20 rather than gather in-person for the first time since March 9.
"I think to err on the side of caution makes sense," Select Vice Chair Cindy Freeman Cyr said. She then asked her colleagues if they had heard anything from the public about remote meetings representing hardship, and no one said they had heard negative feedback.
Conroy asked about the annual BikeMaine event scheduled to come through town in mid-September.
"The BikeMaine was canceled for 2020 and they are focused on 2021 with the same route," Clukey responded.