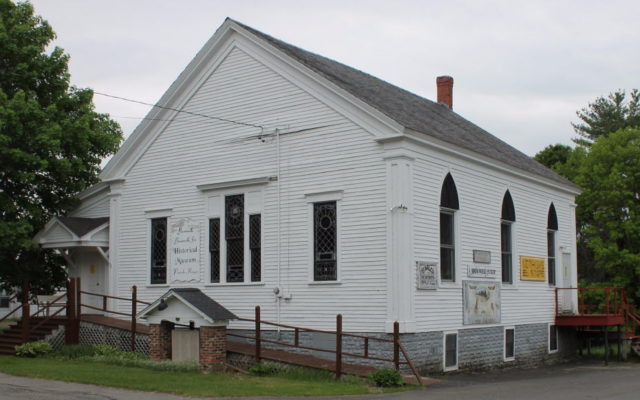 AX010_24F9_9
The Brownville-Brownville Junction Historical Society's Parish House Museum
Brownville-Brownville Junction Historical Society news  
BROWNVILLE — The Brownville-Brownville Junction Historical Society held its annual meeting (rescheduled from May due to the coronavirus pandemic) on June 16. 
The same leadership slate will continue to guide the society for the coming year. Susan Worcester will remain as president and secretary; George Dean as vice president and Allana Washburn as treasurer. Members of the board of directors are Lynn Weston, Lynn Gerrish and Jeff Larson.
The treasurer's report indicates that we have 19 lifetime members and currently 22 people have paid their $5 dues for this year. So far this year, the organization has received nearly $500 in donations, exclusive of membership dues.
It was decided that with some restrictions, the museum can open this summer! The schedule will remain the same: Tuesdays and Thursdays from 10 a.m. to 2 p.m.
Guidelines will be posted. Visitors should know that face masks will be required and social distancing will be encouraged. This summer will be, as much as possible, a "look but please do not touch" time. For those wishing to do research or review our many scrapbooks and notebooks, gloves will be required (and will be available at the museum). Only volunteers will be allowed in the work area. 
We still need electrical work completed in the bathroom that was renovated by the work crew at the Charleston Correctional Center last summer/fall. We hope that will be done soon.
The Brownville Junction High School basketball scoreboard is now in the hands of Moosehead Signs in Greenville for restoration! Many thanks to Bill Bellatty for donations that have made this work possible. We hope that the scoreboard will be on display by mid summer.
The Facebook page, maintained by Weston, is our main outreach to people who live or lived in the area. She will post that we are looking for new volunteers, including someone to "freshen up" the garden area in the front of the museum.
In addition….
Anyone having items to donate to the museum is encouraged to visit during our regular hours. If that is not possible, contact us through the Facebook page or at brownvillehistorical@trcmaine.org
If you have an inquiry we will do our best to research your questions. If you wish to do that research on your own, we are available Tuesdays and Thursdays and by appointment.
Residents are asked to consider becoming a member ($5/person/annually). They will receive a newsletter three times during the year and will be supporting the only place locally where one can learn about the history of Brownville, Brownville Junction and the surrounding areas.