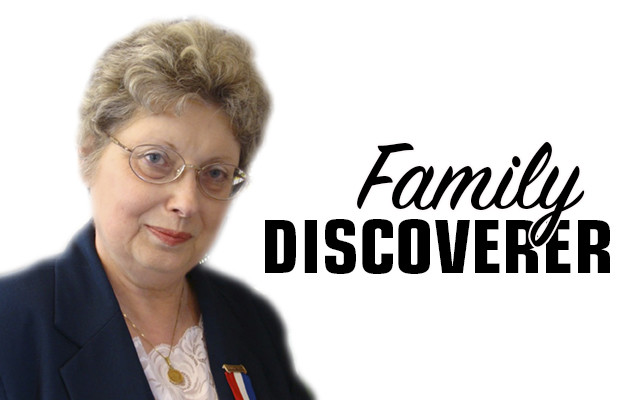 Nancy Battick.jpg
Nancy Battick (of Dover-Foxcroft, president of the Daughters of Union Veterans.) (BDN Photo by Diana Bowley)
Are child laborers in your history?
The U.S. Census can shock you in regard to the number of children who held jobs. Today child labor laws are quite strict, but years ago children of certain economic classes were expected to work and contribute to the family income. It wasn't at all unusual to find girls as young as 12 working long hours in woolen mills or young boys working in coal mines, fishing boats or farms. 
Let's take a look at farms.
Until the mid-19th century, self-sustaining farms were found on nearly every page of the census, excepting large cities. We were a nation of farmers from the earliest days of this country and no farm child escaped working from a young age. Today's sophisticated farm equipment was non-existent, and the need for working hands was crucial for sowing, harvesting, haying, and the daily chores of milking, feeding animals, gardening and any number of other chores. 
When a harvest was ready, there was always a sense of urgency, whether it was picking potatoes or haying. Farm work was hard work, and I remember my maternal grandfather saying he was 8 years old when he was hired by a neighbor to help him. 
Today people would be appalled, but almost every child had chores years ago, and some of them highly dangerous by today's standards. 
My dad had a tractor which helped with raking the hay into sinuous lines of dull gold. But the actual haying work was done manually, forking loads of dry hay from the ground onto the truck bed. Long before the equal rights movement, my mom did a man's job, sharing equally all the work on the farm. She used a hayfork to build the load, keeping it even on the truck. My job was to trudge round and round the edge of the truck bed, tamping down the hay to make room for more. 
It was hot, dusty and tiresome work. If I'd fallen off I might have been badly hurt, as the loads were high and any inattention or misstep could have meant broken bones or something more serious. With exception of the truck, our haying process was how farmers had done it for centuries.  
Next time you check the Census, look at the occupations for the children in the families. If they were in cities, they often show up working where Dad worked, a mill or a factory. On a farm they may be listed as "farmers." Daughters were "domestic" — that is, working inside doing all the work a grown woman could, and on farms that was a lot of work. 
Do you know if your ancestor had to work as a child? We all need to be thankful that certain things have changed but should remember how hard things could be for our ancestors.
Note: If the lady who requested help with vital records would send her email again, I'll try to help. I think her email disappeared when I was overzealous in tidying up my back emails and I apologize.
Nancy Battick is a Dover-Foxcroft native who has researched genealogy for over 30 years. She is past president of the Maine Genealogical Society, author of several genealogical articles and co-transcribed the Vital Records of Dover-Foxcroft. Nancy holds an MA in History from UMaine and lives in Dover-Foxcroft with her husband, Jack, another avid genealogist.  You can contact Nancy at nbattick@roadrunner.com.