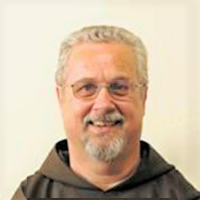 PO-priestassignmentmug-25-20
Fr. Daigle
Bishop Deeley announces priest assignment for Our Lady of the Snows Parish
Bishop Robert Deeley has announced that Fr. Roland Daigle, OFM Cap. has been appointed as a parochial vicar of Our Lady of the Snows Parish (St. Thomas Aquinas Church, Dover-Foxcroft; St. Anne Church, Dexter; SS Francis Xavier & Paul the Apostle Church, Milo) and St. Agnes Parish in Pittsfield.
Fr. Daigle is a member of the Order of Friars Minor Capuchin (OFM Cap.), which strives to live the Gospel with the same simplicity and fervor as their founder, St. Francis of Assisi. He was invested as a Capuchin Franciscan on August 31, 1977, professed perpetual vows on September 18, 1982, and was ordained to the priesthood on June 2, 1984, at St. Patrick's Cathedral in New York City.
"After a year of temporary assignments I went to minister in Okinawa, Japan, in August of 1985," said Fr. Daigle. "There, I was pastor of various parishes and served two, 3-year terms. I also helped on the Air Force base for several years and served five years as a priest for the Marine bases."
In 2015, Fr. Daigle transferred to Guam and served as both an associate pastor and pastor over the course of the next four years before returning to the U.S. and moving to Maine.
"I took a year to transition back to American ministry and served by being available to cover for priests in various parishes," said Fr. Daigle. "As beautiful as living in Gray is, I felt I needed a bit more involvement in helping the Diocese of Portland, and so I offered my services to become more directly involved in parish ministry." 
Our Lady of the Snow and St. Agnes parishes look forward to welcoming Fr. Daigle at the end of the month, and he is happy to arrive.
"I met with Fr. Robert Lupo (pastor of the parishes) and found that we got along very well and that he would welcome my help," said Fr. Daigle.
The assignment is effective on July 1.