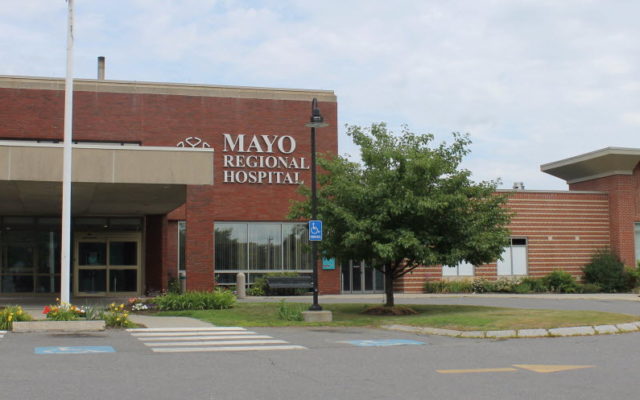 ax247_4e5a_9
Northern Light Mayo Hospital in Dover-Foxcroft
Northern Light Health merger provides new resources for Mayo  
DOVER-FOXCROFT — "It's nothing short of a miracle," observes Marie Vienneau, president of Northern Light Mayo Hospital. "We spent several important years in community discussion and debate about the pros and cons of joining a larger system. In fact a year ago, we were just completing 19 forums and meetings educating the community and gaining the support for the final vote to join Northern Light Health."
"After the vote it took many more months to gain the needed approval from the legislature, and the Certificate of Need to move forward," adds David McDermott, MD, chief medical officer of the hospital in Dover-Foxcroft.
"The bottom line is the final paperwork was signed March 1, 2020 — just as COVID 19 response preparation really began to heat up," says Vienneau. 
While Mayo had established historical relationships with some system members, like Northern Light Eastern Maine Medical Center, the close of the merger opened up vast new resources, Vienneau says. Leaders at Mayo are now included in daily COVID-19 incident command meetings, where they can tap the expertise of the system's healthcare professionals all over Maine. In addition, subgroups focused on clinical and support areas including infection control, facilities management, pharmacy services and many others are meeting as needed during the week. 
"Usually if a Mayo patient needs mechanical respiratory support, we get them started and transport them to EMMC," says pharmacy director Lindsay Pelletier, PharmD.  "As a part of our COVID-19 response plan, Mayo is preparing to keep patients on ventilators here in Dover-Foxcroft. Purchasing the medicines that are required for vented patients was not possible through my normal channels. Northern Light Health was able to get those supplies for me."
Mayo facilities director Mike Kessler had other worries as he considered plans to get his hospital grounds organized for anticipated emergency response mode, "Two weeks earlier, I would have been working on plans for our response with only information I was able to gather on my own. The Thursday after the merger was final I got a call from Northern Light's Facility Planning, Design and Construction Group giving me details on the system's plan for COVID-19 testing. Two business days later I had a tent on site for that purpose."
Kessler adds that a few days later his team visited the testing site at Bass Park in Bangor and decided to make a few adjustments at Mayo, "I had a second, smaller tent in Dover-Foxcroft later the same day."
Kessler says the system incident command has had access to early intelligence in Maine through the Portland-based Northern Light Mercy Hospital's experience with some of the first cases of COVID-19. "We were getting information about what was working in Portland before we had cases further north. " Kessler adds that the benefits go both ways. His own expertise in mechanical engineering, heating, cooling, plumbing and medical gas systems can help others in the system.  
Mayo's director of purchasing, Cal Wilson, voices the relief that other leaders are feeling, "I don't know where we would have been without Northern Light. The national supply chain is riddled with back orders and lack of access to manufacturers. Thanks to the system emergency preparedness stockpile, we have an adequate supply of isolation gowns, hand sanitizer, masks and face shields."
While circumstances change rapidly when it comes to supply chain, Wilson says members of the system are combining efforts to be sure that employees have what they need to be safe and to care for their patients.
Vienneau says the COVID-19 crisis puts into uncomfortably clear focus the benefits and timing of the merger with Northern Light. "The financial prospects for Mayo as an independent hospital were dire," she said. "With the added pressure on the hospital of this pandemic response, we would likely have had to close services for good and layoff employees, at the very least. Worst case, it might have been the end for us. Instead, we are vibrant and fulfilling our mission to provide care in our community."
Mayo is feeling the bolstering reassurance of strength in numbers. Northern Light Health, for example, has made a statewide commitment not to lay off any employees. In many cases employees whose departments are temporarily closed during the pandemic have been reassigned to other critical duties. In addition, the system has offered some employees a voluntary furlough option to support employees with children at home or risky underlying health conditions. 
"I was one of those employees who worried that system integration would take away the wonderful culture and personality of our hospital," confesses Pelletier. "But we are the same people, with the same commitment to our community. What's different is our access to the resources of this system and a network of smart and supportive peers!"
"Northern Light is managing a statewide plan for addressing this coronavirus pandemic, including surge planning, supply chain, emergency response policies, staffing, infection control, even communication resources," observes Dr. McDermott. "And we are at the table, contributing our voice and our ideas. Is everything perfectly lined up? Of course not. It's been only a few weeks. But for the big stuff we're there. We could not have done this on our own."