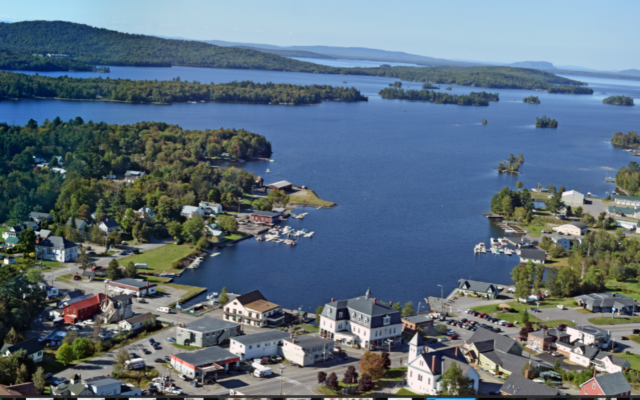 Screenshot 2019-12-16 at 2.17.26 PM
Contributed photo GREENVILLE GREENSPACE -- Downtown Greenville with the greenspace property on the west side of the cove.
Land for Greenville's future
GREENVILLE — On Nov. 19 the Land for Maine's Future (LMF) program board voted unanimously to allocate $105,000 to the Moosehead Lake Region Economic Development Corporation's (MLREDC) project to acquire the last remaining greenspace in downtown Greenville to conserve it as a permanent public park with direct access to Moosehead Lake for everyone to enjoy. The LMF's commitment brings the MLREDC's fundraising campaign to $216,000 on the way toward its goal of $250,000 to purchase the 3 Lakeview Street property and develop the site and the docking system plus an additional $40,000 goal to establish a reserve fund for annual maintenance.
The Land for Maine's Future Program was established by Maine citizens in 1987 and is the State's primary funding vehicle for conserving land for its natural and recreational value. Patrick Kelliher, commissioner of the Department of Marine Resources who chairs the LMF board, said at the meeting that he had recently visited Greenville and viewed the site.  "This is a fantastic project on a fantastic site," he commented. 
"We are incredibly grateful to the Land for Maine's Future Program for partnering with the MLREDC to secure public access to outdoor recreation, to conserve open and shared community spaces and, by extension, to strengthen natural resources businesses that are critical to the economy of the Moosehead Lake region," says President Steve Levesque.  "And development of this project land as a public park with access to the lake was a key recommendation of the Musson Group's Downtown Greenville Master Plan which was commissioned and endorsed by the town of Greenville as a road map for the revitalization of downtown."
Over the course of the next six months, the MLREDC will focus on completing its fundraising campaign and developing the site plans. A Downtown Waterfront Park Planning Committee was established and includes MLREDC board members Telford Allen, Margarita Contreni and Karin Tilberg and local residents E.J. Richardson, Suzanne AuClair and Tom Watt. 
For more information on the project and on making a donation to the fundraising campaign, please contact MLREDC Administrator Heidi St. Jean at admin@mooseheadlakeedc.com or mail your donation to MLREDC PO Box 223 Greenville, ME  04441.