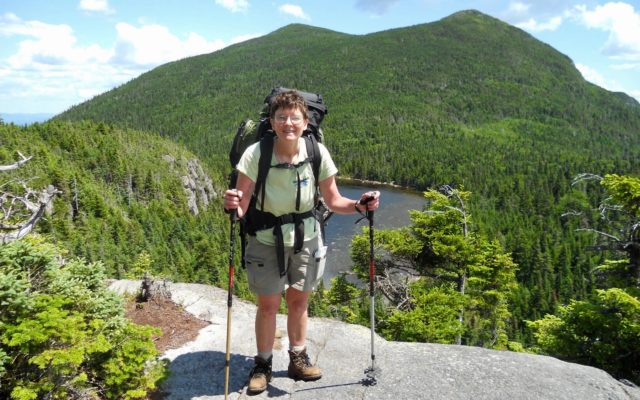 Greenville Junction hiker shines light on American Discovery Trail
GREENVILLE JUNCTION —
"I heard about this first from Ron Dobra," Weiger said. Dobra, another Greenville resident and former music teacher at Greenville Schools, has hiked trails all over the United States.
Weiger will hike a 317-mile portion of the trail to promote her upcoming book, "Heaven Beneath Our Feet," as well as her new nonprofit, Achor Earth Ways. Her book explores the relationship between people and the natural world.
"I show the importance of connecting with nature for our own health, on multiple levels —physical, emotional, spiritual," she said. "And if we have a strong, heartfelt connection with nature, we'll be inspired to take better care of our natural environment. In my book, I describe meaningful ways to engage with the Earth. Through Achor Earth Ways, I'll offer programs that teach these practices, guiding participants into deeper, more joyful connection with nature."
Her love of the natural world began through her mother Deanie's example. "My mother grew up in Michigan's Upper Peninsula, which is much like northern Maine," Weiger said. "But as a girl during the Depression era, she didn't have as much opportunity for outdoor adventure as she would have liked. So we decided, when I was a young adult, to try camping together in Acadia National Park."
Both mother and daughter had such a great time that they went on to share many more journeys, both in the U.S. and abroad. "We were so fortunate," Weiger said. "We got to experience so many places in the world, including wilderness areas in Alaska. The love we developed for our country's northern forests prompted us to leave urban life behind and move to the Moosehead region — a place that spoke deeply to both of us."
Weiger, a former research physician at Harvard University, credits her mom as the real inspiration to get the message out through her book. "Good stewardship of the natural world is so important," she said. "My book stresses the importance of nature as key to our spiritual growth and healing."
Weiger, who will be blogging about her adventure, will be starting her hike March 10, on the Atlantic shore, at Cape Henlopen State Park in Delaware. "I am bringing my laptop and a solar charger, which should at least work to keep my phone going," she grinned. "I don't plan to pack a cook stove, there just wouldn't be room."
Weiger will be traveling approximately 317 miles of the trail, ending her trek in early May at the Maryland-West Virginia border. She plans to meet with Maine's Senator Susan Collins when she travels through Washington, DC. "I plan to meet with Representative Jared Golden's Legislative Director as well," she said. "I want to stress the importance of protecting our natural areas. In particular, I will ask them to vote for full funding of the Land and Water Conservation Fund, which has helped to protect many special places in Maine."
While in Washington, she will also meet with students at National Cathedral School. When she gets to Harpers Ferry, WV, she plans to give a presentation about her work at the headquarters of the Appalachian Trail Conservancy. Weiger will be doing some camping on the trail but, when it passes through urban areas, she will spend some nights in motels.
"I also hope to stay with people along the way who have taken an interest in the American Discovery Trail (ADT). There are a lot of good-hearted volunteers who contribute their time and resources to support the trail and its hikers," she said.
Weiger is looking forward to her adventure on the ADT and is eager to share her trip with everyone who is interested — both people she meets along the way and those who follow her online. She said, "If we open our eyes and our hearts, we see miracles all around us in nature. I founded my nonprofit, Achor Earth Ways, with the goal of transforming lives and healing Earth. On this journey, that's what I hope to be doing…one step at a time."
Join Weiger on her extraordinary journey this spring by "liking" the Achor Earth Ways Facebook page (facebook.com/AchorEarthWays) and subscribing to her blog at wendyweiger.com/blog-walking-with-wendy. It will be an adventure we can all share.