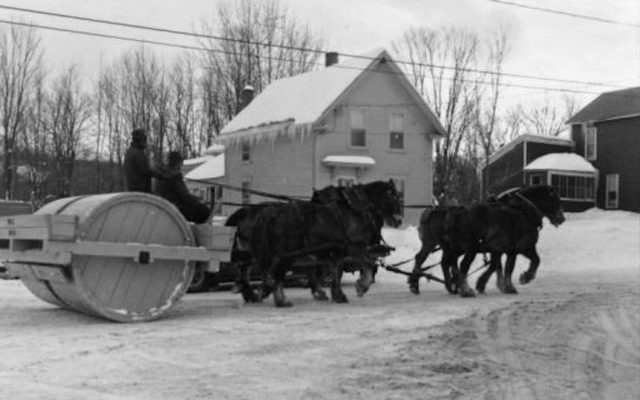 bx110_037f_9
Photo courtesy of Monson Historical Society ROLLING DOWN THE STREET -- Monson's snowroller is celebrated on the first Snowroller Day in February 1975. This year's Snowroller Days will be Friday evening and all day on Saturday.
Monson gears up for Snowroller Days
MONSON — Once upon a time many years ago, when horses pulled carts and carriages, winter transportation required sleighs to get around. And what better help for traveling by sleigh than the mighty snowroller? This was a huge rolling cylinder pulled by a team of horses that would flatten and smooth out the snowy roads.
There are very few snowrollers left, but the town of Monson has one and has celebrated Snowroller Days every year since 1975. This year is no different, with all kinds of family activities beginning at 6 p.m. on Friday, Feb. 15 at the Monson Gym. It all starts with a Youth Basketball Game, including the Monson Slaters Cheerleaders performing at halftime, and an Adult Basketball Game at 7 p.m.
According to a Press Release from the Piscataquis Chamber of Commerce, all kinds of fun events are planned for Saturday, Feb. 16, starting with a hearty breakfast at the Monson Church from 7 to 9 a.m. Look for kids field games behind the gym until noon, and a snowman contest. If you enjoy cribbage, there's the Ginny Zimmerman Cribbage Tourney at the Town Office meeting space. There's a coloring contest this year, too, with details to be found at the Monson post office.
Also, on Saturday, families can enjoy trying out kick sleds all day, with a race beginning at 2 p.m. on the ice. There's a special sale at the library, antique sleds on display at the Lakeshore House, and a Game Warden and his dog will be around throughout the day.
In fact, there is so much to do on Saturday you may have to choose your options! Fun events include an all-day Scavenger hunt from 7 a.m. until 6 p.m. for kids. They can pick up clue-papers on the Town Office door and turn them in by 6 p.m. in a designated box set up at the gym. From noon to 3 p.m. there will be a Bouncy House set up in the gym along with face painting, popcorn and cotton-candy, kids games and plenty to eat and drink.
Families can watch an old-time movie featuring the lifeblood of Monson — slate quarrying. Kids can even dress like snowmen or in another silly winter outfit and have their picture taken. And from noon to 3 p.m. those who enjoy ice fishing can do so on the lake near the boat launch. There's also cross-country skiing at Fierce Chase Trail on the Elliotsville Road. Don't miss the annual tug of war on the lake at 3 p.m.
Beginning at noon there's the National Snow Tube Curling Contest. Four to eight-person teams may register the morning of the event, with practice time available. Individual kids contest begins at noon followed by Adult Nationals at 1 p.m. Gold, Silver, and Bronze medals will be awarded to the top three teams.
Look for the "Anything that Slides" race at 4 p.m. That promises to be a blast. Ribbons will be awarded to the fastest, the slowest, and the most creative and the most comical craft. Also, there will be a prize for the most people still on a sled at the finish line.
But there's more! From 4 to 7 p.m. there's a bonfire beside the gym. And, while supplies last, families can roast hot dogs and marshmallows while sipping hot chocolate (no fee). There will be a "Best LIT Costume" contest with cash and prizes awarded to the most creative glow in the dark and LED costumes. For those who want to come in from the cold, enjoy a great meal and listen to music, Jennie Lou Drew will sing at the Lakeshore House from 4 to 7 p.m. The gym will also be open from noon to 7 p.m. as a warming center and for those who need restrooms. Those who stay to the end of the festivities will witness Monson's first ever Wooden Moose Burning at 7 p.m. on the frozen lake.
The star of the festivities, Monson's snowroller, will be on display in the parking lot behind the Monson Town Office for the weekend. According to information from the Monson Historical Society, Walter Sears of Willimantic built the first one for this area back in 1914. He constructed two round rollers using spruce and oak, each one approximately six feet wide and five feet in diameter. He added shallow wooden troughs front and back – one for horse feed and the other for shovels and other equipment. Sears used a team of horses or oxen to pull it along the snow-covered roads. This snowroller was used for almost 20 Maine winters, making winter travel, either by foot or sleigh, quite a bit easier.
Bill Dauphinee of Willimantic recalled that it "took all day to roll the Seven Mile Square Road. If it were particularly cold, a driver and team would go until their hands got very cold and then another farmer with his team would take over." Several farmers took turns on the roads, operating the roller with two teams of horses, even three teams if the snow was really heavy. And, the farmer with the roller at the end of the day always had the smoothest driveway, he noted.
After 1933, with the advent of better roads, the roller was stored away and 40 years later donated to the Monson Historical Society. Two years later, after being repaired, this snowroller became the star of Monson's first Snowroller Day celebration on Feb. 8, 1975. For years, weather permitting, it was trundled down the main street in Monson pulled by a team of horses to celebrate its special day.
Thank goodness Monson has preserved their snowroller for all to see and created a fun weekend event for everyone to enjoy, a nice break during long winter months. Check out further details on Monson's Facebook page or contact the Town Office at 997-3641.