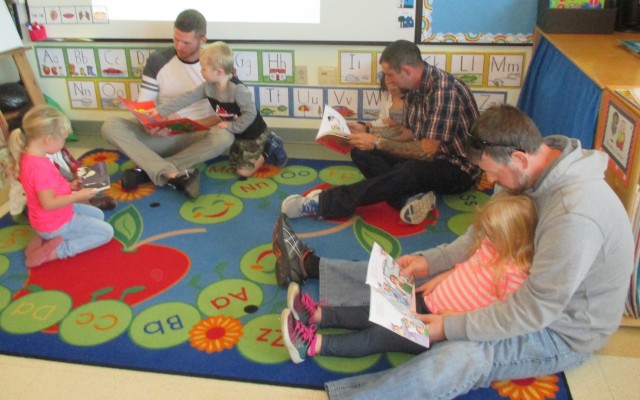 'Family Fun Fridays' bring parents into the classroom
DOVER-FOXCROFT — Parents and family members of pre-kindergarten students at the SeDoMoCha Elementary School have had the opportunity to see what their child's day is like with a half dozen days throughout the year earmarked for classroom visits.
Pre-kindergarten teacher Ellen McBride said this year's new "Opening Worlds of Learning" curriculum is divided into "six units and on the last day of each unit we invite parents to come in." She said the parents and students take part in several games based on math and literacy lessons the youngsters have learned, as well making crafts and enjoying a snack.
"It's gone really well and given the child the opportunity to share directly with parents and have the child be the teacher and showcase what they are doing," McBride said during the third of six scheduled day of parent visits on Dec. 9.
Next door in Elizabeth Bisson's pre-kindergarten class students and parents gathered on the rug as Bisson read aloud "A Hat for Minerva Louise" by Janet Stoeke. When the teacher finished the pupils and their visitors could choose to head to a craft table or another table with rhyming cards as the students matched pictures based on similar sounds in the song "Down by the Bay," such as a goat riding in a boat, bear combing his hair and — Bisson's favorite — llamas wearing pajamas.
"We wanted the opportunity for parents to come in and experience what the kids are doing," Bisson said, referring to the days as "Family Fun Fridays." "We try to highlight what we are currently working on each month," she said about the half dozen four-week units.
"We are having on average 90-95 percent participation which is amazing," she said. "We have had parents, we have had grandparents, we have had aunts and uncles so they have been able to show everyone in their family what's going on.
McBride said the students will show their family members other parts of their day, including a visit to the music room with music teacher Kaitlyn Young. "The kids took them around to all the centers and I think they were really excited about that," she said, as students also have explained the pre-kindergarten classroom kitchen and science areas and the outdoor playground.
Thirty-eight students are enrolled in pre-kindergarten at SeDoMoCha Elementary, with each teacher having a morning and afternoon session. McBride said in the past she and Bisson held math and literacy nights for students and parents but attendance figures were never as high as for the visits during the school day.