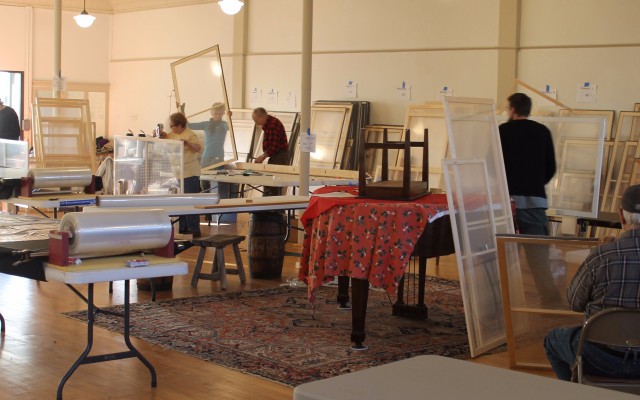 Window insulation program wraps up
DOVER-FOXCROFT — For the second year in a row volunteers spent a week taking part in a Window Dressers community build to create cost-saving insulating window inserts.
As the last inserts were being finished on the afternoon of Friday, Nov. 18 — the end of the five-day session held in the former Mr. Paperback storefront on East Main Street owned by Charles Fitzgerald — build organizer Dr. Lesley Fernow said this year's event had a total of 313 inserts made, to be placed in windows of varying sizes around the region. She said about 25 percent of the inserts were constructed for low-income residents, who were able to take advantage of discounted pricing for the items.
"I would say we have almost 50 volunteers," Dr. Fernow said, assembling inserts for several dozen individual and organization recipients. "We have had a lot of people who have been here all five days and some people did just a shift," she said.
"Everybody who gets windows is asked to contribute to the build," Dr. Fernow said. "There's a job for everybody," she said, saying one volunteer was able to perform some assembly tasks despite a cast on his hand and other volunteers contributed by donating lunch and snacks for those working in the storefront. Volunteers ranged from students to someone in their late 80s.
"It is a win for the climate and a win for the people and a win for the community," Dr. Fernow said. She said many volunteers began not knowing each other and ended up having some great conversations on many topics as they worked.
The local build was organized through the Maine Highland Senior Center and the Charlotte White Center Thriving in Place initiative. Those looking to have inserts made for their homes had their windows measured by volunteers in advance of Nov. 14-18. The measuring team also handed out information on various heating system programs that the insert customers may be eligible for.
"It's a multiple-step process," Dr. Fernow said about the insert building.
The home window measurements are entered into a computer program to calculate the price per window and the data is sent to the Window Dressers build site in Rockland. The wood is cut and frames are assembled and then the local team completes the inserts.
The items are wrapped with a clear polyolefin film and shrunk tight on both sides to create clear views through an insulating dead-air space. From there foam weather stripping is placed around the outer edges to eliminate drafts and give the insert a custom fit. The inserts were available in white or natural pine finishes, and can easily be removed if desired during warmer months.
Inserts, when combined with a proper storm window, is far less expensive than replacing an old window and potentially can be more effective in lower heating bills by up to 25 percent — enabling many homeowners to recoup their costs after one season — and also lowering carbon dioxide emission levels by up to a fourth.
"We are hoping next year to do the same thing," Dr. Fernow said about a 2017 Window Dressers community build. The 2016 session exceeded the inaugural build's total of 250 inserts for 27 individuals and families.
For more information on next year's build, please go to www.windowdressers.org.
Observer photo/Stuart Hedstrom
HELPING THE COMMUNITY STAY WARM — About 50 volunteers spend all or portions of last week taking part in the second annual Window Dressers community build in the former Mr. Paperback storefront on East Main Street in Dover-Foxcroft. The build resulted in over 300 window inserts being made for several dozen recipients, with the inserts helping save on heating costs and reducing carbon dioxide emissions.