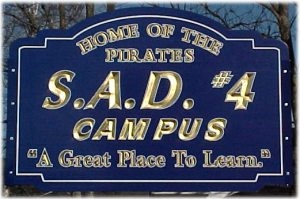 sad4sign_99
The SAD 4 budget referendum will be Tuesday, June 13
SAD 4 residents approve near $6.88 million budget
GUILFORD — The fourth time was a charm for SAD 4 as citizens of the six members communities finally approved the 2016-17 budget by a narrow 81-vote  margin.
SAD 4 residents voted 1,303-1,222 on Nov. 8 to pass the $6,879,013 spending plan that represents a decrease of a little more than $283,250 (3.95 percent) from last year's $7,162, 270 budget.
The approved budget was the fourth brought to referendum since June. During the summer, spending plans of $7,133,215 and $6,877,684 were voted down at the polls and a figure of $6,989,331 was rejected at a September referendum. The 2,525 votes cast on Nov. 8 were nearly 750 more than the total of the three previous referendums combined, as SAD 4 residents made a decision on the school budget while also voting in the presidential election.
"I have to say thank you to everybody for their hard work on the school budget, it wasn't easy, it wasn't pretty," SAD 4 Board Chair Cindy Hoak said during a Nov. 9 school board meeting at Piscataquis Community Secondary School.
The directors formally approved the computation and declaration of the votes, which will be sent to each of the town clerks within the district, as well as the assessments to the six SAD 4 communities for operational costs, debt service, local additional monies and funds for adult education.
Including the local required allocation, approximately $450,700 in local additional monies and SAD 4's near $44,350 share of the Piscataquis Valley Adult Education Cooperative, the combined local assessment between the half dozen district communities is $3,672,811 or the same as in 2015-16. Assessments are based on state valuation and pupil counts.
The individual town assessments are split with half having a lower total under the proposed 2016-17 budget and the other three facing an increase. Decreased assessments would be for Abbot at just over $12,800 to nearly $710,000, $7,600-plus less for Sangerville at a little more than $774,600 and Cambridge's contribution would be down by nearly $1,400 to a just under $232,800.
Assessment increases are approximately $15,900 more for Parkman at about $553,800; a $4,345 increase to about $194,575 for Wellington and the assessment for Guilford would be up by $1,570 to a figure of a little more than $1.2 million.
The approved budget includes a full-time assistant principal/director of student activities to work in both the elementary and secondary schools — to be split 60 and 40 percent between the assistant principal and activity duties.
"We have had at least 10 applications for that position," Superintendent Ann Kirkpatrick said. She said interviews with candidates would be scheduled soon.
In other business, the school board accepted the nomination of  Kathy Neill as special education coordinator.
"She's been there two weeks today," Kirkpatrick said about Neill, who comes to SAD 4 after having working in RSU 63 in the Holden-area. The superintendent said she had been doing both her own administrative duties as well as those in special education which Neill will now handle.
Kirkpatrick said Neill's present title is special education coordinator, and Neill is two classes away from attaining the certification needed to be assistant special education director. Kirkpatrick said there is a plan in place for Neill to fulfill the criteria to become the district's special education director.
PCSS Principal John Keane introduced senior Hannah Bagley and sophomore Ethan Chadwick who will serve as the student council representatives to the school board. "They are going to be here as often as they can over the next nine months," Keane said.
Bagley and Chadwick will be able to take nonbinding votes on board matters, with the records indicating the students' perspective.
Keane said in the spring the school is looking to hold an "Every 47 Minutes" exercise based on the consequences from making decisions to text and drive. He said several years prior PCSS had a recreated vehicle accident for Every 15 Minutes to educate students on the dangers of drinking and driving.