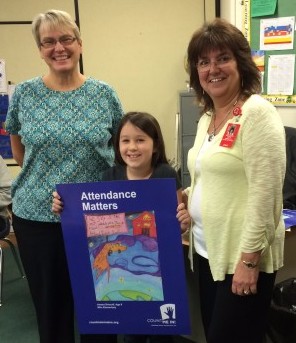 District officials looking at facility options
MILO — SAD 41 officials have been researching a potential $10 million project that would convert the Penquis Valley School campus into a pre-kindergarten through grade 12 facility, after looking into the costs to renovate the existing building along with elementary schools in Milo and Brownville.
During a Nov. 2 school board meeting, Superintendent Michael Wright said the capital improvement committee is scheduled to meet on Thursday, Nov. 10 at 6 p.m. at the Marion C. Cook School in LaGrange. "We have got a number of things to look at," he said.
Wright said one aspect of the potential project to examine further are the costs. He said SAD 41 has been approved for a $2.1 million quality zone academy bond (QZAB), and these funds for building renovations come with a 0 percent interest rate and the borrowing district pays the principal back in 25 years.
SAD 41 is applying to Maine's school revolving renovation fund in which up to 70 percent of qualifying construction costs could be covered by the state. Wright said the district could also apply to the Maine school construction fund, but SAD 41 officials may not learn if the application is successful for a year and work may not begin until two or three years after that.
"And what would we do in the interim?" Wright said. He said Architect Stephen Blatt would be at the capital improvement committee meeting to discuss a plan for moving forward with the various options.
The proposed project would feature a two-story addition on the Sebec River side of the Penquis Valley complex to house all of the district's elementary pupils, who now attend classes at both Brownville Elementary and Milo Elementary.
In other business, Brownville Elementary Principal Carol Smith reported that third-grader Amara Driscoll earned first-place honors among her age group in a Count Me In student poster contest, promoting student attendance for pupils under the age of 11, with her artwork titled, "Shoot for the Stars."
Smith said Driscoll, whose mother Sasha Bladen teaches art at Penquis Valley, came in first out of about 100 entries from across the state. Smith said Driscoll's poster will be distributed throughout Maine and she had a copy for both Wright and Penquis Valley Principal Jeremy Bousquet.
"Please extend our congratulations," Board Chair Arthur Herbest said.
Driscoll's winning poster can be viewed at www.countmeinmaine.org.
Bousquet reported that this year a combined district Veterans Day celebration would be held at 9 a.m. on Thursday, Nov. 10 at Penquis Valley.
"We have been told by our veterans it's getting harder to go to an assembly here, an assembly there," Bousquet said. He said the administrators met and opted to have a single, larger program instead of one at each school. He said assembly will last for about an hour, with various grades making presentations honoring all who have served.
"We are hoping to build on that," he said.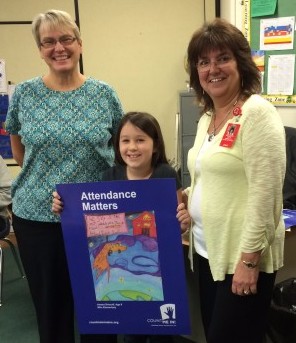 Contributed photo
ATTENDANCE POSTER CONTEST WINNER — Brownville Elementary School third-grader Amara Driscoll finished in first place in her age division in a statewide Count Me In poster contest promoting student attendance. Driscoll is pictured holding her artwork "Shoot for the Stars" along with her teacher Tina Johnston, left, and Principal Carol Smith.