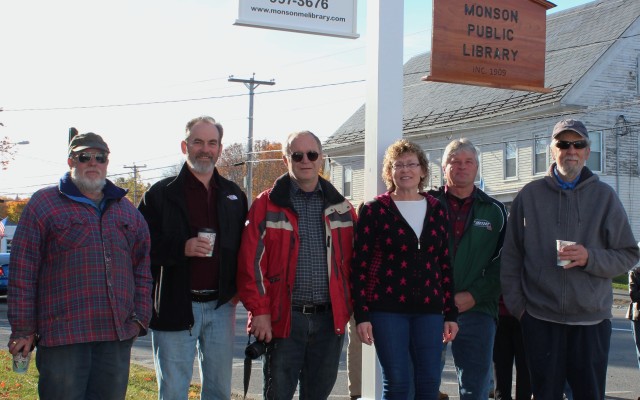 23036141_H18960415
NEW LIBRARY SIGN -- The crew who worked to erect a sign at the Monson Public Library honoring long-time volunteer Van Wentworth are, from left, Richard Sears, Glenn Poole, John Wentworth, Molly Poole, Vern Darling and John Bozin. Also contributing but unable to attend the Oct. 15 dedication was the Sheldon Slate team.
Wentworth honored at Monson Public Library sign dedication
MONSON — On the morning of Saturday, October 15, family, friends, townspeople and library board members gathered at the Monson Public Library to dedicate the newly-erected library sign to Van (Durham) Wentworth. Wentworth is a longtime Monson resident who volunteered her time running the library for five decades. She is an avid reader who put her heart and soul into providing a place for others to do the same.
A brass plaque on the sign reads, "This sign was designed, constructed, and erected for the Monson Public Library by John Wentworth, Richard Sears, John Tatko, Vern Darling, John Bozin, Glenn Poole, and Molly Poole in grateful recognition and appreciation of 50 years of dedicated service by Van (Durham) Wentworth."
Poole and John Wentworth, Van's son, donated materials, designed and constructed the signpost and signs. Darling painted the signpost and Richard Sears dug the hole and helped Wentworth, Pool and Darling set the sign. John Tatko of Sheldon Slate donated slate for the base and sign roof and employees Garrett Conover and Jim Wentworth, another of Van's sons, did the fabrication. John Bozin painted the pine cone finial. Molly Poole coordinated the project and spoke at the dedication.
Following the ceremony, all those in attendance were invited to share refreshments next door at the Monson Historical Society.
The library's new sign is a fitting tribute to Van Wentworth's 50 years of service and love, and reflects community involvement at its best.
The Monson Public Library is located at 10 Tenney Hill Road and is open Monday, Wednesday and Friday from 12:30-4:30 p.m. For more information call 997-3676 or go to www.Monsonmelibrary.com.