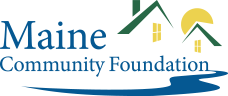 Dover-Foxcroft and Greenville residents join MaineCF's Piscataquis County Grantmaking Committee
Adrienne Clarke of Dover-Foxcroft and Suzannah Sinclair of Greenville are the newest members of the Maine Community Foundation's Piscataquis County Grantmaking Committee.
MaineCF's county committees are made up of committee members who live or work in the county and serve as local ambassadors for the foundation sharing their knowledge and providing on-the-ground local leadership for the foundation.
The Piscataquis County Grantmaking Committee's volunteer county advisors review grant proposals for MaineCF's Community Building Grant Program and recommend grant awards from the Piscataquis County Fund and other related funds. Community Building supports a broad range of projects and organizations across the state, including arts, education, environment, economic development, and human services.
Clarke is a fitness trainer with the Piscataquis Regional YMCA and Community Fitness and a former volunteer with Pine Tree Hospice.
Sinclair is an artist and the president of the Natural Resource Education Center and serves on the Greenville Airport advisory board.
Other committee members include Ricky Bradeen of Medford; Joe Caruso of Dover-Foxcroft; Kristen Lander of Guilford; Wendy McKenney of Parkman; John Tatko of Monson; Jenny Ward of Big Moose Township; and Daniel White of Sebec.
In 2022, the Piscataquis County Fund awarded seven grants totaling $44,890.
To learn more about MaineCF's county and regional program, visit www.mainecf.org.
The Maine Community Foundation brings people and resources together to build a better Maine through strategic giving, community leadership, personalized service, local expertise and strong investments. To learn more about the foundation, visit www.mainecf.org.