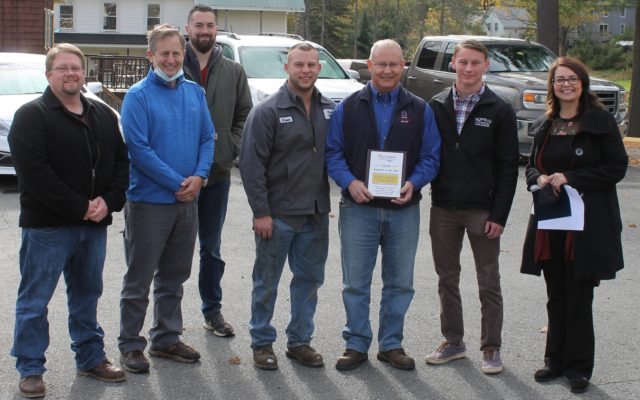 PO-rowells-1013-20
Observer photo/Stuart Hedstrom CHAMBER BUSINESS OF THE YEAR -- Rowell's Garage & Car Wash owner/President Scott Moulton holds the Piscataquis Chamber Business of the Year plaque presented on Tuesday, Oct. 13. Pictured with Moulton are, from left, Chamber President Matt Spooner, Vice President Will Wedge, board member Sam Katz, Moulton's sons Brian and Ethan who work for their father and Chamber Executive Director Denise Buzzelli.
Rowell's Garage & Car Wash honored as Chamber Business of the Year
DOVER-FOXCROFT — In large part due to continuing a tradition of integrity in sales and service, as well as being part of the community under new ownership, Rowell's Garage & Car Wash has been selected as the Piscataquis Chamber of Commerce 2020 Business of the Year.
During the award presentation in a Rowell's sales lot on the morning of Tuesday, Oct. 13, Piscataquis Chamber of Commerce Executive Director Denise Buzzelli explained there are many reasons owner/President Scott Moulton — who took over about three years ago from then third-generation owner Karen Pomeroy — and the business has received the honor.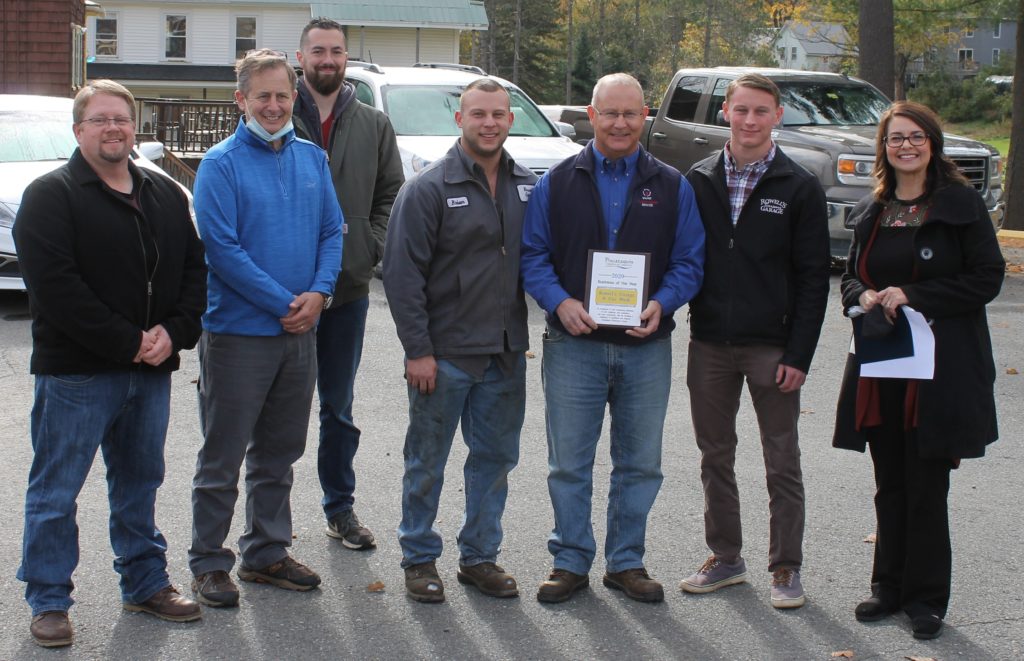 "The biggest thing was just integrity, people trust this man and trust this organization," Buzzelli said. "They trust that they are not going to be overcharged. They trust that things are going to be fixed the right way and they are going to get someone that will actually help them find what they are looking for in an honest way — a way that is just clothed in integrity."
Buzzelli said this is why Pomeroy chose Moulton, who had joined the business as general manager in 2010. "She didn't just want to sell it to anyone, she wanted to make sure that family-oriented feel that she had developed over the course of many decades through her family all the way to her grandparents would continue with the new owner and having worked with him as her manager she knew that he was the right person for the job," Buzzelli said.
"Thank you for the work that you do, thank you for taking care of your employees for continuing that family-oriented business that Karen wanted so much to continue here," Buzzelli said to Moulton.
Saying she has purchased four vehicles from Moulton and knowing many of those gathered for the award presentation are also long-time Rowell's customers, Buzzelli said Moulton cares deeply and wants to make sure every transaction is handled correctly and if there is a problem he makes it right.
She said comments like these were made throughout the award nomination forms. "They know if they buy something here they don't have to worry and when you're buying something as big as a vehicle, as expensive as a vehicle or bringing it in for service they know it's going to go handled with integrity," Buzzelli said.
Rep. Paul Stearns, R-Guilford said a Legislative Sentiment will be presented to Moulton and Rowell's and he wants to reiterate Buzzelli's words. "It isn't so much about always the bottom line, but how you go about that business and Rowell's exemplifies community and good service and good integrity," Stearns said.
"When Denise spoke of integrity she was spot on," Sen. Paul Davis, R-Sangerville said. "This guy has absolute impeccable integrity and he comes from a family that absolutely has integrity."
Davis said he serves as an auctioneer for many fundraisers and at every auction Rowell's Garage donates. He explained gift certifications for car washes and oil changes are usually available for bid.
Chamber Vice President and Will's Shop 'n Save owner Will Wedge said when he came to the area 10 years ago, he and Moulton quickly became friends and has often used Moulton as a sounding board for making decisions. "He's been a great friend and a great business leader in town and I just try to keep up with him," Wedge said.
Chamber President Matt Spooner noted how those in attendance are from different communities and walks of life. "That's kind of what Rowell's represents, it's not just one segment, it's for everybody and he'll take care of you if you trust him," Spooner said.
"None of this is possible without the employees," Moulton said in accepting the award. He added those coming into Rowell's will see the sales staff, but there are many more employees including the service team, office staff and bus drivers for the transportation portion of the business serving RSU 68/Foxcroft Academy.