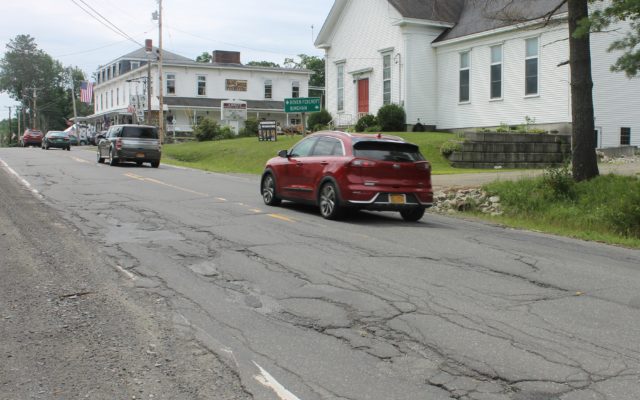 PO-gordon-31-20
Observer photo/Stuart Hedstrom ROUTE 15 CONSTRUCTION -- Gordon Contracting, Inc. of Sangerville will be doing a rebuild of 2.7 miles of Route 15 in Abbot, with the work being split between the fall and next spring. Company growth has led to a need for more employees to work as laborers, operators and truck drivers on jobs throughout Maine.
Gordon Contracting grows through serving the community
SANGERVILLE — Since taking on the role of the president/CEO of a Pittsfield-based construction company dating back to 1946, moving the firm to Sangerville and changing the name to Gordon Contracting Inc. nearly a decade ago, Brian Howard and his staff have been busy building up the business and at the same time also making a name for themselves through numerous charitable endeavors.
"We have been growing quite a bit over the last few years," Howard said at the Gordon Contracting North Dexter Road office. "I just picked up two large projects, one is we are going to be rebuilding the highway on Route 15 right in Abbot from the Guilford townline up to essentially the Piper Pond Road. We are going to start that project in September and then we picked up another project for Jackman airport that is pretty big. Each of those is just under $5 million apiece."
With the new projects and a steady amount of work around the state, Howard said Gordon Contracting is in need of employees to add to its current roster of about 25.
"We have two truck driver positions currently open, we could take a couple more construction laborers and we have an equipment operator position open too," he said. "We are looking to fill some seats. We offer full health, dental, retirement — a full benefits package."
Howard said with Gordon Contracting handling many federal projects, employees are paid well above minimum wage. "All of our laborers start at $15.50 an hour," he said. "Our operators usually make $20-$25 an hour depending on their experience."
"Filling seats and filling roles has been tough, it's hard to find people that are willing to put in the hours that we put in," Howard said. "The guys typically do 60-70 hours a week so there's an opportunity there for people to make some decent money because of overtime.
"We don't require any experience for our labor positions, essentially if you have a high school education that's all you need to get started with us. I have guys who graduated from (Foxcroft Academy) two years ago, a couple of them brought home $75,000 last year and that's because they just put in so much overtime and they are working so much."
Those looking to apply can do so online at gcmaine.com, under the Contact Us menu item in the top right corner.
"We would like to invite people to apply for work," he said. "We are growing fast, there's room for advancement and we are accepting applications pretty much from laborers, operators and truck drivers."
"Typically winter work is harder to come by, we try to find something that is heavy on inside work just to keep them out of the elements if we can," Howard said.
"We try to find some indoor projects for the winter to keep my core group of guys busy over the winter," he said. "Last winter we had a pump station that we did for the City of Brewer and we also did a pretty neat project for the (Department of Inland Fisheries & Wildlife) down in Ellsworth at their salmon hatchery. We replaced these big filters that essentially filter the water that feeds into the streams these salmon live in and each of the drum filters was larger than this table. They were about 5,000 pounds apiece and we had to pull the filters out while inside the building and put new filters in that came from Sweden. So that kept the guys busy for three or four months last winter."
Howard said the upcoming work on Route 15 in Abbot is essentially "a complete reconstruction so it's digging up the entire road, box cutting the entire road, running all new drainage structures which includes three large cross pipes that go underneath the road and then it's going to be new guardrail, new paving. It will be a completely new road in that 2.7-mile stretch when we're finished and we should finish that up next June. So we're going to get started in September, we have got three months of construction this year and then we will do a winter shutdown, and then we have got two months of construction next spring to finish it up."
"That's a great project for us because it's local, the majority of my people who work here live within 15 minutes," the president/CEO said. "It's nice to get the whole company on one project at the end of the season to close out the year that's close to home.
"We have been working down in Portland, I had a crew down in Portland most of the spring working at the jetport building a new taxiway between two runways. So we have had eight or nine guys who have been down in Portland for three or four months this year."
Howard said Gordon Contracting has done work across New England but in the last few years the focus has been much more on Maine." It's hard enough for the guys to travel 2-3 hours but 5-6 hours away, that's really tough," he said. He explained leaving Sunday afternoons and getting back late Friday night "doesn't give them a lot of time at home"
"I have got a crew up in Grand Isle working, we are going to do a culvert next week in Dover on Route 7 and then that crew is heading out to Columbia," Howard said. "We have been to Machias this year, we did a project in Skowhegan, New Sharon so they have been traveling a lot. It's nice to get one close to home for them"
Per the company mission and values, the Gordon Contracting team is committed to using its collective skills, talents and experiences for the betterment of clients, community, colleagues and neighbors. This is shown through the company commitment of at least 10% of profits going toward local charities annually. 
"My wife (Chief Human Resource Officer Samantha Howard) and I have been doing that, I think, four years now and in opinion that's probably the biggest factor in our successes," Howard said.
"Since we started giving 10% annually it's like the floodgates opened, our business has been blessed exponentially, the work we have is all good work, the crew we have is great," he said.
Howard said that for businesses, there is a correlation between success and giving back. "I think it pays dividends," he said. "I think one of the biggest reasons we have been successful is we have been trying to do the right thing.
"We are blessed so we try to be a blessing to other people. we try to live that every day."
"We are always trying to find a need and help out where we can, a lot of whom we give to are churches, we have given some to The Academy, we give a lot of labor to local schools and then we have some pet projects that we do," Howard said. He mentioned paving the outdoor basketball courts at the Piscataquis YMCA and the municipal court behind the Dover-Foxcroft Congregational Church as examples.
"Another thing that we have done consistently is Guilford has a food program, a backpack program and we have funded that every year for five years," Howard said, with 100-plus backpacks filled with food going home with students every weekend.
"We are always trying to find a need, if there's something that can be done we try to fill that gap," he said. Howard said during the COVID-19 pandemic with many area residents out of work, Gordon Contracting joined with Will's Shop 'n Save owners Will and Melissa Wedge and the Dover-Foxcroft Kiwanis to stock a town food pantry.
"If we hear about somebody in need we try to help them out," he said.