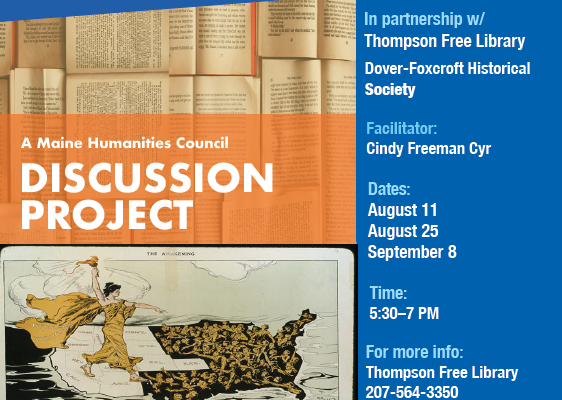 DiscussionProject_Suffrage
Thompson Free Library hosting Maine Humanities Council Summer Discussion Project on women's suffrage 
DOVER-FOXCROFT — Thompson Free Library is one in a cohort of organizations and individuals throughout the state hosting a Maine Humanities Council Discussion Project this summer. The Discussion Project is a new, flexible text-based discussion program that meets the needs of Maine communities, whether working independently or as part of an organization. Working closely with Maine Humanities Council staff, communities bring their Discussion Project to life, using a Council-prepared plan or creating their own.
Thompson Free Library is working in partnership with the Dover-Foxcroft Historical Society and facilitator Cindy Freeman Cyr to host "From DC to Dover-Foxcroft: The Long Road to Women's Suffrage." Join us as we examine the women's suffrage movement nationally, in Maine, and here in Dover-Foxcroft. Readings and film clips will explore important but lesser known chapters in the history of suffrage, addressing issues of power, inequality, and resilience.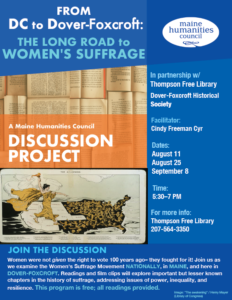 "From DC to Dover-Foxcroft: The Long Road to Women's Suffrage" begins  5:30 p.m. on Tuesday, Aug. 11 on Zoom and continues Aug. 25 and Sept. 8. 
This program is free; all readings provided. To register, please contact the Thompson Free Library at 207-564-3350 or thompsonfreelibrary@gmail.com .
About Maine Humanities Council — The Maine Humanities Council uses books, poetry, and big ideas to bring people together to discuss issues of importance. Programs and grants encourage a deeper understanding of ourselves and one another, building lasting connections and reaching diverse, multigenerational and rural audiences.