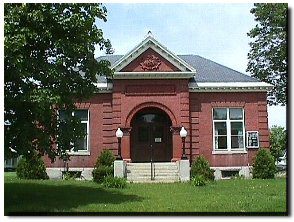 Thompson Free Library
The Thompson Free Library in Dover-Foxcroft
July at Thompson Free Library
DOVER-FOXCROFT — Summer 2020 finds us living lives of quiet (or not-so quiet) adaptation. The usual summer landscapes surround us, but even familiar terrain changes quickly. So, we catch our breath and our footing. Over and over again. And keep going.
July at the Thompson Free Library in Dover-Foxcroft promises to be a new and welcome adventure as we continue curbside service Tuesday-Friday 9 a.m. to 5 p.m. and prepare to reopen with precautions on Tuesday, July 14. We've developed a hybrid of outdoor, online, and soon, limited indoor accessibility to create a vibrant mix of programs and activities to shake off stress, connect with others, learn and have fun.
Youth Services Librarian Michelle Fagan rolls out a twist on her popular summer reading program. "This year we will be using Beanstack, an online reading log that you can access via their website or app," said Michelle. Between now and Aug. 31, readers of all ages can read to earn free books, a few small prizes and a chance to win a Maine Goodies basket. Find all the details on our Facebook page and website (https://www.thompson.lib.me.us/2020-summer-reading-challenge/).
What are you passionate about? TFL is starting a community zine and in the first issue we want you to share your passion. TFL Community Zine is for sharing your thoughts, feelings and creative passions through non-fiction writings, fan fiction, short stories, poetry, book or music reviews, photography, comic or graphic novel strips, doodles, paintings, drawings and more. Email or snail mail submissions by Tuesday, July 28. 
Michelle keeps the kids crafting this summer with little home craft kits that include supplies, as well as a picture of the finished design. "We will have two different projects for July — while supplies last," Michelle said. They will be available for pickup after we reopen.
Learn How to Eat Better on a Budget (https://www.thompson.lib.me.us/eating-better-on-a-budget/) with this free 4-class online series taught by a trained nutrition professional. You'll get the skills you need to shop, cook and eat healthy foods while staying within your food budget. Watch recipe demonstrations and ask questions during each interactive session. Participants will receive a free gift along with a colorful cookbook with 24 healthy low-cost recipes and nutrition tips.
Please contact Greta at TFL to register and get your Zoom link to join. Classes are held throughout July starting on Monday, July 6 at 9 a.m. (each session will be offered at three different times during a week, allowing you to choose what works best: Mondays 9 a.m., Wednesdays 12 p.m. and Thursdays 6 p.m.)
Thursday, July 9 at 1:30 p.m. local meteorologist and former Navy weather forecaster Ed Hummel presents a short virtual course on how weather works in this part of Maine and how it is changing due to climate change. Ed, who also taught high school science and math at Dexter Regional High School for almost 20 years, will be glad to answer your weather-related questions during this informative hour. See the event post on our Facebook page for the Zoom link or contact the library and we will send it.
Now this is music to our ears: Thursday, July 16 at 6:30 p.m. the Highlands Classical Chamber Ensemble will perform "A Concert of Summer Celebration" outdoors on the lawn at TFL. Susan Ramsey, violin and guitar, Ruth Fogg, cello, Katherine Hunter, flute, and Margery Aumann, piano, will be joined by guests Evelyn Marston, flute, and Evan Viera, piano to perform tangos, waltzes, ragtime and music by Mozart, Debussy, Saint-Saens, John Williams and others. Outdoor seating will be provided for up to 50 people with generous spacing. Rain date: Friday, July 17 at 6:30 p.m.
TFL's Teen Book Group reconvenes on Thursday, July 23 at 3 p.m. (rain date: July 24) "We will meet outside at a safe distance to talk books," said Michelle. "This is a free choice reading group — as long as it's age appropriate. Participation is expected and counts towards the FA reading requirement."
Voices From Home Oral History Project is hosting another live online Story Slam on Friday, July 24 at 6 p.m. The topic will be "Free." Prepare a 4-8-minute true story to share live or just listen to the wide-ranging, relatable, candid and spirited stories from others. More details soon. 
Get your John Phillips Souza groove on with Dexter's popular Harold J. Crosby Community Band Tuesday, July 28 at 6:30 p.m. as they present a "Patriotic Parking Lot Performance." Come together to enjoy this lively event in the fresh air while staying safely apart. There will be seating for up to 50 people.
Book cover fans rejoice, now you can see the latest releases and put them on hold using our cool new online feature called Browse Bookshelves (https://www.thompson.lib.me.us/bookshelves/). 
Weirdly enough, we are characters in a global drama unfolding in real time and we don't know when or how it will end. Thankfully, we can affect the narrative by our choices. At TFL we are adapting to serve the community. We hope you will adapt with us. The library — in all its iterations — is still a place for ideas and art and passions and connection and help with, or escape from, daily life.
For more information (including how to participate in the virtual programs), visit our website, Facebook page or contact us at thompsonfreelibrary@gmail.com  or 207-564-3350. Snail mail: 186 E. Main St. Dover-Foxcroft 04426
Reminder: Wi-Fi is available 24/7 in the TFL parking lot. Find us on Instagram @tf_library.