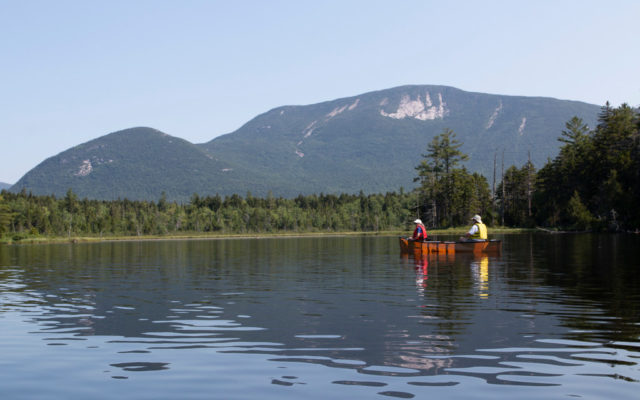 Kidney Pond
Bangor Daily News photo/Aislinn Sarnacki KIDNEY POND PADDLE -- Gail and Jim White of Orono paddle their canoe across Kidney Pond on July 26 in Baxter State Park. The mountains in the background are Katahdin and The Owl.
Baxter State Park announces Visiting Artist 
Baxter State Park is pleased to announce that Jill Osgood has been selected as this year's Visiting Artist. Osgood was selected from an extremely competitive field of very talented artists and will begin her two-week residency in early September, staying at Kidney Pond Campground. During her residency, she will host at least two plein air studios open to the public.
About the Visiting Artist Program: Katahdin and the surrounding landscape have been capturing the imagination of artists and writers since the mid-1800s when famed American landscape artist Frederic Church began his visits to the area and Henry David Thoreau made his dramatic ascent described in The Maine Woods. Over the years, many have worked to capture the aura of Katahdin as seen from Katahdin Lake and Chimney Pond while others have ventured to the northern reaches or interior of the Park. 
In recognition of this long tradition, Baxter State Park adopted the Visiting Artist Program to provide rustic cabin lodging for two weeks in September to a visual artist or writer. This provides an opportunity for the artist to immerse herself or himself in the wildness of Baxter State Park and interpret the experience through their art. 
About the artist: Osgood is a painter, illustrator, book artist and educator who lives and works in Portland. She studied fine art at the School of the Worcester Art Museum and Maine College of Art, receiving her BFA with honors from the University of Southern Maine in 2017 with a concentration in painting and a minor in book arts. Growing up in the woods of New Hampshire helped to foster in Osgood a sense of wonderment and respect for the natural world that has guided her perspective as a human being and defined her work as an artist. She completed the Maine Master Naturalist program in 2019, a year long intensive program that trains volunteers to protect and teach about Maine's natural resources. Osgood continues to share her knowledge of both art and Maine's rich natural ecology through teaching and workshops on nature journaling and book arts with both children and adults.