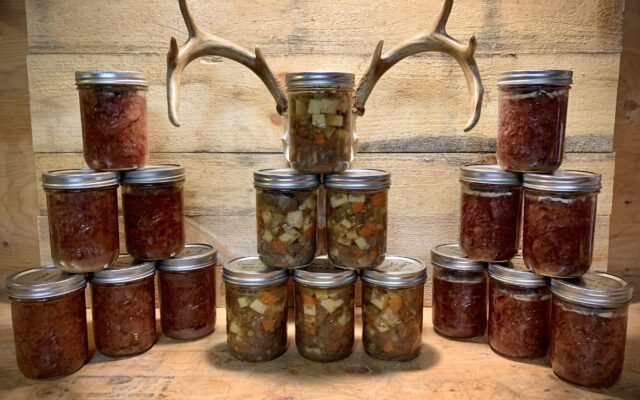 768C54FE-FCE6-4B3D-A180-8B3BCD172A33
Photo courtesy of Chris Sargent PRESERVED MEAT — Venison and beaver are among the wild game Bangor Daily News Outdoors contributor Chris Sargent preserved recently while using a pressure cooker.
Canning is a delicious way to preserve your wild game meat
By Chris Sargent
Food preservation can be traced back thousands of years to the time of our Neanderthal ancestors when they began smoking and drying meats to prevent spoilage and be able to cache food for later consumption.
Throughout the course of history, new and innovative preservation techniques were developed such as pickling, salting, corning and fermentation. Essential to both early and modern day civilizations' survival and sustainability, the ability to secure and store meat, fruit, vegetables, grains and whatever else has become the cornerstone of culinary life.
While the average person doesn't typically have to dry meat on rocks or smoke fish over an open fire in order to survive, at-home preservation practices are fun and fairly simple, not only extending shelf life but also offering alternative ways to enjoy things like wild game, fish or foraged items.
There's one that stands out as the most viable, cost-effective and efficient — canning.
We tend to think of canning as some sort of mystical olden days technology, honed to perfection out of necessity. In actuality, it's only been a little more than 200 years since its inception.
Sources indicate it was developed by French chef, confectioner and inventor Nicolas Appert during the early 1800s. After several years, in 1809, Appert perfected the process in response to a request and 12,000 franc reward issued by Napoleon Bonaparte and the French government, who were searching for a new food preservation method to feed their military forces.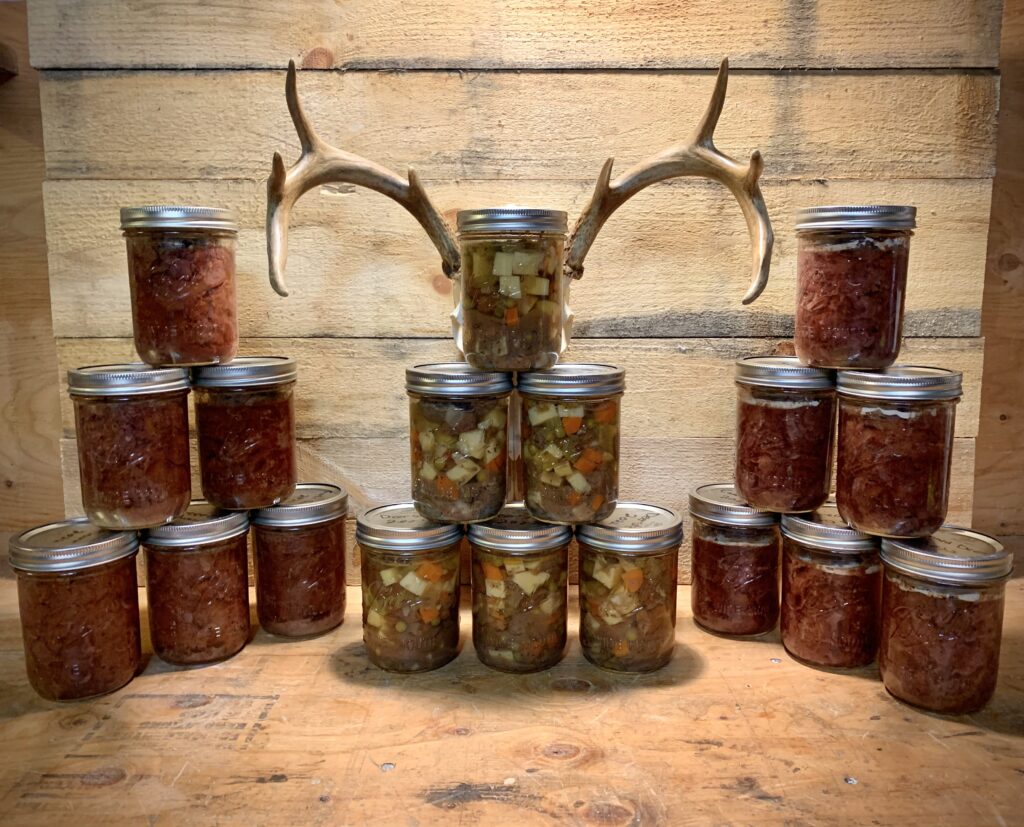 Although he didn't fully understand the science of his own discovery at the time, Appert knew his process worked and canning was introduced to the world. An understanding of the process was realized years later and its simplicity is a thing of beauty.
Basically, food heated at a certain temperature for a particular amount of time in a tightly sealed jar or container forces out air and potential bacteria-causing microorganisms. As the jar cools, a vacuum is created, securing the seal and preventing any bacteria from getting back in. The food inside the jars remains unspoiled and can be safe to eat for up to several years.
While the majority of at-home canning practices involve fruits or vegetables, the process is perfect for turning even the toughest cuts of meat into buttery, mouthwatering masterpieces. Wild game meat really shines in this arena and saving some out to be canned not only creates more room in your freezer but allows you to enjoy a hard-earned harvest in different ways.
The main concern when it comes to canning is botulism, an illness that can occur from eating improperly sterilized meats or other foods. It's serious business and nothing to be messed with, so a pressure canner is the way to go here.
Pressure canners allow for higher temperatures than water canning, helping to ensure complete sterilization of the meat, which is considered a low-acid food. Highly acidic foods like pickles and fruits may be canned at much lower temperatures since there's far less chance for the botulinum toxin to be present.
The canning process isn't all that hard, but there are some strict rules and procedures to be followed. If you're new to it, it's best to familiarize yourself through research and establish a basic understanding. Better yet, get together with someone already familiar who can help, explain, demonstrate and walk you through the process to ensure you can do it safely and effectively.
I've canned a fair amount of wild game, but it had been a couple years for me, so a few weeks back I turned to my local expert and sister, Becky Duhaime, who offered a refresher course. She counseled me on the do's and don'ts as I prepared to can batches of deer meat, deer stew and — a new one for me — beaver.
Becky and her husband, Rob Duhaime of Ridge Road Farm in Surry, have canned just about everything one can imagine over the years and their advice was more than appreciated. It was a bit like riding a bike and once I got into the swing of things, most of it came back to me, but I kept Becky on standby for the occasional emergency "What do I do here?" text.
After an afternoon of staring at the pressure gauge, adjusting heat, careful handling and praying for success, every single one of the 20 or so pint jar lids popped and pinged, indicating good seals. The next day, they all found their way to a basement shelf.
As hunters, we owe it not only to the game we take but also ourselves to make the best use of it. If canning wild game is old hat for you, reach out to others and offer to teach them. It's amazing how quickly the old ways seem to have been lost in today's world, so let's try our best to "preserve" them as best we "can."
And if you've never done it, give it a try. I guarantee you won't be disappointed. I think I'll let our canner collect a little less dust from now on.