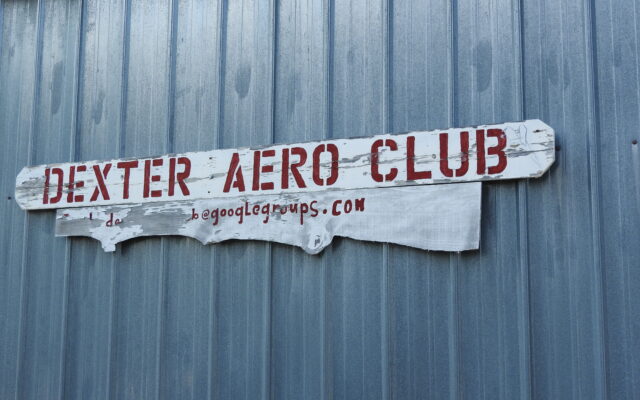 PO-dexteraero-37-22
Photo courtesy of Teb Luebbers CLUB HOME – The Dexter Aero Club home at the Dexter Regional Airport.
Dexter airport project to receive funding boost
DEXTER — A project to replace the terminal building and improve the site at the Dexter Regional Airport should see completion, despite higher than anticipated construction costs.
Town Manager Trampas King told the council during a Jan. 12 meeting that Maine airports can lend FAA-distributed money to each other through the agency. He said the FAA gives $150,000 per year to airports, but these accounts can only grow to $600,000.
Airports, such as those not in the midst of construction projects, can lend funds, which would be paid back. King said airport officials in Houlton and Princeton have agreed to lend $150,000 each to Dexter, and these funds would be paid back in the next two years.
"By doing this we don't have to break it apart and rebid," the town manager said.
The council agreed in October to a $25,000 purchase and sales agreement with the Dexter Aero Club for its terminal building. The transaction will enable a new 800-square-foot structure to replace the existing 50-year-old, 200-square-foot terminal building. The replacement is part of a grant-funded project for the new facility, which includes reconstruction of the access road.
The Dexter Regional Airport was awarded $760,000 in federal funds over the summer to replace the current structure that does not meet the standards for a basic general aviation terminal building. It also does not meet federal ADA requirements or energy efficiency standards. The new terminal will enhance and meet all of these requirements.
Last month King told the council that the committee met earlier in the day to discuss project bids, which all came in high but were within 10-15 percent of one another. Meeting with the lower bidder, the group looked at potential cuts to the project to bring it in line with funding sources. King said there were grant opportunities and monies that could be used.
Engine heaters for outside the building and some paving work has been taken out, for a savings of approximately $300,000. King said driveway and parking paving is essential and was still included.
When asked about project cost increases, King said contractors have subcontractors do portions of the work, which adds up. He also mentioned a varying of asphalt prices with this being higher for a large-scale construction project vs. a small driveway for a residence.
Given the federal grant requirements, materials must be American-made and there is also the varying of the market with items being ordered months in advance.
The town and Dexter Aero Club needed to come to an agreement for the group to move out of its building so the structure could be demolished to make way for the new terminal building.
The Dexter Aero Club rents space at its hangar, and would continue to do so at a to-be-built structure at the airport. The council agreed to a 10-year lease at $100 annual rate with the group for an airport site.
A sum of $25,000 had been agreed upon for the purchase, with the council authorizing the transfer of this amount from an economic development reserve account to the airport property buildings account.
In other business, the council approved a pair of ordinance amendments.
The first adjusts the overnight winter parking ban timeline from Dec. 1 to the first snowfall. Snowfall is defined as a plowable amount.
The other ordinance change pertains to a fee for foreclosure affidavits. If a bank is looking to foreclose on a property, it will ask the town to make sure the dwelling is indeed abandoned. Dexter previously did not charge a fee for this service, but other towns do, such as Pittsfield at $100.
In November a $50 fee was agreed upon by the council to move forward with foreclosure affidavits fees. This money would go into the general fund. When asked then, King said property reviews are only conducted a few times a year for financial institutions.
The council also renewed the medical marijuana manufacturing license for Delta Solutions.
"It's impressive, it's like a laboratory with scientists creating products," Council Marcia Delaware said after having toured the facility at 399 Corinna Road with King recently. "It's a great business to have down there."
King said Delta Solutions would like to do more than simply marijuana extraction, such as packaging, formatting and edibles. The business would like its ordinance to be amended to no longer say "marijuana extraction only."
A public hearing on the proposed ordinance amendment will likely be held at the February council meeting.
The council accepted three donations, including a chest compression system for the fire department from Jane Hibbard-Merrill of Dover-Foxcroft in memory of her brother George McCourt. The $20,000 device can be used when performing CPR.
King said Hibbard-Merrill called a few weeks ago looking to make a donation to honor her brother, and she soon spoke with Fire Chief Matt Connor about a need before agreeing upon the chest compression system.
"George was on our fire department for years," King said. He said a memorial plaque would also be posted.
Nearly $1,600 from seven donors has been given to the Christmas for Kids program, including $1,000 from the Dexter Rail Riders. Another $1,100 in donations is going toward the Warm Your Neighbor Heating Fund.
King says the town offers general assistance but sometimes residents do not quality but are still in need of help with fuel costs.
"I'm going to say this every month, but please watch out for your neighbors — winters are hard on them," he said. Should they notice anyone who may be in need of assistance, then please reach out to the town.