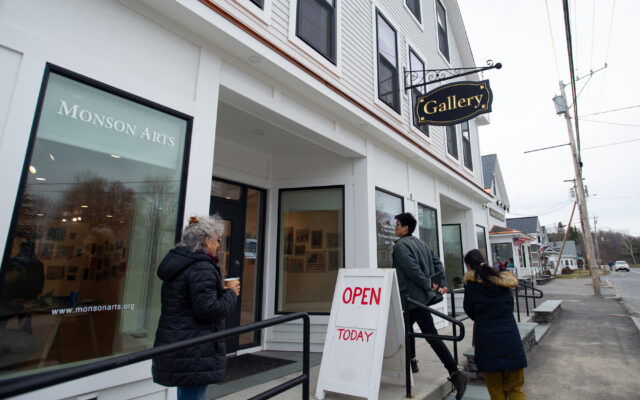 Monson-Diversity-E LCO
Bangor Daily News photo/Linda Coan O'Kresik VISITING ARTISTS – A group of 10 visiting artists who were selected for a month-long residency program in Monson head into the Monson Arts Gallery to see what their fellow artists are working on in their studios on Thursday.
Monson Arts awarded grant from Lunder Foundation for extended learning program
MONSON — Monson Arts has been awarded $20,000 by the Lunder Foundation to support its partnership with the Extended Learning Opportunities in Maine High Schools. This grant will be applied for two years toward the Monson Arts High School Art & Writing Program, a project that will support central Maine students pursuing creative studies.
Upwards of 24 hand-picked students from various high schools will take part in the program twice a month throughout the school year. Teachers will include painter Alan Bray and poet/writer Dawn Potter, both having previously taught this program. Students will also get an opportunity to interact with established writers and artists who are attending the Monson Arts Residencies.
"The support from the Lunder Foundation ensures that this program is provided at a low cost," says Chantal Harris, Monson Arts director. "Students will have extensive time to explore and nurture their creative work in an environment that allows them to focus with fostered energy."
At the end of this program a student exhibition will be held, open to the public, that will showcase the results from these sessions. Lastly, a catalog will be produced to fully capture the students' work.
Monson Arts was founded in 2018. Their mission is to provide time and space for creative work through residencies, workshops, and educational partnerships.
Visit www.monsonarts.org to learn more about all of their programs.