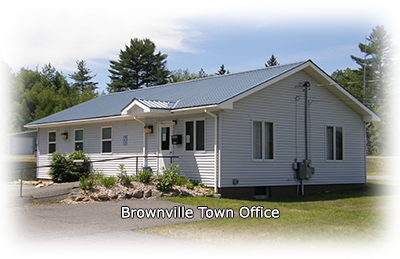 brownville-townoff
The Brownville Town Office
Memorial bridge namings in Brownville Sept. 14
BROWNVILLE — If you've driven through Brownville recently, you must have seen the covered signs at the ends of each of the town's three bridges. On Wednesday, Sept. 14 each of the bridges will be named in honor of a Brownville citizen who lost his life fighting for our country.
The bridge in Brownville Village will be named in honor of Stanley Smith Larson who was killed in action on June 14, 1953, while defending Outpost Harry during the Korean War.
The bridge in Brownville Junction will be named in honor of Edward Fredonia Stone. Edward died in the World War II sinking of a troopship near the French port of Cherbourg on Christmas Eve, December 1944.
The bridge on the Millinocket Road commonly known as Walker's Bridge will be named in honor of Elden Howard Cail who was killed in action on the island of Guam on July 28, 1944.
The process for the bridge naming was begun at the request of the Brownville-Brownville Junction Historical Society. Volunteer and researcher Dan Peters presented the proposal at a Selectperson's meeting last October. A request was made by then Town Manager Kathy White to Sen. Paul Davis, R-Sangerville. Davis moved the proposal on to the Legislature where the request was approved this spring.
The first bridge dedication to honor Stanley Larson will begin at 10 a.m. on Sept. 14 at the bridge in Brownville Village. Following that ceremony, the group will move to Brownville Junction where the ceremony for the naming of the bridge in honor of Edward Stone will begin around 10:30-10:45 a.m.. The last bridge will be dedicated to honor Elden Cail as soon as the second ceremony has ended and the group has had time to reassemble. That is expected to begin around 11:15-11:30 a.m.
The signs at each bridge will be unveiled on the morning of the14th, prior to the ceremonies. At each bridge there will be a welcome by Town Manager Felice Lyford, followed by a prayer offered by Rev. Stephen Dean. A color guard is expected to present our country's colors, followed by a patriotic song sung by Susan Worcester. Comments will be offered by Davis and Rep. Richard Evans, D-Dover-Foxcroft. Dan Peters will give a brief summary of each man's service to our country. There will be an opportunity for family and friends to offer comments. The ceremony will end with comments by Lyford.
If the weather is inclement, there will be one combined ceremony held at the Brownville Community Church dining room beginning at 10 a.m.
All are welcome. Questions can be directed to Susan Worcester, president of the Historical Society. She can be contacted at 207-965-8070 or emailed at brownvillehistorical@trcmaine.org.