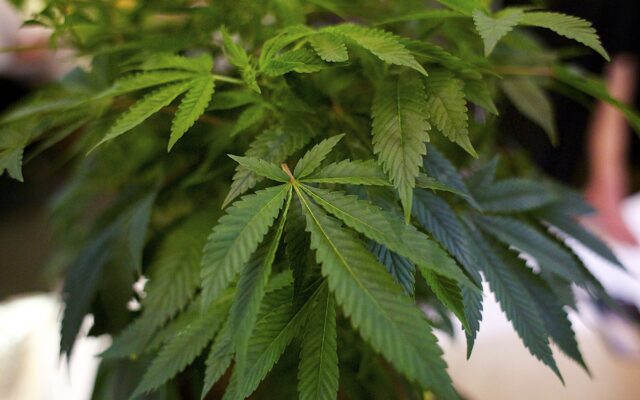 041914potshow_ 004
In this file photo from 2014, cannabis was shown at the Home Grown Maine Medical Marijuana Trade Show in Bangor. (Brian Feulner| BDN)
Revised cannabis land uses ordinance to be brought to Dover-Foxcroft voters
DOVER-FOXCROFT — In late May, the Dover-Foxcroft Selectboard placed a pause on a new marijuana caregiver ordinance after realizing its unintended consequences could hurt local families.
Since then, the Dover-Foxcroft Planning Board has revised land use ordinance amendments pertaining to cannabis land uses. The board approved the amended document language during a Sept. 1 meeting, with changes to now go to the selectboard for approval and potential inclusion on the Tuesday, Nov. 8, ballot.
The original ordinance — approved at the April annual town meeting in April — requires medical marijuana caregivers to get a permit in Dover-Foxcroft beyond the required state license. A few weeks after the town meeting, a concerned resident told the board about his mother-in-law who suffers from Alzheimer's disease and relies on medical marijuana. She would have been adversely affected by the ordinance.
The ordinance, created by the town's land use committee, was meant to stop people from growing marijuana, especially on a commercial scale, without proper licensure and facilities. It was also the latest action by townspeople related to marijuana after they voted down ballot questions last year that would have allowed recreational marijuana shops and testing facilities.
Resident Charles Hildebrant, who shared his family's story earlier in the year, told the planning board he understood the need for regulation and said the intent of the ordinance was sincere.
"It mostly was intended to regulate caregivers who are growing for more than one patient," he said.
The ordinance made no real distinction between a licensed medical marijuana caregiver and a caregiver who is exempt. Performance standards are the same for both.
Language in a section of the marijuana ordinance that lists performance standards, such as property line setbacks, screening requirements and more, would have prevented Hildebrant from growing cannabis to aid his mother-in-law, who has a medical marijuana ID card.
The family are not medical marijuana caregivers required to be registered because they care for a family member in the same home and are able to grow and provide her medical marijuana.
Selectboard member Stephen Grammont, who also serves on the land use committee, said he agreed with Hildebrant.
"From our perspective, the land use committee side, there was never any intention to put on a burden," Grammont said, saying the focus was on large cultivation in town.
Grammont said the moratorium was put in place earlier in the year as town officials felt the status quo would not be harming the community.
"I will say if we can't get this on the ballot — unfortunately it was a tight deadline from the go — we can keep the moratorium in place and there is always a reason to have a special ballot," he said should the proposed amendments not be ready in time for the November ballot.
Consultant Gwen Hilton mentioned the stated purpose to accompany the ballot question is to regulate adult use (recreational) and medical cannabis (marijuana) activities that must be allowed to comply with state law, and to prohibit adult use (recreational) and medical cannabis business establishments.
The amendments will be reviewed by legal counsel and these could be an agenda item for the next selectboard meeting on Monday, Sept. 12.
In other business, the planning board approved an electronic sign at Katahdin Valley Health Center's forthcoming 25,000-square-foot health care facility on Summer Street. The finalized approval is pending a few bits of information that KVHC Facilities Manager John Kearns did not have from sign company Bangor Neon on Thursday evening.
Katahdin Valley Health Center has eight clinics throughout Maine that serve rural areas where people have limited access to primary care and specialty services. The new facility would offer primary care, physical therapy, optometry, pediatrics, dental care, therapeutic massage, chiropractic care and acupuncture, behavioral health, podiatry, walk-in care, a pharmacy and speech-language pathology and therapy.
The new clinic means that residents who may be low income, lack insurance or have unreliable transportation will have better access to a broader variety of health care in their own county without having to travel to places such as Bangor.
Katahdin Valley Health Center is a federally qualified health center, meaning it provides care for medically underserved areas with few health care providers and many low-income or uninsured people.
Katahdin Valley Health Center has clinics in Ashland, Brownville, Houlton, Island Falls, Lincoln, Millinocket, and two facilities in Patten, according to its website.
The Piscataquis Observer's Valerie Royzman contributed to this story.