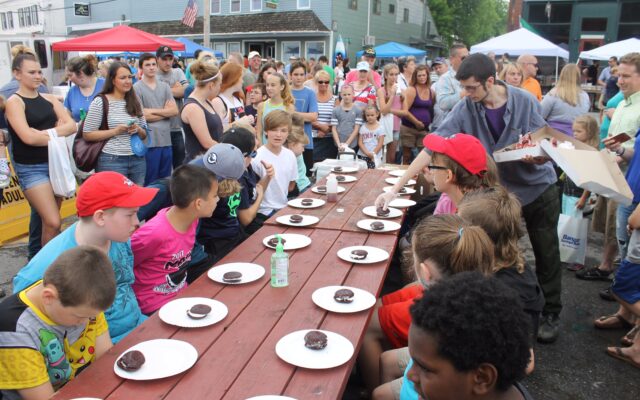 PO-whoopiecontestplates-26-17
Observer photo/Stuart Hedstrom APPETITES AT THE READY — Competitors in the youth whoopie eating contest have their treats placed before them prior to the start during the 2017 Maine Whoopie Pie Festival in Dover-Foxcroft. This year's contest starts at 11:45 a.m. on Saturday, June 25 as part of a day of events as the festival returns to downtown Dover-Foxcroft.
Maine Whoopie Pie Festival returns Saturday
DOVER-FOXCROFT — After a two-year COVID hiatus, the Maine Whoopie Pie Festival is returning to downtown Dover-Foxcroft on Saturday, June 25. The festival, which began in 2009, celebrates the taste of Maine's official state treat — the whoopie pie. The festival is open from 10 a.m. to 4 p.m. and organizers say there will be over 20 bakers and tens of thousands of whoopie pies. Along with whoopie pies, there is live music, rides and games for the kids, artists, crafters, vendors, and lots of other fun food, games, and activities for everyone. Information on the festival can be found at www.MaineWhoopiePieFestival.com.
According to festival organizer Patrick Myers, admission will remain the same as in years past. Admission is $5 per person with kids 12 and under free.
"We have all seen prices going up on lots of items, but we wanted to hold the line and provide the people of Maine with the same sweet deal as always," he said. Myers says that while there have been some challenges getting the festival re-started after the COVID-19 pandemic, he is pleased that things are proceeding pretty close to normal. "Some bakers aren't able to attend because of staffing issues, but we have several new bakers involved this year which means that we will have plenty of whoopie pies. Most of the usual events and activities will be happening, including live music by the Doughty Hill Band, our whoopie pie eating contests, magic shows, and lots more."
When arriving in Dover-Foxcroft, look for the yellow festival parking signs which will lead you to the Piscataquis Valley Fairgrounds. After parking at the fairgrounds, you can catch a shuttle downtown to enjoy the festival. "There is no way to find a parking space in Dover on festival day," said Myers, "You'll save time and frustration if you just go to the fairgrounds and catch a shuttle."
The festival is organized by the Center Theatre and the Piscataquis Chamber of Commerce and it is the largest annual fundraiser for both organizations. There are also dozens of other businesses and organizations that have events and activities at and around the festival. In particular, the Center Theatre is having a concert by the renowned Gypsy jazz band Mes Amis the night of the festival at 7 p.m.
The organizers would like to thank the festival's lead sponsor, Shaw's Supermarkets, as well as the other sponsors that make the festival possible. They are The Eastern Gazette, Maine Credit Unions, US Cellular, the Varney Agency, Allen's Coffee Brandy, and Bissell Brothers Brewing. The mission of the Center Theatre is to make arts, education, and entertainment accessible to our rural communities to engage and inspire.
Activities in and around the festival include:
Friday, June 24 5:30 p.m. Piscataquis Regional YMCA Dinner, Dance, Auction. More information is at www.prymca.org.
Saturday, June 25 8 a.m. to 2 p.m. Our Lady of the Snows Summer Fest Craft Fair at the St. Thomas Catholic Church at 43 High Street.
8 a.m. Piscataquis Regional YMCA "Earn Your Whoopie Pie" Kids 1K Fun Run. To pre-register and for more, call 207-564-7111 or visit the PRYMCA. The race will start and finish at the PRYMCA, 48 Park Street Awards presented immediately after the race, back at the starting line.
​
8:30 a.m. PRYMCA "Earn Your Whoopie Pie"Adult 3K Run/Walk, ages 12 and up. Registration is $15. Participants may register on race day, but must pre-register to be guaranteed a T-shirt. To pre-register and for more, call 207-564-7111 or visit. The race will start and finish at 48 Park Street. Awards presented immediately after the race, back at the starting line. Thank you to our sponsors, J.D. Raymond Transport, and Piscataquis Healthy Food For All
​
9 a.m. to 12:30 p.m. book sale at the Thompson Free Library, 186 East Main Street.
​
9 a.m. to 1 p.m. Dover Cove Farmers Market, 1049 West Main Street at the Piscataquis County Ice Arena.
​
10 a.m. festival opens.
​
10 a.m. Mayo EMS Teddy Bear Clinic opens at the first aid tent by the fire station.
​
10:30 a.m. Bissell Brothers Music Stage opens with The Doughty Hill Band, etc.
​
10 a.m. to 4 p.m. the second annual Dover True-Value Homeshow Expo at True Value, 69 East Main Street. For more go to https://www.mainewhoopiepiefestival.com/homeshowexpo.
Burns Bears will be carving a bear, eagle and owl during the expo and raffling each one off. Get your raffle tickets now at Dover True Value or at the expo on festival day. For more visit www.facebook.com/realburnsbears.
Food, vendors, and everything you need to make your home a showplace. Don't miss out on raffles and door prizes all day long in True Value.
10 a.m. to 4 p.m. quilt raffle at Central Hall, 152 East Main Street.
10 a.m. Varney Agency Kid's Zone, 143 East Main Street, opens with tons of activities. Bring the whole family to the Varney Agency Kids Whoopie Zone! We will have rides, games, activities, and pony rides all day long! Kids Zone includes both free and ticketed activities.
11:15 a.m. and 2 p.m. Magic show by Maine's favorite magician Conjuring Carroll. Conjuring Carroll will amaze all ages and leave everyone laughing! In between shows he'll be roaming the festival handing out beautiful balloon animals and maybe even some balloon whoopie pies! Located at the Varney Agency Kid's Zone.
​
11:45 a.m. Youth Whoopie Pie Eating Contest, 12 and under downtown at the picnic tables.
​
12:15 p.m. Teen Whoopie Pie Eating Contest downtown at the picnic tables.
​
12:45 p.m. Adult Whoopie Pie Eating Contest downtown at the picnic tables.
​
1:30 p.m. — Bissell Brothers Music Stage: Baker Awards announcement.
4 p.m. Festival closes. Spend the rest of the weekend exploring our community and beautiful region.
​
6 p.m. Celebrate the return of the Whoopie Pie Festival and DFC's first Pride event at the Joy & Justice Whoopie Pie Pride Dance Party at Central Hall Commons (152 East Main Street). Families are welcome. Admission is free.
7 p.m. Live at the Center Theatre: Mes Amis, a Gypsy Jazz trio led by guitarist, vocalist and composer Steve Lynnworth. The band plays an infectious mix of traditional Gypsy, Latin and American jazz standards along with many of Steve's original compositions. Also featuring Harry Richter, Wells Gordon, and Shane Ellis former music director at Foxcroft Academy. Purchase tickets at https://www.centertheatre.org/2022-wayside-concerts.