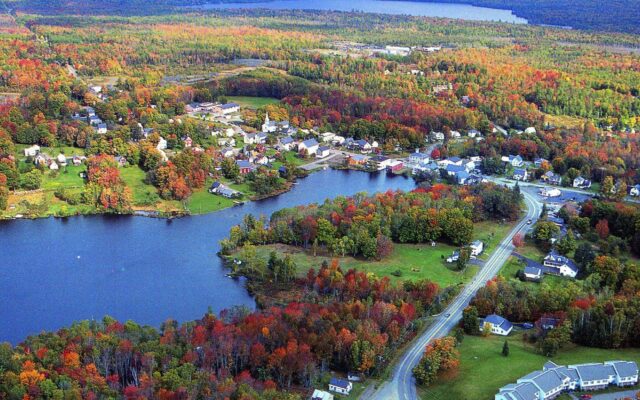 245541315_241342458018031_4320742961194212442_n
Photo courtesy of Town of Monson
Monson Arts community programs for the summer
MONSON – Monson Arts will be offering a new series of community programs for area residents. These workshops, all one or two days in length, range from visual arts and writing to foraging and hiking.
Monson Arts Director Chantal Harris says, "We are very excited to provide these programs at a reduced cost to expand access. This wouldn't be possible without the support of the Libra Foundation." The workshops were developed by Monson Arts education coordinator James Pullen, based on public surveys conducted in Monson.
Monsoon Memories July 17 and Aug. 28 (free). The first of these programs will be a free writing workshop with Maine writer and storyteller Peggy Yocom. Anyone willing to talk about their experiences in Monson is encouraged to join. Workshops will take place from 1-5 p.m. In addition to the formal workshop, drop-in sessions will be offered throughout the summer at varying times with volunteers available to help you refine your work. In partnership with the Monson Historical Society, an anthology will be produced from these writings to celebrate Monson's bicentennial.
Plant walk June 8-9 ($30). An experience designed for all ages, this will be an immersive, place-based practice in seeing and making. Rachel Alexandrou, a forager trained in both plant science and the arts will lead participants through their local landscape, spending two days exploring and collecting. The outcome of this workshop will be a wild feast.
Mindfulness in the Maine Woods: A Saunter up Little Moose Mountain Aug. 9 ($10). Wendy Weiger will lead a gentle walk through the woods, taking time to appreciate where you are. "Mindful Minutes" will be practiced along the way to enrich your sensory experience of the natural world.
Cyanotype workshop July 17 ($35). Sun Prints, Rayograms, images that are created by using the sun and prepared paper to create cyan blue captures. Using natural materials and found objects, each participant will work with Portland-based artist Celeste Roberge to learn about the process and history of cyanotypes, creating four images by the end of the workshop.
To sign up and learn more about these programs, go to www.monsonarts.org/community-programs. The Monson Arts Office is located at 8 Greenville Road and programs will take place nearby. Please call with any questions, 207-997-2070.
Monson Arts is an artists' residency and arts center in Monson, Maine supported by the Libra Foundation. Established in 2018, Monson Arts' programs include residencies, intensive shorter workshops, and educational partnerships with area schools. Located at the edge of Maine's North Woods near the Appalachian Trail, the town is surrounded by areas of stunning natural beauty.