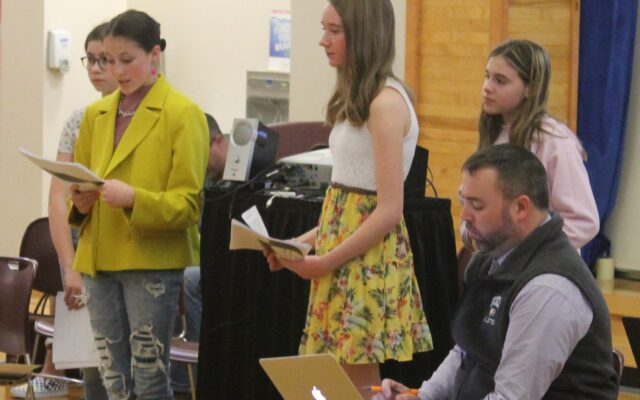 PO-RSU68students-14-22 – Copy
Observer photo/Stuart Hedstrom HATS IN SCHOOL? — SeDoMoCha Student Council members seventh-graders Sophie Rizzitello, left, and Marion Dietz speak to the RSU 68 School Board about a desire among much of the student body to revise policy to enable the wearing of hats/hoodies in school, during a meeting on Tuesday evening.
RSU 68 looking at $12.75M 2023 budget
DOVER-FOXCROFT — A preliminary RSU 68 budget of $12,747,098 for the 2022-23 academic year was presented to the full school board during a meeting at the SeDoMoCha School on Tuesday evening.
The gross figure is up by $747,463 from 2021-22, approximately 6 percent. The amount of the spending plan to be covered by taxpayers of the four district communities is down by 2.98 percent from the current $4.7 million-plus in assessments.
"We start out always thinking about our guiding principles," Superintendent Stacy Shorey said. The school board and the finance committee have worked for years to create a budget that embodies the district guiding principles of making transparent, student-centered budget decisions that are also fiscally responsible for taxpayers, she said.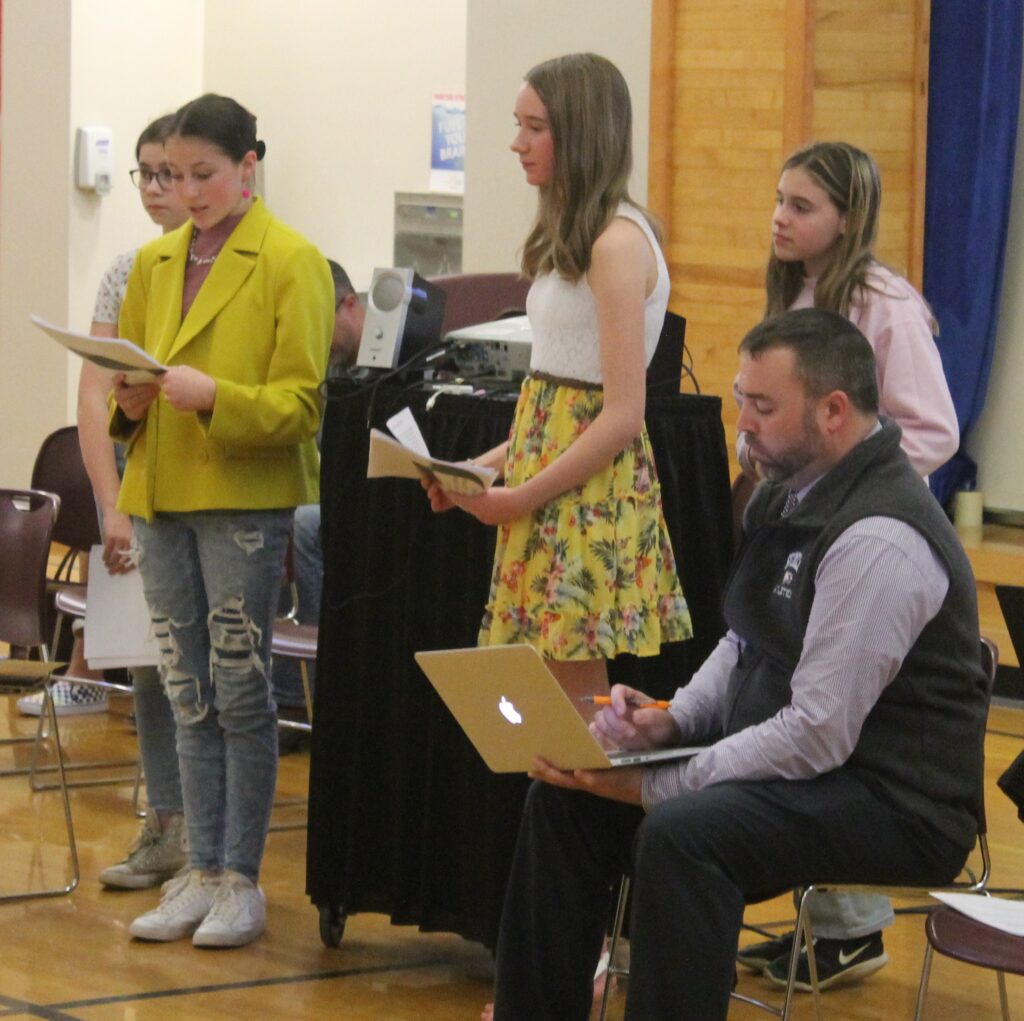 Shorey said the administration team began financial planning before the December break and work continued into January with the finance committee. She said RSU 68 will receive more than $757,000 more in state funding in 2022-23 than in the current year.
The increase will help reduce the local tax commitment. "Overall you are going to see a 3 percent decrease to taxpayers," Shorey said.
The superintendent said Dover-Foxcroft would see the largest decrease in its proportional share of the RSU 68 budget, with this being $92,956 less. The other towns would see decreases of 1.15 percent for Monson, 3.07 percent for Sebec and 3.15 percent for Charleston.
The $11,999,662 2021-22 budget includes proportional shares of $642,214 for Charleston, $2,864,532 for Dover-Foxcroft, $521,271 for Monson and $704,465 for Sebec.
The school board is scheduled to formally vote on a 2022-23 budget at its May meeting. Late next month, residents of Charleston, Dover-Foxcroft, Monson and Sebec can attend the annual district budget meeting to vote on articles making up the RSU 68 financials. The total figure approved that evening is moved to a referendum vote on the second Tuesday of June.
When asked, Shorey said she will try to speak with each of the four district's selectboards on the proposed budget.
In other business, SeDoMoCha School Principal Adam Gudroe said several middle school students approached administration about taking a look at the hat/hoodie policy and seeing if it could potentially be revised for the middle school.
Gudroe said through conversions the students researched the issue and prepared a presentation for the school board. "This will give you some food for thought as we discuss the dress code," he said.
Seventh-graders and Student Council members Marion Dietz and Sophie Rizzitello told the board that many students would like to wear hats in school and they conducted a survey to see how students and staff felt.
Dietz said that 92 percent of students responded were in favor of allowing hats in school. She said 57 percent of staff were in favor, and among middle school teachers the number rose to 95 percent.
The two said there could still be some headwear restrictions in place, such as if the hat became a distraction, constituted a safety issue or had inappropriate wording or graphics.
Rizzitello said hats could help students feel comfortable and connected and could also help promote fundraisers, such as with hat days in which the head coverings can be worn in exchange for a donation.
The school board thanked the students and will consider what was presented.
Assistant Principal/Athletic Director Cameron Archer gave a sports update. He said the unified basketball and wrestling seasons finished up recently.
He said the Eagles unified basketball team played five games against other schools, and the finale featured a large spectator turnout. Per the MPA's description, the program partners students with developmental disabilities (unified student-athlete) with students without developmental disabilities (unified student partners) to train, compete, and represent their school.
Archer said the wrestling team came in third at the previous week's Penquis League championship in Dexter. A year prior there was no wrestling season, and in 2022 15-plus grapplers represented SeDoMoCha.
For spring sports, Archer said 30 have signed up for track and field and 29 are signed up for baseball, which would be enough to field A and B teams. He said softball numbers are currently at 19, and a few more would provide players numbers for A and B squads.
"We are excited to get back outside and have a great spring season for our athletes," Archer said.
Gudroe said 13 students will be headed to the District V Musical Festival later in the month at Stearns High School in Millinocket. He said this event will be returning after being canceled during the pandemic.
The principal said the grade 8 science fair is scheduled to return on April 15. He said students are busy working on their displays to share with their younger peers.