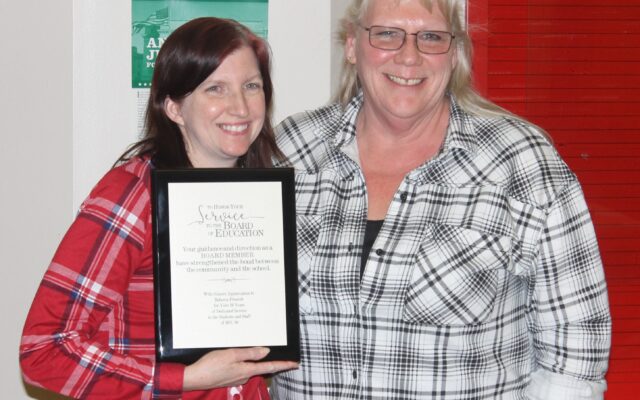 PO-RSU68prescott-9-22
Observer photo/Stuart Hedstrom APPRECIATION PLAQUE — Outgoing RSU 68 school board member Rebecca Prescott, left, was presented with an appreciation plaque by Chairperson Jenny Chase during the March board meeting at the SeDoMoCha School on Tuesday evening. After 10 years as a Charleston representative, Prescott will be moving out of town.
RSU 68 officials looking at zero increase to towns in 2023 budget
DOVER-FOXCROFT — As work continues on the development of the 2022-23 RSU 68 budget, district officials are planning to keep the contributions made by the four district communities the same as in the current academic year.
Superintendent Stacy Shorey said the overall budget is down by 2.43 percent from the current figure of nearly $12 million.
"So all our towns will have a 0 percent increase or decrease to taxes," she said during a school board meeting at the SeDoMoCha School on Tuesday evening.
Shorey said administrators are working with the current figures to bring a finalized spending plan to the budget committee. The 2022-23 budget will be presented to the full board at its April meeting.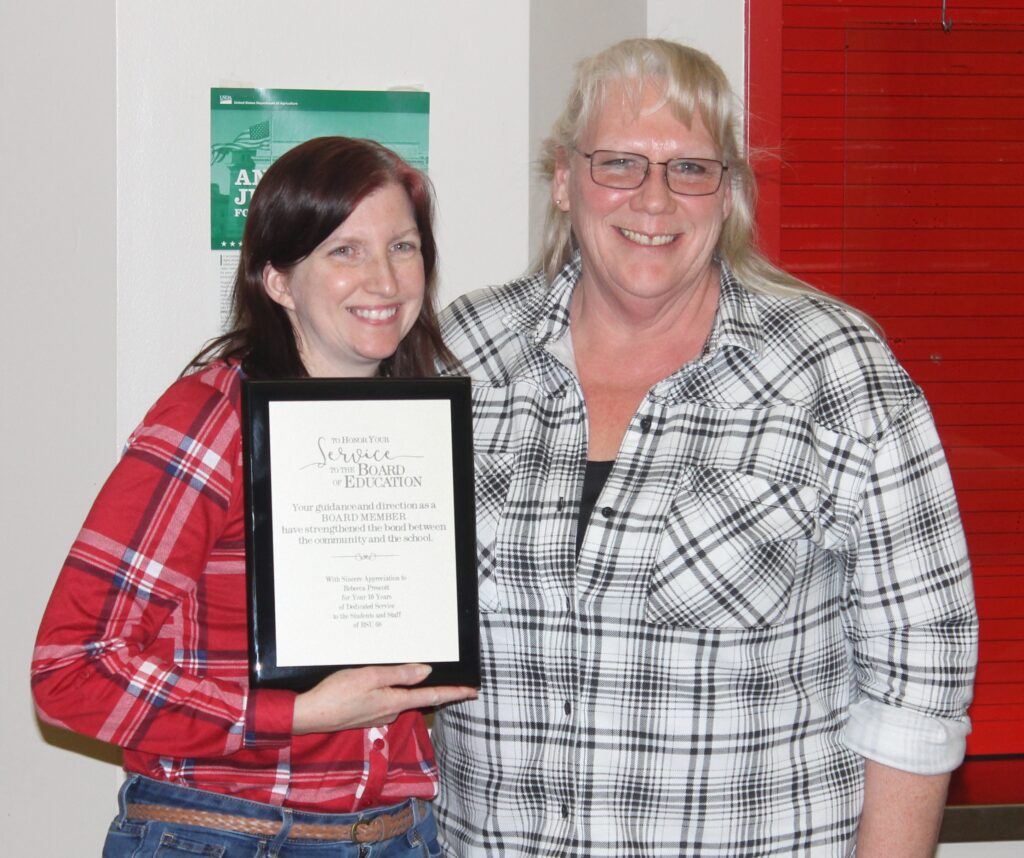 In late May residents of Charleston, Dover-Foxcroft, Monson and Sebec can attend the annual district budget meeting to vote on articles making up the RSU 68 financials. The total figure approved that evening is moved to a referendum vote on the second Tuesday of June.
The $11,999,662 2021-22 budget includes respective proportional shares of $642,214 for Charleston, $2,864,532 for Dover-Foxcroft, $521,271 for Monson and $704,465 for Sebec.
Last month the school board approved a masking metric based on the number of COVID-19 cases at SeDoMoCha instead of community transmission rates, to start after February vacation. Students have been wearing protective face wear under a policy requiring universal masking when Piscataquis County is in the most severe of the community transmission rate — which it has been since classes began.
Case numbers from Saturday to Friday will determine masking requirements for the ensuing week of classes, with low statistics of fewer than a dozen cases potentially making masking optional for the next Monday-Friday timeframe. Parents/guardians would be notified in advance.
Shorey said there have been two cases since classes resumed on Monday, but masking has been optional so far in the building.
Foxcroft Academy is switching to option masks, since both schools will have a similar policy in place, FA Head of School Arnold Shorey said earlier in the meeting. Shorey said there has been one case post-vacation, and so far students have been great about following the health and safety protocols.
"Academic performance has returned to 2019, before the pandemic," he said. About two thirds of students have met all standard criteria, and 25 percent have only missed one standard which can be rectified with academic support, he said.
"One thing is very, very clear," he said. "Students need to be in school and when they're in school they perform."
Shorey said construction is progressing on the Jim Robinson Field House on the western edge of the Foxcroft Academy campus, but a few delays have happened due to COVID-19 cases among the crew.
"It will soon be totally enclosed," he said, with the lobby floor now being installed. "The (turf) field will be the last thing put in and that will probably be in June. It is really huge. You don't appreciate it until you look down."
The Jim Robinson Field House — A.E. Robinson Oil Company owner Jim Robinson who is a 1959 graduate of Foxcroft Academy secured the naming rights for the $5.5 million building — will be utilized by future Pony athletic teams and the community.
Plans feature synthetic field turf, sporting a surface big enough to play a regulation field hockey game, a four-lane walking track spanning the perimeter of the inside of the building, a jump pit for indoor track events, locker room facilities, office spaces and weight room.
Previous discussions have mentioned a ribbon-cutting ceremony in early August during Alumni Weekend, which will serve as the start of the Foxcroft Academy Bicentennial celebration.
Shorey also reported that Foxcroft Academy will launch its new school website at foxcrofacademy.org in the next week.
The school board also heard from math coach Brittany Munson — who is in her third year of the full-time position — about the RSU 68 Mathematics Plan. Munson said a district literacy plan had previously been enacted and now a three-year itinerary for math has been developed and will continue to be worked on by a committee.
Munson said the plan has three goals with objectives for each of the ensuing three years, including professional development, classroom instruction and connecting with families and the community. She also said there will be a website to help instruct parents on how math lessons are taught with today's curriculum and a great deal of other information.
Board Chairperson Jenny Chase thanked Munson for the website, saying "That's really visionary and amazing." Chase said a lot of parents are unfamiliar with how math is taught today — such as with multiplication and division — with some methods being much different than how they were taught.
Spring coaches are in place for the middle school with Mike Rowe to head the Eagle baseball team, Jennie Dunton to lead softball, and Danica Constantine and Heather Whitten to coach the track squad. Sign-ups recently went out, and if there are enough players interested in baseball/softball, then there may be B teams in 2022.