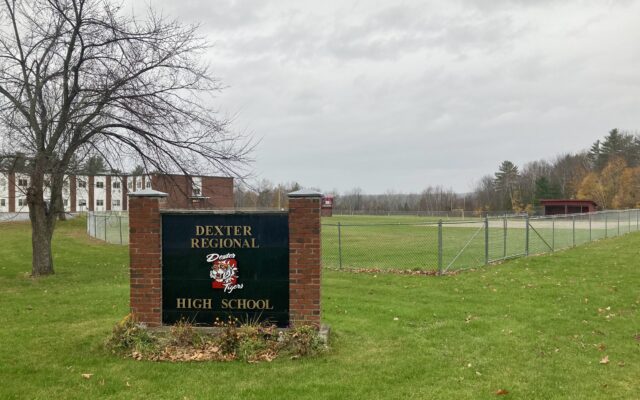 Dexter-Regional-High-School-111221
Observer photo/Valerie Royzman A sign sits at the entrance to Dexter Regional High School in Dexter.
SAD 46 holiday vacation will start early
DEXTER — In large part to reward faculty and staff for all their efforts for students and families during the pandemic, SAD 46 will start its holiday break several days earlier than originally scheduled.
The last day of classes will now be Friday, Dec. 17, instead of the half day on Wednesday, Dec. 22. The school board approved the calendar change during a meeting held over Zoom on Dec. 1.
Superintendent Kevin Jordan said there have been internal discussions among administrators about making such an adjustment as they have been assessing their staff.
"I'm really concerned about teacher burnout at this point. We have asked them to go way above and beyond," he said, mentioning district employees have given countless additional hours while also worrying about their own families.
"We are having to pull them to cover so many things," Jordan added. He said teachers may have to cover other classes with colleagues home sick and/or quarantining, saying at times there have been 10-12 staff members out for the day.
School board member Amanda Paige brought the idea of an early start to the vacation to her fellow directors. "I just feel everyone involved deserves and needs a break," she said, saying the extended time off will help everyone come back refreshed for 2022.
Board member Leilani Cyr wondered if the two and a half days off from Dec. 20-22 would need to be made up at the end of the year.
Jordan said no. He explained the SAD 46 schedule features 178 days for students, three more than are required by the state.
"Most districts around us are having the exact same conversation," the superintendent said. He said RSU 68 of Dover-Foxcroft approved a similar calendar change two nights prior.
When asked by Cyr, Jordan said hourly employees will still be paid for the three days.
Board member Robert Player wondered if the district should switch to all-remote learning for the first two weeks of January to help mitigate any post-holiday COVID-19 numbers spike. A staff day is scheduled to start the new year with students returning the day after.
"COVID's increasing, it's not decreasing. We're having problems with students and staff," Player said. "You can plan for it, students and teachers will know. The idea is to be pre-plan and not just get stuck."
Tri-County Technical Center Director Brian Leavitt said he knows where Player is coming from and the center will do as directed, but said, "Remote learning does not work well for students at Tri-County."
"You can't underestimate the learning loss every day a student is not in the classroom," said Cyr, who is a guidance counselor in Nokomis Regional High School in Newport. "I can't advocate for any more learning loss than we absolutely have to."
"We prefer not to go to remote learning unless we absolutely have to," Jordan said. He said if such a switch needs to be made then staff can make the adjustment quickly.
No vote was taken concerning the first two weeks of January.
In other business, the school board heard an update on COVID-related numbers from the district nurses.
Crystal Greaves said so far there have been 81 positive cases at the Ridge View Community School since the start of classes, more than three times last year's figure of 24.
She said there have been 10 positive cases since the last day of school before the Thanksgiving break, but the holiday helped keep the number of contacts down from what the figure could have been otherwise. Greaves said 48 people are in quarantine, but many of these are related to siblings testing positive.
At Ridge View, 391 participants are taking part in pool testing. "That's a huge number of students and staff," Greaves said, saying the figure recently increased by a dozen.
"It's definitely keeping people in school," she said.
Under pool testing, students, with parental permission, are in small pods to then be swabbed. Samples are sent off to the lab for testing. If there is a positive case in the pool then the students would be tested again to determine who is positive. Those testing positive would need to quarantine,and this would help determine close contacts who may also need to quarantine.
Greaves said a recent vaccination clinic administered 43 shots with some staff also receiving boosters.
Nurse Angie Buker said the results from the latest round of pool testing at Dexter Regional High School are still pending, but the school has seen 31 positive cases so far. She said at TCTC there currently are five positive cases — putting the 2021-22 total at 12 — and 24 students between the two institutions are in quarantine.
"We currently have 158 participants in pool testing," Buker said. She said six students received their first shot at a school vaccination clinic, and eight staff received boosters.
"The majority of the high school population is covered with multiple layers of mitigation," Buker said, with about 73 percent being vaccinated and/or taking part in pool testing.
Universal masking is in place for SAD 46 schools.
In October the school board approved a plan that, should the numbers drop to the lowest two designations of the four designations under the Maine Center for Disease Control and Prevention's community transmission color code system, would make mask wearing optional on a day-by-day basis. This decision would be made by administrators rather than the school board at its meetings.
Jordan said those involved in planning for the regional comprehensive high school met last month at the Marion C. Cook School in LaGrange. "We continued our conversation about governance on the new entity," he said.
He said the proposed school between SAD 46, SAD 4 of Guilford, the Milo-based SAD 41, and RSU 64 of Corinth could operate as a Community School District — as opposed to an SAD or RSU.
The Maine Department of Education defines a CSD as a combination of two or more municipalities and/or districts formed to build, maintain and operate a school building or buildings to educate any or all grades. A CSD may be formed to build and operate a grade 7-12 school for all towns in the CSD. Those same towns will maintain individual control over the education of their K-6 students or belong to a school union. A community school district may also oversee education of all grades K-12.
CSD school committees are apportioned according to the one-person, one-vote principle. The member municipalities share the CSD costs, based on a formula that factors in numbers of pupils in each town and/or state valuation or any combination of each. CSD budgets are approved by majority vote of voters present and voting at a district budget meeting followed by approval at referendum.
Jordan said legislation would need to be passed in order for the regional comprehensive high school to be governed by a CSD, but legal counsel believes this could happen.
"What we are working on is to stay as even footing as we can with the four districts," he said. The superintendent said each of the four units may have three of its board members also serve on the high school board of directors.
Jordan said the group will meet with the DOE construction team "to game plan what the next steps might be."
"We are definitely making progress but still have a long way to go," he said.
"Winter sports are up and running," Dexter Regional High School Principal Steve Bell said.
"Wrestling is going to happen, they're masked up," he said, as everyone inside the gym for wrestling and basketball will be wearing a mask. Grapplers will return to varsity competition after the 2020-21 season was canceled, and a vaccination requirement has been dropped.
"That will be a work in progress as we get through the winter and games become more meaningful," Bell said.
He said discussions with members of the Class of 2022 have indicated the seniors want to have their graduation outside, as has been done the last few years. The stage setup is still to be determined.
"It's moving fast. If we're talking about graduation that means we're moving along in the year," Bell said.
"Our winter sports began a couple of weeks ago," Ridge View Principal Jessica Dyer said. "We're welcoming home and visiting spectators."
She said everyone has compiled with mask requirements and there is no food or drink in the gym to help keep masks on.