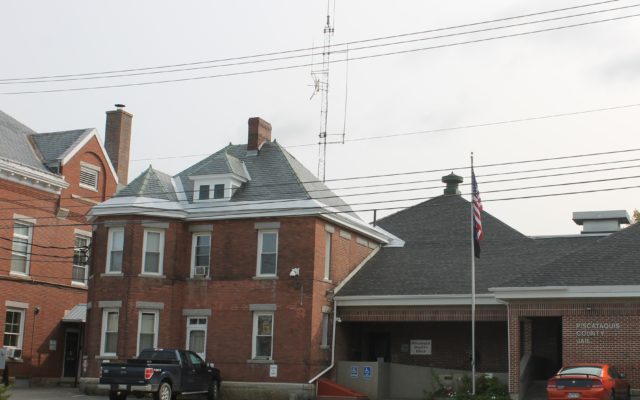 PO-countytower-38-20
Observer photo/Stuart Hedstrom BETTER COMMUNICATION -- Piscataquis County officials have sent out a request for proposals for a public safety radio system study to solve long-running communications problems for the region's fire and police departments.
County officials looking at options for radio upgrades
Duggan hired as new EMA director
DOVER-FOXCROFT — Those involved in upgrading the county's public safety radio system agree that improvements are needed, but the question is how the near $5 million cost will be covered.
One option may be to put the project out to bond on the November 2022 ballot, as was discussed during a Piscataquis County Commissioners meeting on Sept. 21.
"As you know we had the consultant come up and review our radio system and talk to the fire chiefs," Piscataquis County Sheriff's Office Chief Deputy Todd Lyford told the commissioners, with representatives of the Brownville, Dover-Foxcroft, Milo and Monson fire departments in attendance.
The commissioners accepted a $27,000 bid by Communications Design Consulting Group of Barrington, New Hampshire, in November for a feasibility study for a Piscataquis County public safety radio system to find solutions to long-running communications problems for fire and police departments in and around Piscataquis County. Many of the issues stem from the hilly and mountainous terrain of the region.
Upgrades cited in the first phase of the study will cost $4,994,080. This does not include a potential move of the Piscataquis County Sheriff's Office dispatch center out of the cramped conditions inside the jail in Dover-Foxcroft and up Route 15 into the patrol and investigations division building in Guilford. The cost of this transition is to be determined by the consultant.
Lyford mentioned the possibility of putting the near $5 million out to a countywide bond in a year-plus. "We would like to continue with it, but it's a question of money," he said.
"We've done the study, it's what we need," Dover-Foxcroft Fire Chief Joe Guyotte said. He said he hoped the commissioners would vote to proceed and develop a bond question, which would then need to be presented and sold to the larger community.
"I think we are all on the same page with it. We would like to move forward," Commissioners Chairperson Jim White said, saying the uncertainty lies with where to come up with the near $5 million (which could end up being more in several years with rising equipment costs).
"Yes I would like to say 'yes Joe we will vote today' but we haven't got our ducks in a row," White said. He said a formal vote could come at the next meeting on Tuesday, Oct. 5.
County Manager Michael Williams said should $5 million be paid over a 30-year term, the yearly rate would be from $233,000 to $275,000 based on a 2.5 to 3 percent interest rate. He said bids from various financial institutions would be sought to find the best funding package.
Sheriff Bob Young said a vote by the commissioners on proceeding with the radio upgrades would also help the agency in applying for grants related to communications systems. "They want to know that the government agency is serious in moving forward with whatever the project is," he said.
"Let's come back in two weeks and we will have something of significance in the vote and know where we are going," White said. "Next meeting we will vote on how to proceed."
"Our job as commissioners in the next two weeks is to figure out how we are going to get that $275,000 a year down," he added.
In other business, Jaeme Duggan was introduced as the new Piscataquis County Emergency Management Agency director. Duggan had been working as a full-time dispatcher for the sheriff's department for the last three and a half years.
"I'm just very excited to start in a couple of weeks. I'm looking forward to it," Duggan said.
At the end of July long-time Piscataquis County EMA Director Tom Capraro retired.
Since Capraro's retirement after nearly 14 years with Piscataquis County EMA as both deputy director and then director, Deputy Director/E-911 Addressing Officer Debra Hamlin has been leading the agency, and Hamlin will remain in her current positions once Duggan starts in October.
The commissioners also agreed to provide $7,000 to the town of Brownville for a slope study, after hearing from the community's Fire Chief Kevin Black regarding repairs needed to the wall under the rail trestle on Railroad Avenue in Brownville Junction.
Black said the walls are failing and what the town would like to do is erect a temporary structure to keep the road passable and the raised sidewalks in place.
"If this falls on us, it's going to stop us from getting into the Junction until it's fixed," Black said. He said Railroad Avenue is the only way in and out and about a third of the town population lives in this section of Brownville.
"We're going to have to do something this winter to maintain that wall," Black said. He said he has spoken with the railroad but has not gotten much of a response with the wall, road and sidewalks all being town property. The railroad trestle runs from 25 to 30 feet over the ground, well above the wall, and there are no structural issues with this and its support system.
He said a slope study would help determine the stability of the site which would then be used for engineering work to determine a permanent solution.
"It's going to be a huge cost to the town because it's going to have to be fixed," Black said, saying as many grant opportunities as possible will be pursued.
Auditor Ron Smith of the Buxton-based RHR Smith & Company said he could work with the county to find a funding source for Black's request. "On a scale of one to 10 I am 12 confident we will find some money for you in Piscataquis County," he said. "The question is what's your best option."
"I am confident we can come back to you with some options for your next commissioners meeting," Smith said.