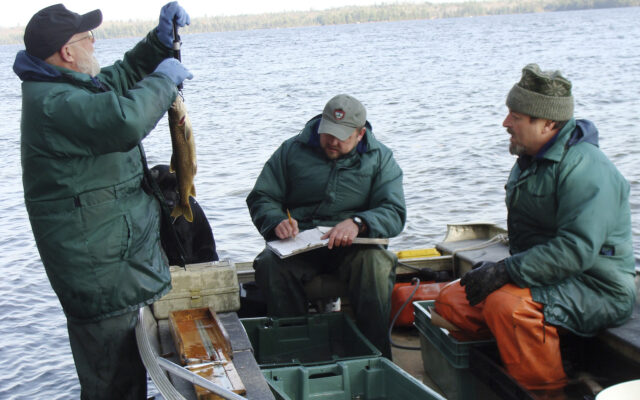 DSC04683
Bangor Daily News file photo FISHING FOR CAMP SUNSHINE -- In this 2009 photo state biologists, from left, Nels Kramer, Richard Dill and Brian Campbell weigh and measure lake trout that were netted for study. On July 11 a group of college students are presenting the third annual Schoodic Lake Bass Fishing Tournament to benefit Camp Sunshine.
Schoodic Lake Charity Bass Tournament on Sunday
LAKE VIEW PLANTATION — The third annual Schoodic Lake Charity Bass Tournament will take place on Sunday, July 11, with this year's proceeds benefiting Camp Sunshine. The tourney, hosted by Eagle Bassmasters, Bangor Bass Club and Three Rivers Kiwanis Club, runs from 7 a.m. to 3 p.m. with boats in the water by 6:30 a.m. at the launch.
Founded in 1984, Camp Sunshine provides retreats combining respite, recreation and support, while enabling hope and promoting joy, for children with life-threatening illnesses and their families through the various stages of a child's illness.
Camp programs are offered year-round and have the distinction of having been designed to serve the entire family in a retreat model. The program is free of charge to families and includes on-site medical support. A bereavement session is also offered for families who have experienced the death of a child from a supported illness.
For the third annual Schoodic Lake Charity Bass Tournament, organizers have a goal to raise $4,000 to provide Camp Sunshine with much-needed kitchen equipment and funds to send another family to the camp.
Several years ago, then Penquis Valley High School Key Club President Rachel McMannus with the help and support of her Key Club decided to take on the massive challenge to raise $12,000 to build a fresh water well in Africa in a community that needed clean, safe water. One year into trying to raise money for the Thirst Project Key Club President McMannus and her team were getting tired and running out of ideas. With half the money still left to raise and only a few small events planned they didn't know how they were going to reach the $12,000 goal.
McMannus out fishing on Schoodic Lake with her family one afternoon in 2018 got an idea. "Why not use our pristine Maine waters to raise awareness and money of the water crises," she thought. After pitching her idea, the club decided it would be a good way not only to raise money for this project but a good annual event to bring business to the town and possibly raise money for future projects. By January of 2019, they had a sponsoring bass club thanks to Eagle Bassmasters Bass Club of the Buxton/Hollis Region and the planning of the inaugural Schoodic Lake Charity Bass Tournament was underway.
Thanks to all the wonderful sponsors, and all the participants from bass pros to local fishermen the tournament has been a great success. The Key Club finished raising their $12,000 for the Thirst Project after just a few more small fundraisers in March of 2020 and they were excited to be planning the second tournament. COVID-19 definitely posed a challenge for the summer of 2020 but the challenge was met and by the end, the club donated $3,000 to House in the Woods.
Now graduated from Penquis Valley High School and a student at the University of Maine, McMannus continues to organize and put on this amazing event. However she is not alone, four amazing other individuals help her organize this tournament each year — Alyssa Bolstridge, Jordan Lobley, Grady Thompson and Sarah Walsh.
For more information, please see the event Facebook page.