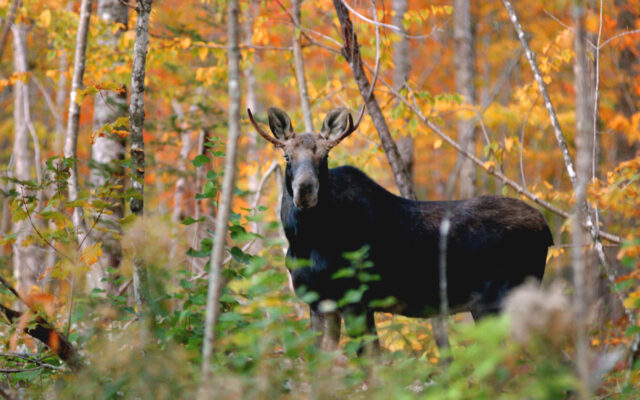 MOOSE FEATURE LCO
Bangor Daily News file photo/Linda Coan O'Kresik
Lake View resident a winner in 2021 Disabled Veterans' Moose Hunt Lottery
AUGUSTA — The Maine Bureau of Veterans' Services is pleased to announce the winners of the 2021 Disabled Veterans' Controlled Moose Hunt lottery.
Seven Mainers were selected for the opportunity to participate in the hunt, and five alternates were selected in the event a primary hunter cannot attend. Ken Blagburn of Lake View Plantation is among the seven primary winners.
The others are John Krott, Brunswick; Berthol Daigle, Eagle Lake; John Roy, Rome; Ryan Jennings, Bowdoinham; Adrian Vielhauer, Bethel; and Richard Parent, Sommerville.
Since the program's inception in 2010, MBVS has partnered with the Maine Department of Inland Fisheries & Wildlife and Smoldering Lake Outfitters to issue hunting permits and essential equipment to participating veterans. The hunt, which is entirely free for selected veterans, includes guiding services, essential adaptive equipment, meat processing, travel and lodging.
MBVS Director David Richmond offered the following regarding the hunt, "This program provides a wonderful opportunity for veterans to engage with the outdoors and each other. It's not only about the moose, but about the bonds that form between the veterans in the group that unite in a common goal. Congratulations to this year's winners, best of luck on the hunt and thank you to all of the sponsors who make the hunts possible."
Unlike the regular IF&W moose lottery, the Disabled Veterans' Controlled Moose Lottery is limited to only those veterans with a disability rating of at least 50 percent. Each hunter is required to team up with a registered Maine Guide who has specific training for the hunt, and if a veteran has ever tagged a moose through the program, that veteran is ineligible to hunt again. The selected hunters will join the folks at Smoldering Lake Outfitters in Bridgewater for a late summer hunt in Aroostook County.
For more information on the Maine Bureau of Veterans' Services and the Disabled Veterans' Controlled Moose Hunt, please visit https://www.maine.gov/veterans/benefits/recreational-licenses/veterans-moose-lottery.html or call 207-430-6035. Applications for the 2022 Maine Disabled Veterans' Controlled Moose Hunt will be available on the Maine Bureau of Veterans' Website on March 1, 2022.
The Maine Bureau of Veterans' Services was established in 1947 by the State of Maine and is part of the Maine Department of Defense, Veterans, and Emergency Management. Our mission is to help Mainers who served, and their loved ones, understand and navigate the benefits, services, and programs available to them. The Bureau does this by being a responsive, experienced, and dedicated advocate. The Bureau is headquartered at Camp Keyes and has six field service offices located throughout the state and a claims office located at the U.S. Department of Veterans Affairs, Togus, Maine. The Bureau also operates the Maine Veterans Memorial Cemetery System which includes four veterans' cemeteries. For more information about the Bureau or to request assistance, please visit our website at www.maine.gov/veterans.