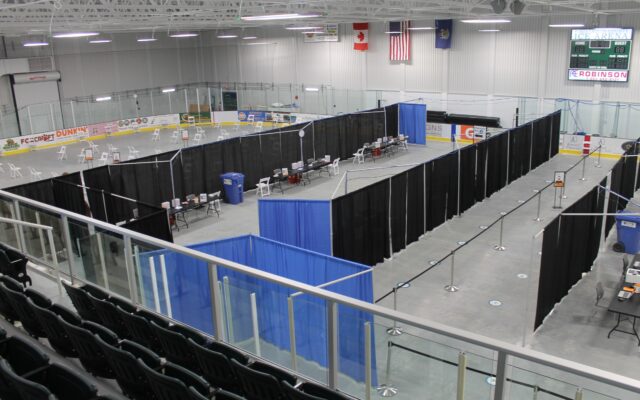 PO-vaxsite-10-21
Observer photo/Stuart Hedstrom VACCINATION LOCATION -- Starting on Friday, March 19, the Piscataquis County Ice Arena in Dover-Foxcroft will serve as a mass COVID-19 vaccination site, with the capabilities to accommodate 500 patients a day. The arena floor has been divided into different stations to move people through as efficiently and safely as possible.
Piscataquis County Ice Arena vaccination site opens Friday
DOVER-FOXCROFT — Through a partnership between Foxcroft Academy, the Libra Foundation and Northern Light Health, 500 patients per day to start can easily and safely receive their COVID-19 vaccinations at the Piscataquis County Ice Arena on West Main Street. The clinic is set to open to the public on Friday, March 19.
"We are very lucky to have a facility like this where everybody can stay on one level and be spaced out," said Dr. James Jarvis, senior physician executive of Northern Light Health's COVID-19 response, during a tour of the arena on March 16. "This is really going to be a tremendous asset to the community, ample parking to get everybody in and out as well as the flow that will go through this building. It will not be a problem for the first 500, nor will it be a problem three weeks later when we get to have 1,000 or more people through here."
"We're very fortunate that our partners here in the community, Foxcroft Academy and the Libra Foundation actually offered us this facility as a potential space for a vaccination clinic," said Northern Light Health Senior Vice President/Northern Light Mayo and CA Dean Hospitals President Marie Vienneau. She said previously vaccines had been offered at the hospital in Greenville and other sites in Dover-Foxcroft, but everything is in a central location by using the ice arena.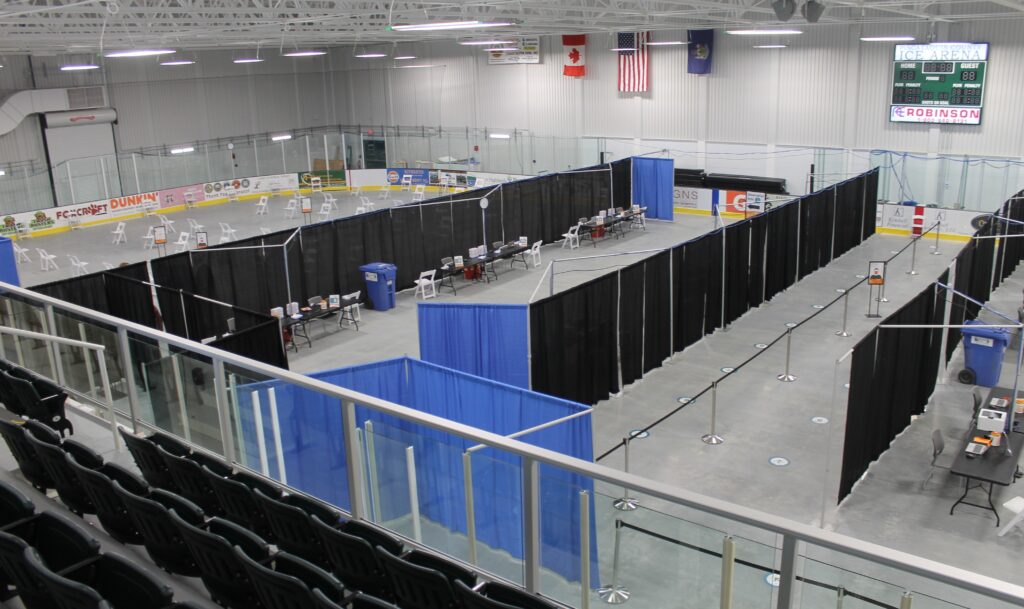 Those awaiting their second dosage can receive these at the same sites as the first "but new doses will be given here," Vienneau said.
"We are hopeful that we can do 1,000 patients at least two days a week which would be 2,000 a week which is well beyond what we have done in this county prior to this," she said. The clinic will be open Fridays to start but the plan is to add Wednesdays and perhaps other days if staffing can be put in place.
"My hope is that over the next several months as the vaccine becomes more and more available, we will be able to immunize a very large percentage of the people who live in Piscataquis County," said Northern Light Mayo and Northern Light CA Dean Hospitals Senior Physician Executive Dr. David McDermott. "The site has got a great location, great access, is very safe for people to move around. We have the room to keep people distanced while they are getting their vaccines and they don't have to hunt around to find where the clinic is."
McDermott encouraged people who have concerns about getting the vaccine to talk with their primary care practitioner.
"We're not going to get back to normal until we get almost everybody with vaccines," he said.
Dr. Jarvis said volunteers — about 90 will be helping out at the facility — can assist patients out of their cars and around the arena if need be. The ice has been removed and the plan is for the frozen surface to return in August for fall Piscataquis County Ice Arena programs.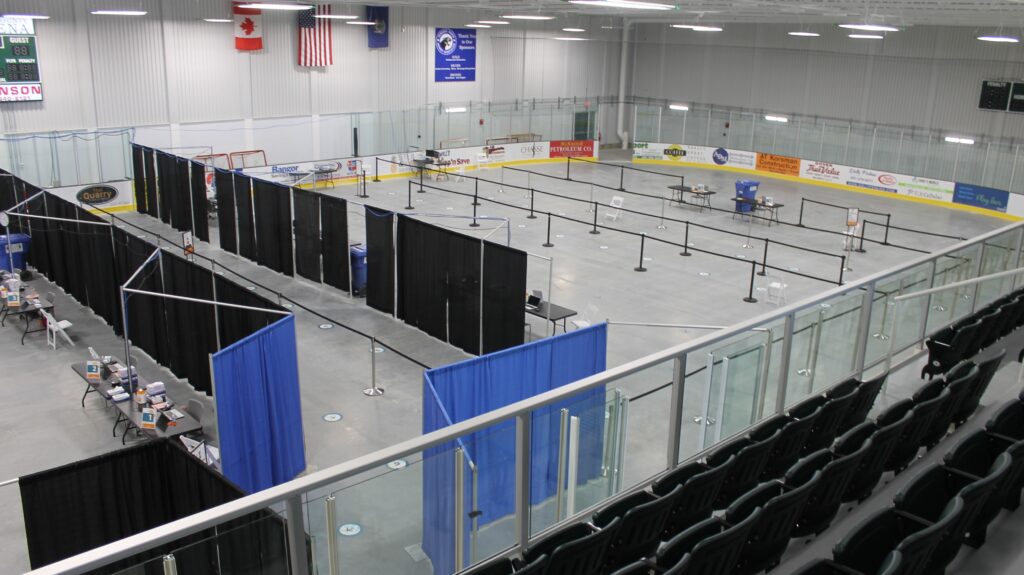 "As we do with our other sites, we really ask people to remain in their cars until 10 minutes before their actual appointment time and that does keep down the traffic flow through the main entrance," he said. "But once people enter into the main facility I see no reason why anybody would be waiting for more than a few minutes to proceed to the next station."
Leading a tour of the setup modeled after that at the Cross Insurance Center in Bangor, Northern Light Mayo Vice President of Quality and Education Nikki Chadwick said after coming through the first station in the arena lobby patients will go to station No. 2 or a validation station.
"It will mostly be staffed by volunteers," Chadwick said. "They will have a piece of paper with everybody who's scheduled for the day and then just make sure they have an appointment. If they don't and they have a confirmation they will actually get sent to that registration area so they can get registered and we can make sure they can progress forward. After that piece of the puzzle there will be people to walk them to their next area."
Dividers are in place to follow with 6-foot separation stickers on the floor leading to the various stations.
"This is what we call our check-in station [where] we make sure they're registered," Chadwick said about the next stop. "We have their ID, make sure everything is in place. We have a volunteer right here. They will point them to whichever station is open and they will also get the packet about the vaccination. We will be giving Pfizer here so that way they will get that information and we will also confirm their second dosage if this is their first dose."
People then proceed to one of the 12 vaccinators waiting for patients, who will be given a vaccination card afterward bearing the date of vaccination and what product was administered.
She said a few questions will be asked of patients to make sure to make sure there are no problems. Nearby is a pharmacy area, to be blocked off from view. Vaccinators will have cards to hold up for help, such as if a patient recently started antibiotics and they would like to discuss this with a pharmacist.
"If you notice there are two clocks in here and they are 15 minutes ahead on purpose because patients all have to wait at least 15 minutes after the vaccination," Chadwick said. "That way everybody knows you have to stay till that time and not have to ask."
The final station features a waiting area, for patients to sit for 15 or 30 minutes after receiving their vaccination. "The 30-minute waiting area is if they have a history of anaphylaxis or severe allergic reaction so we have to watch them a little bit longer," Chadwick said. "There will be clinical monitors here and nurses and doctors that can actually just watch the whole population here and make sure they are safe before they go."
If needed, a triage area with beds is ready.
"There will be someone at the end to help guide them back to the parking lot," she said.
"We will have cleaners going through and wiping high touch surfaces down with disinfectant," Chadwick said.
"We are really excited to use this space," she said. "It is an amazing space and we can provide some of the social distancing that wasn't available at our other sites. We can be much safer."
"They will have a vaccine for everybody who has their appointment so it doesn't matter if they're the first one through the door or the last one through the door," Dr. Jarvis said.
He said the Piscataquis County Ice Arena will be available through July 31. "With the president's new timeline hopefully we can start looking to the point where we don't have to have such large clinics going forward but that will take us some time. That's why it's great to have a facility like this where 1,000 people can get vaccinated each day."