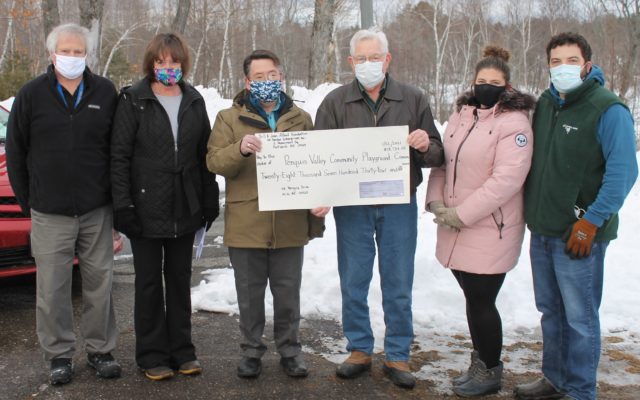 PO-playground-6-21
Observer photo/Stuart Hedstrom PLAYGROUND MONEY -- An approximate $28,700 donation from the Bill and Joan Alfond Foundation completes the fundraising goal for a playground at the Penquis Valley School in Milo. Standing at the future site behind the school building are, from left, Gary Page, Debbie Page, Allen Monroe, Paul Bradeen, Cheana Bavelaar and Tony Bavelaar.
Alfond Foundation contribution completes Penquis Valley playground fundraising
MILO — A contribution of $28,734 from the Bill and Joan Alfond Foundation completes the fundraising efforts for a Penquis Valley School playground.
Penquis Valley Middle School grade 5-6 social studies teacher Debbie Page, one of the leaders of the Penquis Valley Playground Committee, said the group is excited to announce the donation. She said Milo resident Paul Bradeen was instrumental in communicating the school's needs to the Alfond Family.
Currently the younger students at Penquis Valley Middle School have little more than a decades-old basketball court and a small area with a pile of dirt and two roads going by it to use for recess. But a group of educators, parents and community members began working to change this with a new age-suitable playground.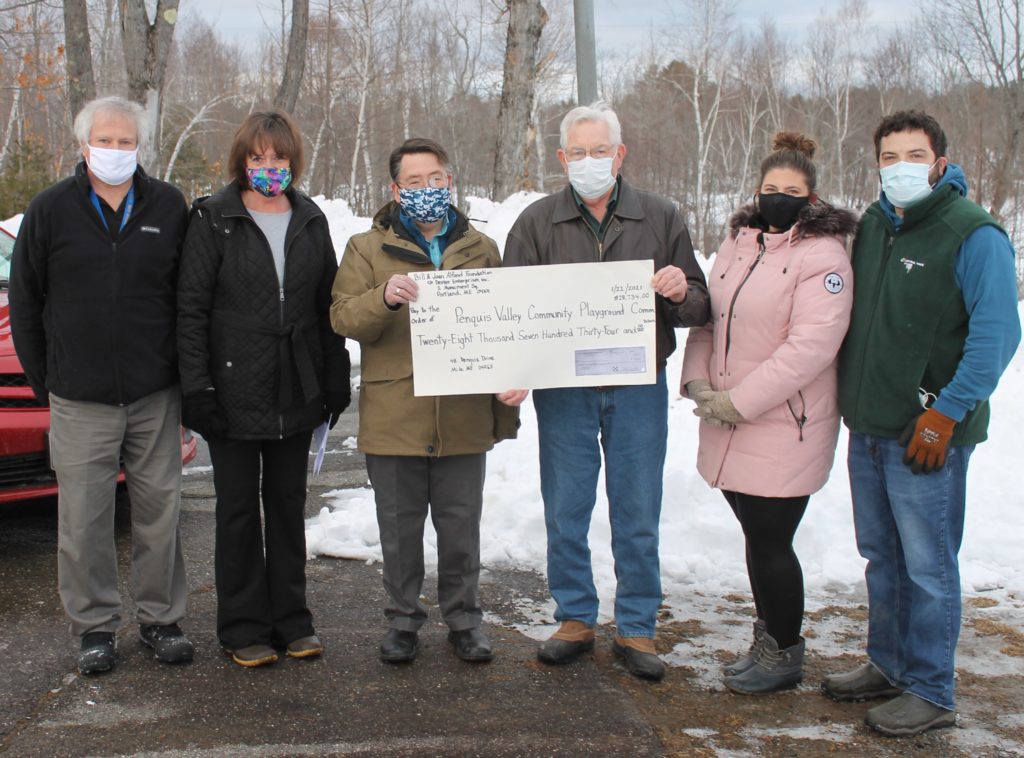 SAD 41 fifth-graders moved to Penquis Valley several years ago, a few years after grade 6 students moved over from the Milo and Brownville elementary schools.
Page explained that the Alfond Family has been generous supporters of many efforts to benefit the residents of the area, as years ago their Dexter Shoe Company supported hundreds of local families who worked for them.
The Penquis Valley Playground Committee was planning many fundraisers, but COVID-19 changed everything. Page said group members had to rely on the support of area residents through direct donations and raffles. She said one special senior citizen donated $50,000 anonymously, which helped members realize that the goal was attainable.
Page estimated the project cost at $130,000, excluding all in-kind work.
'If we added all the in-kind work, it would be much, much higher," Cheana Bavelaar said of the Penquis Valley Playground Committee. Bavelaar has three daughters including two in grade school.
Page said there have been many large and small donations and the committee wishes to thank everyone for their encouragement and support. She said some larger monetary contributions include $3,500 from the Milo Fire Department, $5,000 from Tradewinds Market, $2,000 from Al Belanger, $1,000 from Jean Bishop, $3,000 from the Three Rivers Kiwanis, $500 from the Paul Folkes family, $1,043 from the Penquis Valley High School Class of 2019, a $6,500 Maine Community Foundation Grant. In-kind donations include William London & Son, Bishop Concrete, Earl Gerrish and Sons and Wildwoods.
Playground equipment has been ordered. "The first weekend in May is when we plan to have it installed," Page said. "That way we can have some time for kids to play on it this year."
In addition to the equipment, plans are to resurface the basketball court and prepare a new regulation-size soccer field. There will be a picnic pavilion, along with an adventure trail and learning center that is already being utilized. Surveillance equipment will be installed by Michael Russell and his ProTech Solutions, who gave the Penquis Valley Playground Committee a generous quote.