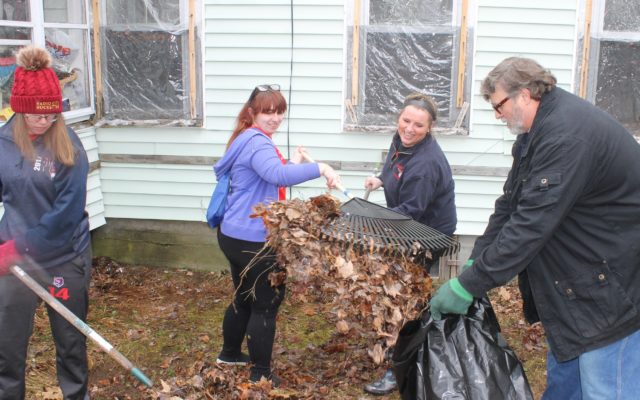 PO-dayserviceleaves-19-19
Observer photo/Stuart Hedstrom LENDING A HAND TO PAWS -- Penquis Valley School students spent the morning on May 2 around Milo and Brownville helping out in the community with various service projects during the fourth annual Day of Service. At PAWS in Milo junior Tegan Johnson, left, and senior Lexi Goodard load a trash bag held by substitute teacher Ray Severance while senior Faith Sickler rakes up some more leaves on the front lawn.
Penquis Valley gives back with a day of service
MILO — Penquis Valley School students traded in their books and pencils for rakes and shovels to get out of the classroom and into the community to give back during the fourth annual Day of Service on the morning of May 2. The grade 5-12 pupils divided into more than a dozen groups to carry out service projects throughout Milo and Brownville as a thank you to those who support the school and its programs.
"I guess for me I'm so proud of this tradition," Penquis Valley High School Principal Michael Rollins told the entire student body gathered in the gym to start the day. "I came in three years ago and I'm so proud to see what our school can do to give back to the community.
Rollins said he has been amazed at how generous support for Penquis Valley has been. "This is one of the best opportunities you have to give back," he said, with the students heading to various sites to rake, clean up, paint and more.
"Take pride in the fact you are helping your community, really think about what that means," Rollins said just before the groups were called down from the bleachers to meet their teachers and head outside. Many of the Day of Service participants traveled by school bus while some working in downtown Milo walked to the sites.
One group going into the community by foot headed to the Penquis Animal Welfare Sanctuary (PAWS) across the Sebec River on Clinton Street.
"They are helping clean up outside, doing some spring cleaning, fixing feline beds and doing some extra cleaning we need to get done," said Sandy Smart of PAWS, mentioning the sanctuary has a number of cats available for adoption.
Outside students and staff raked the lawn, helping clear the way for future organization benefit yard sales, and used wheelbarrows to haul the material out back, knocked down a lingering snow pile with shovels and washed cat carriers via hose.
Across town fifth-graders were spending their Day of Service at Harris Field.
"There's all kinds of jobs, people are raking, mulching, picking up trash, painting," grade 5-6 math teacher Erika Landry said.
The youngest Penquis Valley students were joined at the town recreational area by three seniors volunteering to work with them.
"We are here basically so we can give the fifth-graders some role models," Jeremy Martin said. "It means a lot."
"You're never too old to be a role model," classmate Jake Baker added.
"It means a lot to give back to the community that has given us so much," Camryn Rolfe said.
The three members of the Class of 2019 were busy setting up a pump to clear portions of the baseball and softball infields of rainwater prior to games that afternoon against Greenville High School.
A pool of water had collected on the dirt around homeplate on the baseball diamond as Baker adjusted the hose to pump the liquid away beyond the dugout fence.
"Every time it rains the whole third base line on the softball field floods," Rolfe said about the next project for she, Baker and Martin.
Other 2019 Day of Service sites included Milo and Brownville Elementary schools, cemeteries and town offices in both communities, historical society properties, Quarry Pines in Brownville, the Three Rivers Kiwanis campus and Veterans' Park and the nearby waterfront in downtown Milo.
While they worked, many Day of Service participants wore new red event T-shirts.
Rollins said Three Rivers Kiwanis donated funds for the T-shirts. "Kiwanis has been so generous in my time here, they pay for the T-shirts," he said prior to the students coming from their homerooms to the gym. "Kiwanis has been great, it's around a $2,000 bill."
The principal said JSI donated wheelbarrows and shovels for the school as he has been building up an inventory for annual day.
Following multiple hours of work, everyone came back to campus for a schoolwide BBQ.