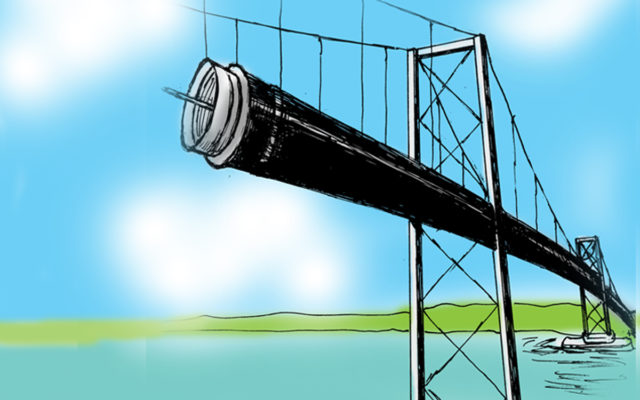 Vote yes on Question 1 to provide a digital bridge for rural Maine
My two children attend elementary school in East Millinocket, and when we received word that we would be remote learning for the remainder of the school year because of COVID-19, I was worried. I was not thinking about my kids, who have devices and good internet access. I was thinking about the 40 to 50 percent of students in our local high school and elementary school that did not have dependable access to online learning materials. For some of those students who could "access" the internet, they did so on a parent's cellphone.
Soon after, we were told that non-essential businesses must shut down and employees should work remotely. My business, a design and marketing company, is well-suited for online work, but for many small businesses in my area, asking employees to work from home was not an option. So local employers simply laid-off workers and hoped they could hang on until things opened up again.
The economy in the Katahdin region, like the rest of rural Maine, is particularly vulnerable to the demands of COVID-19, the illness caused by the new coronavirus.
According to research by the ConnectME Authority, a significant percentage of households in rural parts of Maine do not have reliable, fast internet. 
Piscataquis County ranks lowest in connectivity, with 77 percent of households unable to access a high-speed connection. In contrast, it's less than 1 percent in Cumberland County. 
Without a stable internet connection, students do not have equal access to learning materials, workers who are unable to work from home lose their jobs, seniors cannot utilize telehealth for doctors' appointments, people in recovery are without support, and individuals cannot use Zoom and other online platforms to connect with family and friends. 
If nothing else, COVID-19 has taught us that those without reliable internet access are at risk of falling behind.  
On July 14, voters will have the chance to vote yes on Question 1, a bond that will invest $15 million primarily in rural and underserved areas of the state to deliver better internet. The bond funds will be matched by $30 million in private, local and federal dollars, tripling the impact of this investment.
COVID-19 has taken a heavy toll on Maine with 1 in 5 Mainers receiving unemployment benefits — that's an incredible 20 percent of the working population — and more are waiting for help. It remains to be seen if small businesses, the backbone of Maine's economy, will be able to return to business as usual. We still don't know if K-12 and college students will be able to return to classes in the fall. Amidst these uncertainties, we know that expanding broadband access is a win for Maine. 
A yes vote on Question 1 will put $15 million in bond funds and a $30 million match to work expanding access to high-speed internet throughout Maine.  
Investments in fiber broadband networks will strengthen the resiliency of fragile rural economies by building future-proof infrastructure that will connect businesses to the global economy and create remote working opportunities.  
During the height of the pandemic, about half of the American workforce worked from home and companies like Goldman Sachs, Twitter and Google declared that all or part of their workforce will permanently work outside of the office. It is estimated that up to 30 percent of the U.S. workforce will work remotely within the next two years. It is an opportunity for Maine when "home" can be anywhere. 
As people in crowded cities and virus hot spots around the country adapt to working from home, many will realize that they can keep their job and work from beautiful but remote places like Millinocket, Greenville, Fort Kent or Calais — as long as there is high-speed internet.  
I'll be voting yes on Question 1 on July 14 because I have seen firsthand what it means for rural Maine when businesses, students and others do not have a reliable, fast internet connection. I hope you join me.  
Jessica Masse of Medway is the co-owner of Designlab in downtown Millinocket. She is a board member of Our Katahdin, Millinocket Memorial Library and a founding board member of Katahdin Revitalization. She is also a member of the Governor's Economic Recovery Committee.