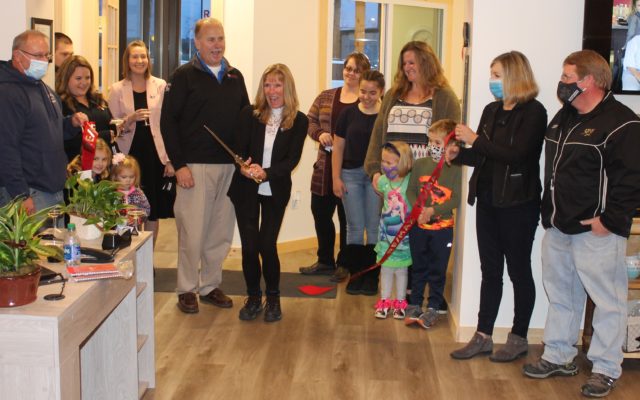 PO-remax-46-20
Observer photo/Stuart Hedstrom NEW REAL ESTATE OFFICE HOME -- Charlie Quimby, with her husband Jim standing next to her, cuts the ribbon for their new RE/MAX Real Estate office on Spring Street in Dexter during a Nov. 12 Piscataquis Chamber of Commerce ceremony.
Chamber ribbon cutting welcomes RE/MAX office to Dexter
DEXTER — Husband and wife realtors with more than 25 collective years experience now have an office of their own. A Piscataquis Chamber of Commerce ribbon cutting and open house on Nov. 12 formally welcomed Jim and Charlie Quimby's RE/MAX Real Estate office at 175 Spring Street to the region.
"I am so excited for the both of you. This is a dream for you guys and it's something you worked for together," Piscataquis Chamber of Commerce Executive Director Denise Buzzelli said. "I think it's actually remarkable that as a married couple you are able to accomplish all of this without killing each other," Buzzelli joked.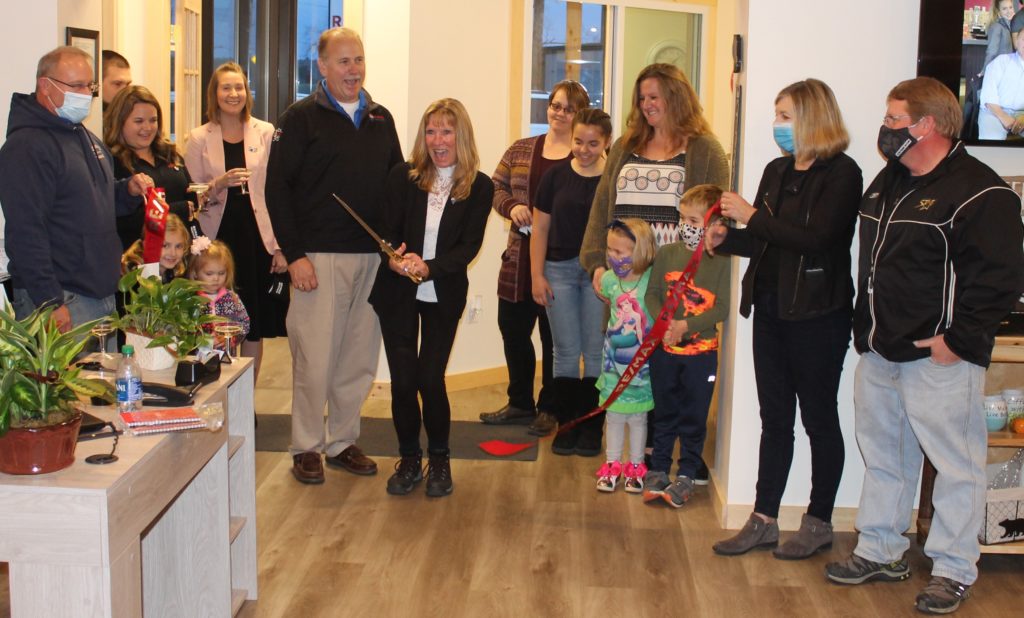 The Quimbys' office building has been extensively renovated. The structure was originally built as a service station and later served as the home of Norm Cookson Real Estate for more than three decades.
"We are also very blessed with what you have done on this corner of Dexter," Buzzelli said. "It's exciting to see what's happening in Dexter, a lot of love being poured into the town by the people who live here and want to make it better."
Saying the organization and its members will do whatever they can to support the Quimbys' RE/MAX Real Estate office Buzzelli said, "We are really excited to have you be a part of our Chamber family."
Charlie Quimby thanked all present — family, friends, Chamber representatives and others — for coming. "Without our family and our friends none of this would have been possible. We had this dream a long, long time ago," she said.
Quimby said she and her husband were a bit unsure if going out on their own was a wise move, but then any fears were quickly alleviated upon meeting John Downey, RE/MAX franchise sales and strategic growth consultant for New England.
"On behalf of RE/Max, and this is going to sound very cheesy, it really was love at first sight," Downey said about the Quimbys, saying right away he knew they would be a great addition to the company's real estate family.
"There are no two prouder people more deserving than those two," Downey said. "So welcome to RE/MAX!"
The Quimbys' "The Live Maine Team" consists of the two of them and three other agents, Angie Roberts of Parkman, Manda Stewart of St. Albans and Diane Belanger of Sangerville, plus two administrative team members (the Quinbys' daughters-in-law), Brandi Woodman, listing/transaction coordinator, and Tabitha Woodman, administrative assistant.